Generous Benefactors of Life Sciences Research at Penn State
The Huck Institutes' pursuit of global leadership in life sciences research simply would not be possible with the outstanding support and continuing legacy of the two remarkable people after whom we are named.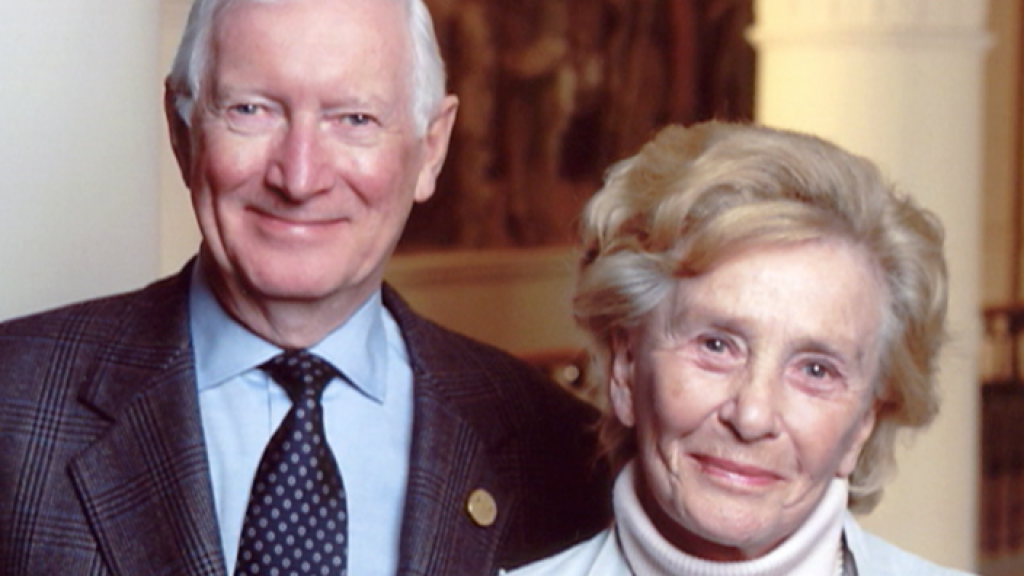 Dorothy "Dottie" Foehr Huck and J. Lloyd Huck met in the 1940s, while studying at Penn State. They liked to joke about the way Lloyd's charm and dogged pursuit of Dottie finally convinced her to marry him on November 20, 1943. That same year, Lloyd paused his studies to serve in the Army Air Corps in World War II, as a flight instructor and a pilot on B-29 bombers. Dottie graduated in 1943 as a Home Economics major. Lloyd returned from the war to graduate as Penn State's only Chemistry major in 1946.
After graduation, Lloyd began his career as a research chemist for Hoffmann-La Roche. In 1958, he joined the Merck Sharp & Dome division of Merck & Co. as a director of marketing. He steadily rose through the ranks, eventually being appointed executive vice president in 1977 and then president and chief operating officer in 1978. He was named board chair in 1985, one year prior to his retirement in 1986.
After retiring from Merck, Lloyd joined the board of Nova Pharmaceutical Corporation, where he served for several years as chair before retiring in 1991.
Lloyd also served on the boards of Amstar Corporation, AMF, Amoco, and the Mutual Benefit Life Insurance Company, where he was also chair.
Throughout their lives, the Hucks remained closely connected to their alma mater, taking on a wide range of volunteer roles. Lloyd chaired the Board of Trustees from 1988 to 1990, and he also served as president of the Penn State Alumni Association from 1975 to 1977. Both Dottie and Lloyd were greatly respected and widely admired by the Penn State family not only for their generosity and volunteerism, but even more so for their grace, wisdom, humility, and understated class.
The Hucks established endowments in a broad range of disciplines including molecular biology and nutrition, committing more than $40 million to the University. In recognition of their enthusiasm and support for research and education in the life sciences at Penn State, the Huck Institutes of the Life Sciences were named in their honor in 2002.
Through their remarkable philanthropy, the Hucks' generosity reached programs and projects across the University, including the Eberly College of Science, the College of Health and Human Development, Penn State Milton S. Hershey Medical Center, the Smeal College of Business, University Libraries, the College of Arts and Architecture, and Intercollegiate Athletics. The Hucks were also leading supporters of the Life Sciences Building, Business Building, and Henderson Building projects at University Park, as well as the Biotech Institute and Cancer Institute at Penn State Hershey.
In 2002, Dottie and Lloyd were honored as the University's first-ever Philanthropists of the Year. In 2012, the Huck Life Sciences Building was named to honor and celebrate the Hucks' commitments and generosity. We continue to reap the benefits of their visionary philanthropy to this very day.
Lloyd passed away at the age of 90 on December 4, 2012, and was honored by Huck Institutes' leadership with this fond story of remembrance.
Dottie passed away at the age of 91 on August 9, 2014, and was remembered by the Penn State community with this story honoring her legacy.
The Huck Institutes remains forever indebted to their visionary, heart-felt support.