Jul 19, 2019
Center of Excellence in Industrial Biotechnology Awards Scholarship to Penn State Senior
The gift, funded by industrial partner CSL Behring, will enable the Chemical Engineering major to continue her exploration of membrane separation.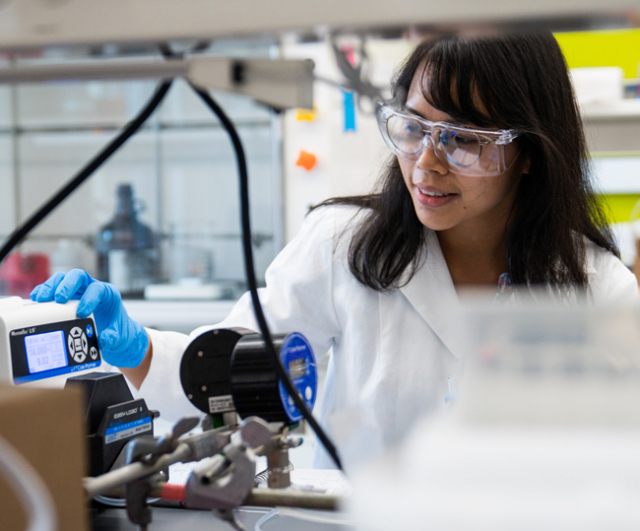 Erha Andini, a Penn State senior in Chemical Engineering, was awarded an undergraduate summer research scholarship by the Center of Excellence in Industrial Biotechnology and CSL Behring, who generously provided the gift funds to support these awards.
Her research project is focused on the development of a combined precipitation–membrane filtration process that can be used for the continuous purification of high value biological products like monoclonal antibodies. Andini is evaluating the critical flux of hollow fiber membrane modules used to process the precipitated protein, where the critical flux is the point at which the membrane first gets clogged during filtration; the goal is to create a system that filters without interruption, while achieving a 99% yield of the desired protein. This will allow researchers to properly size the membranes needed for the purification process so that membranes can be used longer before they need to be cleaned or replaced.
The use of continuous processing is recognized as having the potential to improve product uniformity, lower the production cost of drugs, and allow more flexible manufacturing operations. The scholarship will allow Andini to focus on this aspect of recombinant protein capture. "Receiving this research scholarship means the world to me. It allows me to fulfill my curiosity and be immersed in a project that I am passionate about!"
Her passion was sparked one day during class. "The first time I was exposed to the idea of membrane filtration was when I learned about osmotic pressure and water desalination in a chemical engineering class. I never knew how it worked. It started my obsession with membranes."

Andini started out in research by doing simulation membrane modeling research projects with a software program. Two years later, she decided to challenge herself and break out of her comfort zone and began working with real membranes.
"I love to work with membranes because they are fascinating. From water purification to virus removal, the applications are endless. At first glance, membranes seem to be straightforward, but there are many unknowns that affect the performance of membranes waiting to be discovered," she explained. "This has sparked an enormous curiosity in me, making me eager to discover these unknown aspects of membrane separations."