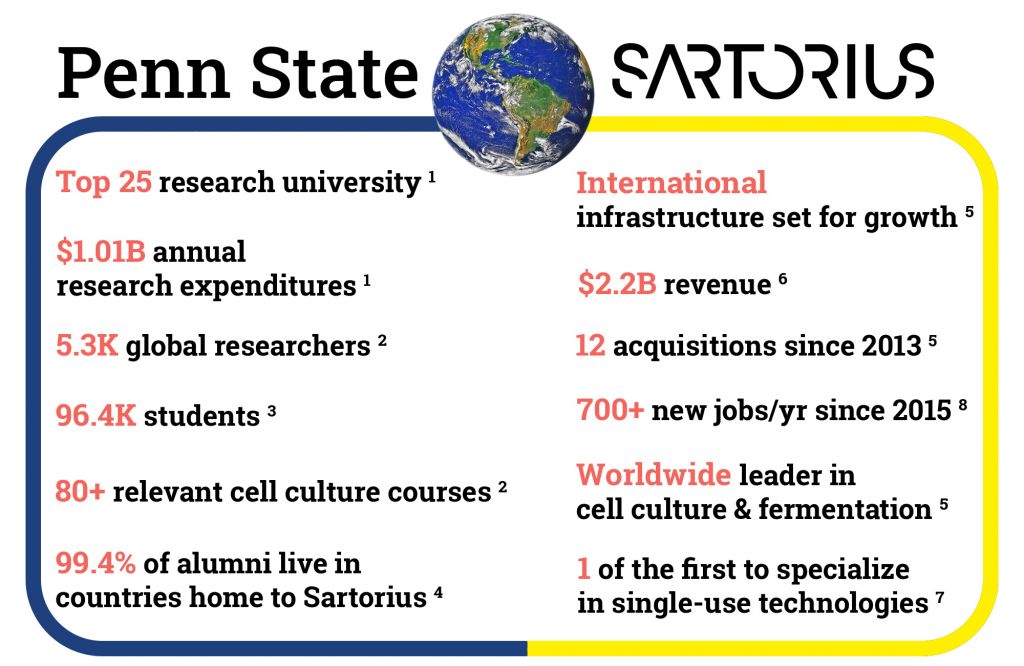 The Partnership takes shape
An institutional relationship with Sartorius Stedim has taken shape. Our mutual goal of bringing creative minds together, at all levels within Penn State and Sartorius, has the potential to foster technological breakthroughs and create educational and research environments that highlight the technologies and processes commonly used in leading company settings.
Phase one
Penn State developed a framework for transforming biotechnology education and research at the university. The phase one initiatives completed in 2017-2018 included:
1. Establishing the Center of Excellence in Industrial Biotechnology (CoEIB), part of the Huck Institutes of the Life Sciences (Huck)
2. Creating the CSL Behring Fermentation facility located in the Agricultural Engineering Building — home to the Sartorius Fermentation Gallery
In 2018, Sartorius made its first major gift to a United States university, presenting Penn State with equipment worth $435,000. This state-of-the-art bioprocessing equipment laid the foundation for the Sartorius Fermentation Gallery.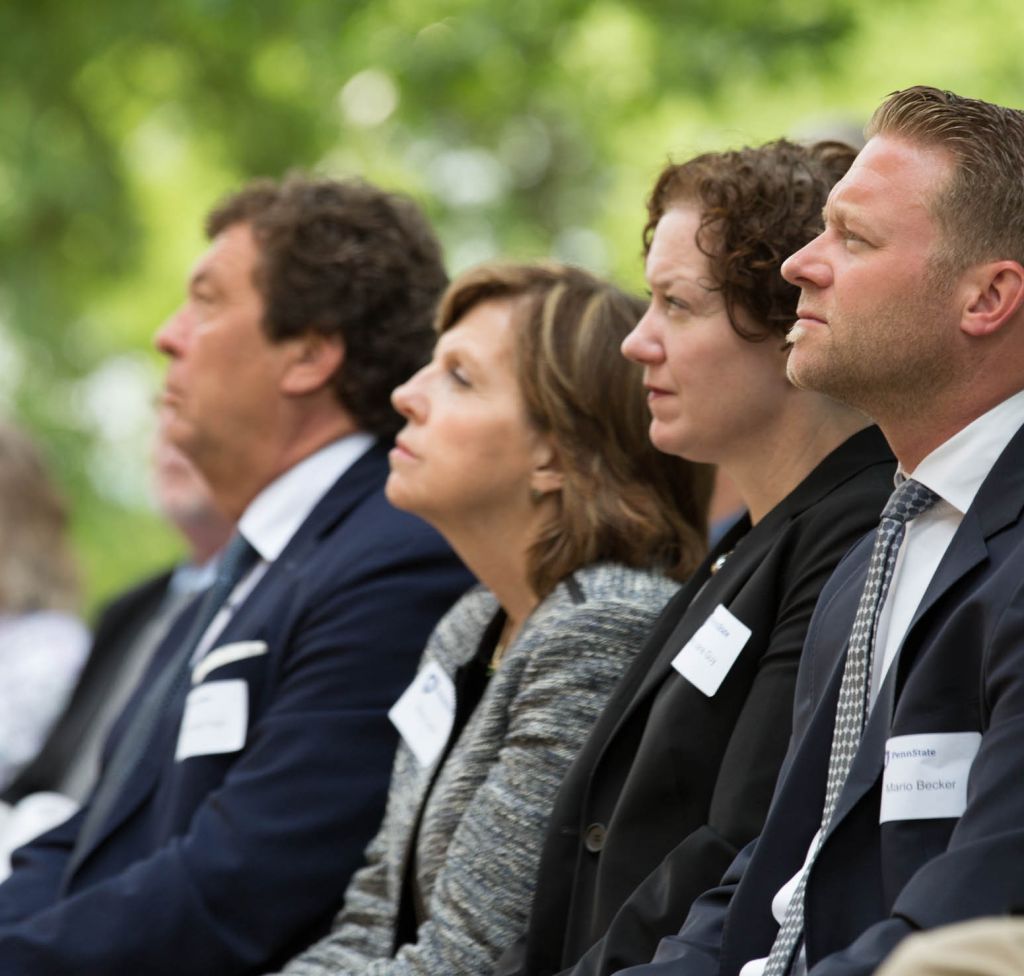 "Sartorius is investing and working with Penn State because we share a common mission to educate students, empower scientists, enable engineers and accelerate developments in life science and bioprocessing. The partnership's main goal is to inspire the next generation of pharma-biotech employees with innovative tools and solutions, and utilize the center as a training and development hub for our employees and the industry. We plan to collaborate with Penn State to leverage their resources to support customers and the industry to make scientific progress to improve patient outcomes."

—Mary Lavin, president, Sartorius
Phase two
In the second phase, the vision included the establishment of a cell culture facility, under the leadership of Huck. In April 2021, Penn State announces a commitment of $1.5M from Sartorius to create the Sartorius Cell Culture Facility, the CoEIB's second-collaborating facility, and only the second named Huck core research facility.
The Sartorius Cell Culture Facility serves as the focal point for delivering hands-on training in cell culture to our students and corporate employees, as well as providing researchers across several Penn State disciplines access to a twenty-first-century lab environment
A pipeline of future leaders
The vision for the CoEIB and the Sartorius Cell Culture Facility is to create a unique educational environment — an integrated, energetic culture of learning and research happening in one place. Students at different levels and from multiple disciplines will be working together with faculty from various units, all in close contact with Sartorius and other biotechnology companies.
However, this project is about more than just training some of the nation's best entry-level employees for the biotechnology industry; it is also about accelerating the path to leadership. We are striving to create a program that provides students with the maturity to be creative at addressing both technical and relevant business issues.
About Sartorius
The Sartorius Group is an international pharmaceutical and laboratory equipment supplier, headquartered in Göttingen, Germany, dedicated to empowering scientists and engineers to simplify and accelerate progress in life science and bioprocessing, enabling the development of new therapies and more affordable medicine. The Sartorius Group manages its businesses in two divisions: Bioprocess Solutions and Lab Products & Solutions.
About Penn State
Penn State is a top-ranked research university and Pennsylvania's sole land-grant institution, founded with a mission of high-quality teaching, expert research and global service — a community more than 700,000 strong — driven to make a difference.
Top 50
World-class university
Top 25
US research university
1. "Research: Penn State University." Penn State. www.psu.edu/research/.

2. Data on file at Penn State.

3. "Penn State." Penn State at a Glance, 2019. stats.psu.edu/.
4. Penn State Alumni Association. "Alumni and Members Living Outside the United States." Penn State, 2019. directory.alumni.psu.edu/s/1218/images/gid4/editor_documents/psaa/about-us/documents/alumnimaps.pdf?gid=4&pgid=61&sessionid=4acd3f1b-90c0-41e3-b49c-5145e3d802ec&cc=1.
5. Sartorius. "This Is Sartorius." Sartorius, 2020. www.sartorius.com/download/43144/17/company-presentation-sartorius-data.pdf.
6. Sartorius. "Sartorius Stedim Biotech Investors Presentation." Sartorius, 2020. www.sartorius.com/download/45890/56/ir-presentation-en-web-ssb-data.pdf.
7. Sartorius. "Sartorius Group 2019 Annual Report." Sartorius, 2019. www.sartorius.com/download/404288/15/sag-annual-report-2019-e-data.pdf.
8. Sartorius. "This Is Sartorius Booklet." Sartorius, 2020. documentcloud.adobe.com/link/track?uri=urn%3Aaaid%3Ascds%3AUS%3Ad548b80b-4ce9-46b3-8e5b-1df73af3a454.