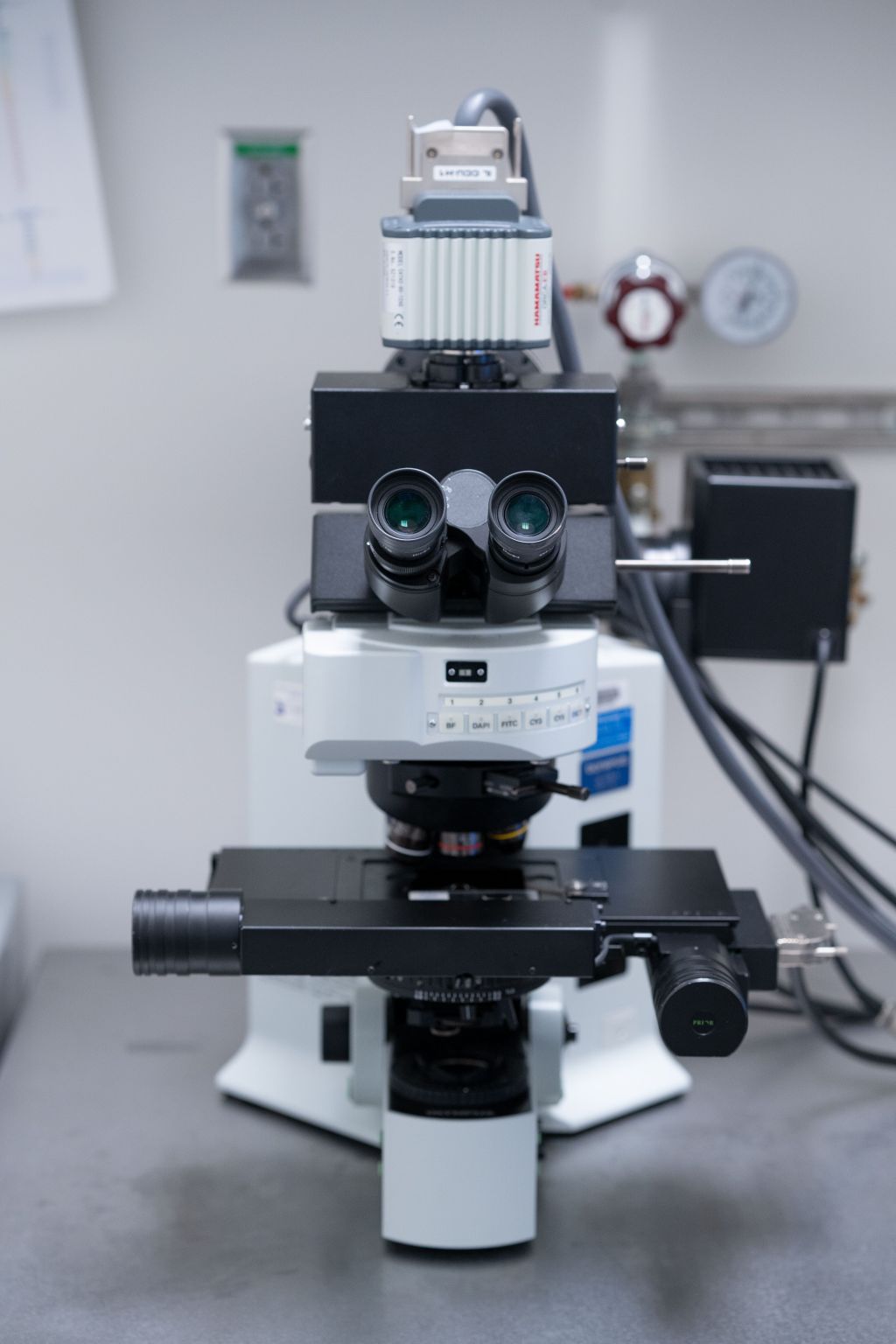 The Olympus BX61 (material scope) is a microscope system with two configurations: a biological configuration (with automated three-color plus DIC image collection) and a materials configuration (with polarization, darkfield, and reflected brightfield light).
Specifications
Fully motorized microscope selection of objectives, filter cubes, condenser, and camera controller.
Quick change of nose pieces to convert from biological configuration to materials configuration.
Two cameras: high-sensitivity monochrome and color
Details
Illumination: Mercury vapor, provided through either rapid automated shutter or conventional filter cubes. Excitation wavelengths from UV to Red are available.
Objectives

Biological Configuration: UPlanFL 4x/0.13, UplanFL 10X/0.30, UplanFL 20X/0.50, UplanFL 40X/0.75, PlanAPO 60x/1.4 oil, UplanFL 100X/1.3 oil. All objectives have DIC optics.
Materials Configuration: UMPlanFL 5x/0.15BD, UMplanFL 10X/0.30BD, UMPlanFL 20X/0.46BD, UMPlan 50X/0.80BD, UMPlanFL 1000x/0.90

Digital camera: Hamamatsu cooled digital camera -- ORCA ER (Model C4742-80) and Olympus DP71
Controller: A prior controller with joystick controls focus and location.
Software

Slidebook software
DP controller software
CellSens software

Output

Files will be transferred to an off-line computer.
Users will transfer data via FTP or download it to a writeable CD-ROM as TIFF files.
Images can be printed using graphics software such as Photoshop or ImageJ.