Visualizing the Impact of Plants on Pollinators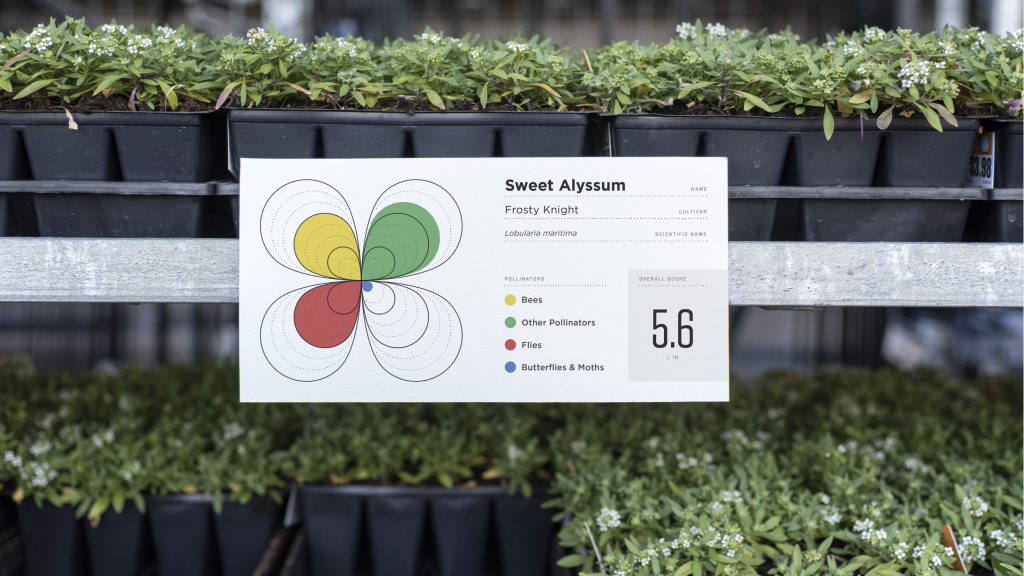 This project focuses on creating visualizations that communicate the relationship between pollinators and selected cultivars of ornamental plants. While varying colors, shapes, and sizes might make flowers more appealing to humans, they can also impact their attractiveness to pollinators. The data for this project was collected by Emily Erickson for her research on ornamental flowers' benefit to pollinators. Researchers recorded visitations of pollinators on selected ornamental plants in semi-natural environments. To visualize this data, these visitations were grouped into ranges across all plant species. The types of pollinators were grouped into four broader categories for clarity. This allowed for a simple visualization to be created for each plant in the study. Since these signs are intended to be placed on shelves in stores, the design is intentionally simple in order to increase its legibility. With individual signs, further research can easily be adapted and distributed each year. It is likely that when presented information about the relationship of certain plants to pollinators, people will select those plants which are both appealing to them and beneficial to pollinators.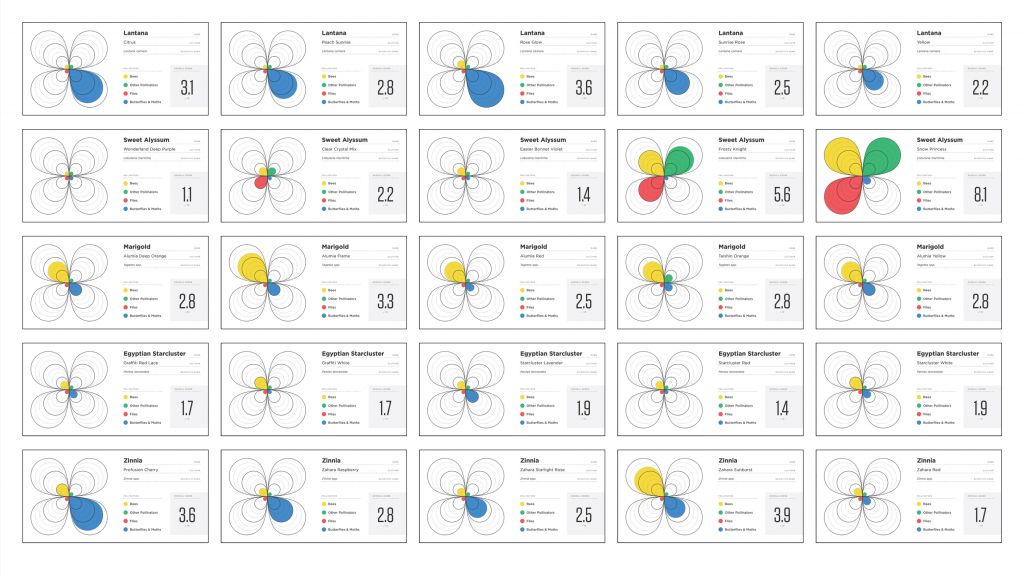 Student Bio:
Blake Thresher is a second year MFA student at Penn State University studying Graphic Design. He is from Tulsa, Oklahoma and received his bachelor's degree from Oklahoma State University in 2019. His work is primarily concentrated in Motion Graphics and Data Visualization. His interests include climate change, sustainability, art activism, and social justice. Experimentation is an essential part of his work process and enables him to create from a unique perspective. Through design, he is able to take complex ideas and make them accessible to everyone. He believes design can be used as a medium to evoke change. This project was part of the ART571 Graphic Design II Studio Course, led by Professor Huiwon Lim, in Spring 2021, and was supported by the Apes Valentes Award Program
Data Source: E Erickson, S Adam, L Russo, V Wojcik, H M Patch, C M Grozinger. 2019. More Than Meets the Eye? The Role of Annual Ornamental Flowers in Supporting Pollinators, Environmental Entomology, Volume 49, Issue 1, (February 2020), 178–188. https://doi. org/10.1093/ee/nvz133.