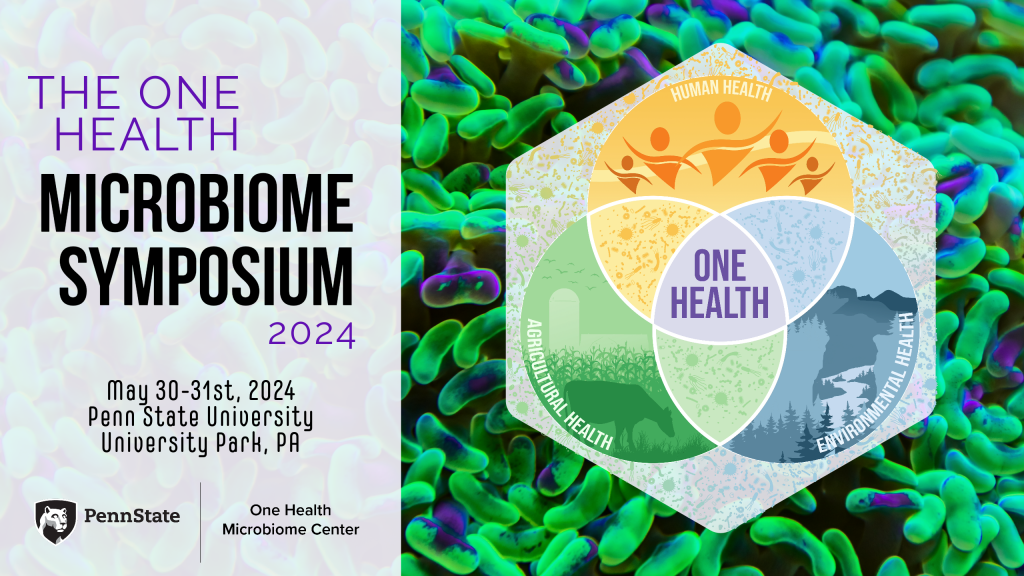 The One Health Microbiome Symposium is the second biennial symposium hosted by the One Health Microbiome Center, one of the largest and most active interdisciplinary microbiome centers. Join us May 30-31st, 2024 at the University Park Campus of The Pennsylvania State University.
Registration is Now Open!
Registration is required for both internal and external attendees. Register to attend the symposium and receive email updates here.

About the Symposium

The symposium will feature internationally-renowned keynote speakers, faculty and trainee research talks, poster sessions, and networking events. The goal of the One Health Microbiome Symposium is to showcase how diverse ecosystems are dependent upon their microbial communities and how microbes flow through these ecosystems to shape the outcomes of health and disease. The biennial event creates an ongoing, supportive, diverse, and intimate environment for microbiome researchers at all career stages to connect.
Keynote Speakers
Talk Title: "From Bog to Bedside: The Story Behind the first Dedicated Phage Therapy Program in the United States."

Steffanie Strathdee is an infectious disease epidemiologist who is Associate Dean of Global Health Sciences and Harold Simon Distinguished Professor of Medicine at the University of California San Diego where she now codirects the Center for Innovative Phage Applications and Therapeutics (IPATH). In 2016, Strathdee and colleagues were credited with saving her husband's life from a deadly superbug infection using bacteriophages –viruses that attack bacteria. The case, which involved cooperation from three universities, the U.S. Navy and researchers across the globe, shows how phage therapy has potential to treat multi-drug resistant bacterial infections which are expected to kill 10 million people per year by 2050. Strathdee and her husband co-authored their memoir called The Perfect Predator: A Scientist's Race to Save Her Husband from a Deadly Superbug. For her efforts to revitalize phage therapy in the West, she was named one of TIME magazine's Most Influential People in Health Care in 2018.
Talk Title: "Reductionist approaches to determine functions of the plant root microbiota"

Paul Schulze-Lefert is director of the Department of Plant-Microbe Interactions at the Max Planck Institute for Plant Breeding Research in Cologne, Germany, and Honorary Professor at the University of Cologne, Germany. Previously, he held senior positions at the University of Aachen, Germany, and at the Sainsbury Laboratory of the John Innes Centre, Norwich, UK. His research focuses on the plant innate immune system and the plant microbiota. In recent years, his laboratory has contributed to the development of plant microbiota science as a new field of research. His main goal is to define the molecular principles underlying plant-associated microbial communities and their beneficial services to the host using reductionist approaches.
Paul is an elected EMBO member since April 2006, a Foreign Associate of the National Academy of Sciences, USA, since 2010, a member of the German National Academy of Sciences, Leopoldina since 2010, a member of the American Academy of Microbiology, USA, since 2011 and a member of the International Scientific Advisory Board of the Chinese Academy of Sciences, since 2021.
Talk Title: "The Microbiome in the Novacene"

Professor Maria Gloria Dominguez-Bello, PhD, is the Henry Rutgers Professor of Microbiome and Health at Rutgers University in New Brunswick, where she is affiliated with the Departments of Biochemistry and Microbiology, and of Anthropology. She is a Fellow of the American Academy of Microbiology and of the Infectious Disease Society of America (IDSA), as well as a member of the Editorial Board and reviewer at several scientific journals. Her work focuses on understanding human health before urbanization, and the impact of urban practices that impair the microbiome, as well as strategies for restoration. She is a founding member of the Microbiota Vault, a global initiative to preserve the diversity of the microbes relevant to human health, and to educate and to foster collaborative research with the global South to create microbiota collections in hotspots of biodiversity.
Talk Title: "Windows to the Underground - Live Broadcast from the World of Soil Microbes"

Edith Hammer is a Senior Lecturer/Associate Professor in Soil Microbial Ecology. Her research focuses on microbial processes that drive the nutrient cycles in soils and are the base for healthy soil functions, such as its enormous carbon storage. She has developed so-called soil chips, microfluidic micromodels that mimic soil microstructure to study organisms and processes embedded in their spatial settings. She has a strong interest in processes at the scale of the microbes themselves, and with help of imaging she also wishes to increase awareness of the fragile ecosystem with its intricate biodiversity. She leads the branch for climate and C-cycle science of the strategic research environment BECC, the Section Soil Biology at the European Geosciences Union, and 2023's Microsoil Network.
Program
This event will include:
Sessions

Agriculture microbiomes
Environmental microbiomes
Health and Disease
Integrated One Health
Poster presentations
Other activities

Networking breakfasts and lunches

Panel discussions
Dinner/social
More to come!
Travel Tips

Commonly, travelers opt to fly into University Park Airport (SCE) in State College. This airport directly connects to Chicago O'hare (ORD), Philadelphia International (PHL), and Newark Liberty (EWR).

Airports such as Harrisburg International (MDT), Pittsburgh International (PIT), and Baltimore-Washington International (BWI) are located 1-4 hours from State College by car.
Plan to arrive in State College, PA on or before May 29, 2024.

Building location and parking information coming soon.