Sep 21, 2023
Huck-supported graduate degree programs transition to new leadership
David Koslicki and Greg Shearer have stepped into the leadership roles for the Huck's Bioinformatics and Genomics (BG) and Physiology graduate programs.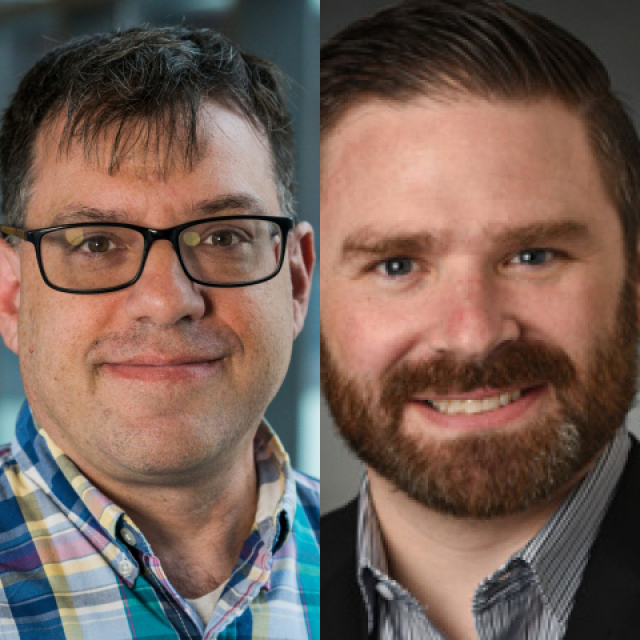 Two of the six intercollege graduate degree programs (IGDP) managed by the Huck Institutes of the Life Sciences have recently named new program chairs. David Koslicki, associate professor of Computer Science and Engineering and Biology, will replace George "PJ" Perry as chair of Bioinformatics and Genomics (BG). Gregory Shearer, professor of Nutrition and Physiology, will replace Donna Korzick as chair of the Integrated and Biomedical Physiology program.
Koslicki graduated with his doctoral degree from Penn State in 2012 and returned in 2019 as a Huck co-hire, citing the BG program as a reason for rejoining Penn State. He was drawn to the program because it fosters interdisciplinary research engaging scientists from across the University.
"Stepping into PJ's role as Chair is an honor and a responsibility I embrace wholeheartedly," said Koslicki. "The BG program's legacy is strong, and I'm eager to foster new collaborations and opportunities that will improve student success and satisfaction."
Explaining his vision for the program's future, Koslicki said "I want to preserve the broad, interdisciplinary reach; the lab rotations; and individualized attention to student professional development. This includes fostering a culture of collaboration and support through student interaction and community building among students and faculty."
Troy Ott, acting director of the Huck Institutes, expressed optimism about the transition. "I want to express my gratitude to PJ for his service and to David for making time for this important leadership role," he said. "PJ did a tremendous job as BG Chair, and we will miss his dedication to effective mentoring and passion to build a more student-center program. However, I could not be more pleased that David was willing to step into this leadership role. His research background and focus on student success combined with his vision to build the program will ensure that BG continues to evolve to meet the growing demand for graduates."
Donna Korzick is stepping down after chairing the Physio program for more than a decade. "The entire program is grateful to Donna Korzick for the care and passion with which she has led our program for 15 years," said Shearer. "Her leadership is the reason for our program's strength and success."
"Donna's extended leadership of the program has given her keen insight about how to recruit and support outstanding and diverse graduate students more effectively," Ott added. "This is why Huck has engaged her as director of Graduate Training Initiatives—a role Donna has been filling for the past 18 months."
Ott also believes Shearer is well-equipped to step into the role Korzick played for so long. "Greg brings incredible experience and a unique creativity that will ensure continued success of the program."
Shearer is an experienced and accomplished mentor of graduate students, most recently serving as lead of the Nutritional Sciences graduate program. His vision for the Physiology program is to help students master their discipline and use their time in the program strategically to achieve success.
"Our goal is to provide students with experience and knowledge so they can confidently enter any path and know they will be an asset," said Shearer. "Students need to be keenly aware of what makes their knowledge valuable and what set them apart."