Nov 16, 2018
MCIBS student wins poster awards at conference
Sreenidhi Srinivasan won Best Poster and the Brenda Love Bacteriology Award at the 2018 AAVLD Conference.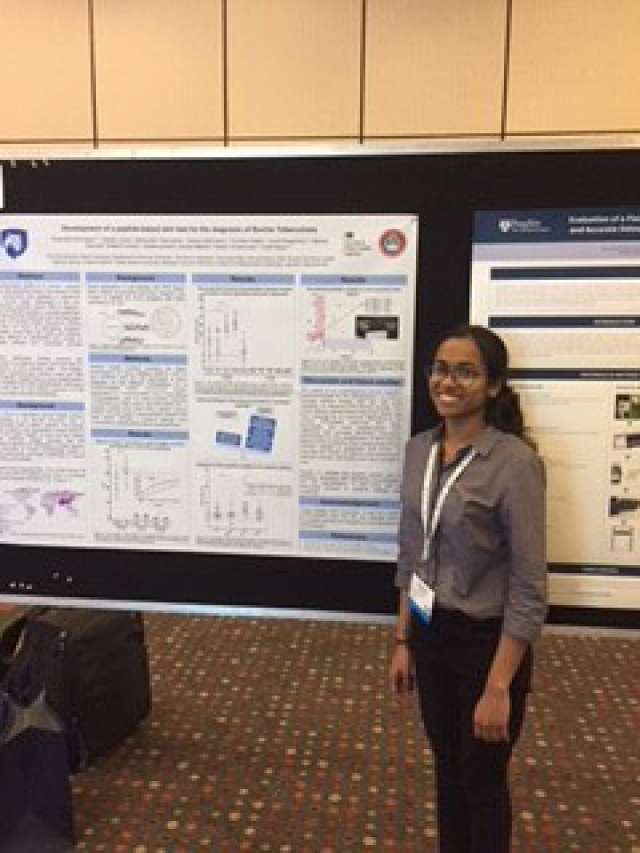 Sreenidhi Srinivasan, a graduate student in the Molecular, Cellular, and Integrative Biosciences program, has earned two awards for a poster she presented to the 2018 Conference of the American Association of Veterinary Laboratory Diagnosticians.
Srinivasan's poster, "Development of a peptide-based skin test for the diagnosis of Bovine Tuberculosis," won Best Overall Poster and the Brenda Love Bacteriology Award.
"My thesis research is on the diagnosis and control of Bovine Tuberculosis (Dr. Vivek Kapur's lab)," said Srinivasan. "We have developed a novel, reliable, fit-for-purpose, peptide-based diagnostic test for bovine TB that can differentiate infected and vaccinated animals. Access to such a diagnostic test highlights opportunities for including a vaccination regimen as part of control programs, especially in low and middle income countries."
The next step for Srinivasan's test is to leave the lab and go out into the real-world for fine-tuning: "We will be validating the performance characteristics of our diagnostic test in field conditions in India and Ethiopia."