Jul 26, 2023
HGSAC looks to raise the bar with election of new co-chairs
HGSAC students elected Avery Sicher and Jessica Walnut to serve as the graduate co-advisors to the Huck Institutes for the upcoming 2023-24 academic year.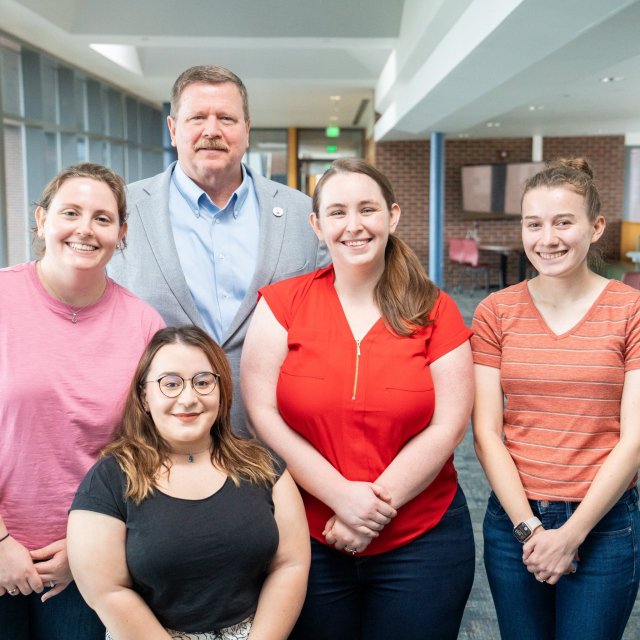 Corrine Smolen and Alenka Hafner, outgoing co-chairs of the Huck Graduate Student Advisory Committee (HGSAC), were lauded by senior Huck leadership last week for their tremendous efforts in student advocacy.
The outgoing co-chairs were praised for the execution of the sixth annual Life Sciences Symposium, which boasted a record number of abstracts and attendees. Their tenure also marked the launch of Toward a More Inclusive Science (TaMIS), a monthly discussion group based on topics of justice, equity, diversity, and inclusion.
"The HGSAC is an essential conduit for communication and a sounding board for new ideas as we innovate student-centered interdisciplinary graduate education in the Huck," said Troy Ott, acting director for the Huck. "I am so pleased to be able to recognize the wonderful work and achievements of Corrine and Alenka as co-Presidents of the HGSAC. I was impressed with their ability to integrate and delegate tasks to the members of the committee, weaving their efforts together into a strong and effective voice for the graduate students."
Corrine and Alenka accepted plaques in recognition of their contributions, with Hafner stating, "We couldn't have done it without the incredible support of the Huck."
"It was an amazing experience," said Smolen.
Entering the roles as co-chairs are Jessica Walnut of the Plant Biology grad program and Avery Sicher from Neuroscience.
Walnut and Sicher's previous roles included bolstering social media outreach. This shared experience has aligned the co-chairs in their vision for HGSAC moving forward: to reach an even broader student audience.
"My role as part of the social media committee was to maintain the website. I believe this experience provided useful insight into the importance of reaching Huck students through social media," said Walnut. "During our tenure as Co-presidents, we would like to expand HGSAC's social media presence to help better serve the Huck student body."
"One particular strength of Jess and I is that we are very well-equipped to expand HGSAC's online presence to reach even more Huck students this year," said Sicher. "We want to capitalize on the momentum that Corrine and Alenka have started. We hope to see lots of Huck students at all of our events, including our career exposure seminars, workshops, and social events.
"Every year, our events have gotten bigger and more successful. To raise the bar even further this year, we are starting earlier than usual. I am grateful for them and for the hard work of the whole committee, and I am looking forward to a great year."
To learn more about the Huck Graduate Student Advisory Committee, and to stay informed about upcoming events, visit the HGSAC website.