Mar 02, 2020
Nineteen Penn State students from Six Departments Earn Prestigious CSL Behring Scholarships in Industrial Biotechnology
Each year, Penn State's Center of Excellence of Industrial Biotechnology awards scholarships to undergraduate students demonstrating academic achievement and involvement in the field of industrial biotechnology.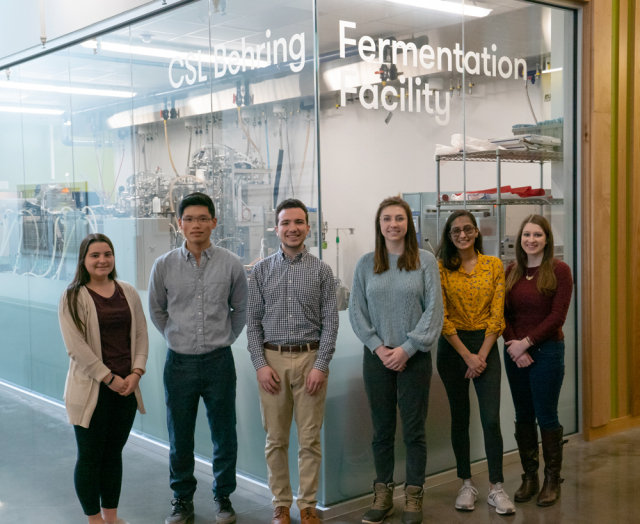 The Center is pleased to announce the 19 new recipients of the CSL Behring Undergraduate Scholarships. The students received over $24,000.
"The CSL Behring Scholarships enable the Center to recognize and encourage the best and brightest of our undergraduates, helping us fulfill our mission as the premier academic Center focused on new developments in the growing field of industrial biotechnology. Founded in 2018, The Center has supported a wide range of student initiatives, facilitated interactions with multiple companies, and provided seed funding for new research programs. The three-fold increase in the number of scholarship applications this past year demonstrates our students' growing interest in industrial biotechnology. We applaud our students for their accomplishments and are confident that these scholarships will support their continued interest and development in this area," said Andrew Zydney, director of the Center.
The CSL Behring Innovation Scholarships are the highest recognition that the Center bestows on our students. The recipients all demonstrated a commitment to making a difference in industrial biotechnology through participating in undergraduate research, volunteering in the CSL Behring Fermentation Facility (Facility) or joining the Society for Industrial Biotechnology. Morgan Roggenbaum, a third-year student studying Biological Engineering with minors in Biomedical Engineering and Engineering Leadership Development, is currently pursuing an integrated Master's Degree in Agricultural and Biological Engineering at Penn State. Her research focuses on synthetic biology and genetic recombineering. "I intend to build upon my master's research experience with a PhD in a genetic-engineering-related field as a foundation for working in the pharmaceutical industry," she said. "The funding provided by the CSL Behring Innovation Scholarship will support me in gaining further biotechnology experience through internships and research, and it will help me move one step closer to a career focused on engineering solutions for the world's genetic diseases."
This year's recipients were:
Jackson Debski (sophomore, Chemical Engineering)
David Kennedy (junior, Chemical Engineering)
Hinkal Patel (junior, Chemical Engineering)
Morgan M. Roggenbaum (junior, Biological Engineering)
Tucker Wells (junior, Chemical Engineering)
The CSL Behring Biotechnology Scholarships identify and encourage students in the early stages of exploration of careers in biotechnology. Their quest to learn more was demonstrated through course selection, observational experiences in the Facility, or training through the Facility's bioprocessing module. Nicole Guise, a junior majoring in Agricultural and Extension Education, became interested in biotechnology from her involvement on her family's 500-acre dairy and crop farm. "I have used biotechnology when selecting dairy cattle genetics and crop varieties. After graduation, I hope to become an agricultural education teacher in a secondary school. It is my goal to incorporate biotechnology into my classes and inspire my students to pursue biotechnology and agriculture either as a career or hobby," she said.
This year's recipients were:
Ian Eder (junior, Biomedical Engineering)
Nicole R. Guise (junior, Agricultural and Extension Education)
Basel Karim (junior, Biochemistry and Molecular Biology)
Yihao Lin (junior, Biomedical Engineering)
Melissa Ling (senior, Biological Engineering)
Jamie Lowther (junior, Chemical Engineering)
Lorraine Peters (senior, Biological Engineering)
Kanin Sutthasinwong (senior, Biotechnology)
Paige Yamate (junior, Microbiology)
CSL Behring Senior Scholarships were awarded to students in their last semesters at Penn State. These students demonstrated their commitment to the Center's mission over the course of their academic studies. Brianna Frederick, a Biomedical Engineering major, is excited about her future. "Earning the Senior Scholarship has helped me realize my career goals. It was through my work over the last year as an undergraduate research assistant that I found my passion for laboratory research and cellular biology. I hope to expand my knowledge in molecular biology and engineering while working in a laboratory environment," she said.
This year's recipients were:
Matthew Aronson (Biomedical Engineering)
Brianna Frederick (Biomedical Engineering)
Abdulla Naouf (Biochemistry and Molecular Biology)
Megan Menzel (Chemical Engineering)
Lexi Smathers (Engineering)
2020-2021 Scholarship Opportunity
The Center invites outstanding Penn State undergraduate students from all campuses to apply for the 2020-2021 CSL Behring Scholarships. We welcome students from any field of study and stage in their exploration of the field of industrial biotechnology. Official announcement and application requirements will be posted at https://psu.infoready4.com/ under the category of OTHER PENN STATE COMPETITIONS & OPPORTUNITIES.
Center of Excellence in Industrial Biotechnology
The mission of the Center is to build a skilled workforce suitably trained for the complex and rapidly changing world of biopharmaceutical manufacturing and industrial biotechnology, support faculty and student research, and facilitate corporate and community outreach in industrial biotechnology. The Center was established with a $4.92 million gift from CSL Behring that also provided funds to revitalize equipment in the CSL Behring Fermentation Facility, a major core facility that is an engine for collaboration and innovation in biological training and research.