Jan 20, 2020
Center Seeks Proposals for 2020 IMPACT Seed Grants in Industrial Biotechnology
Students from all majors are welcome to apply although they must partner with a faculty or staff member as Principal Investigator.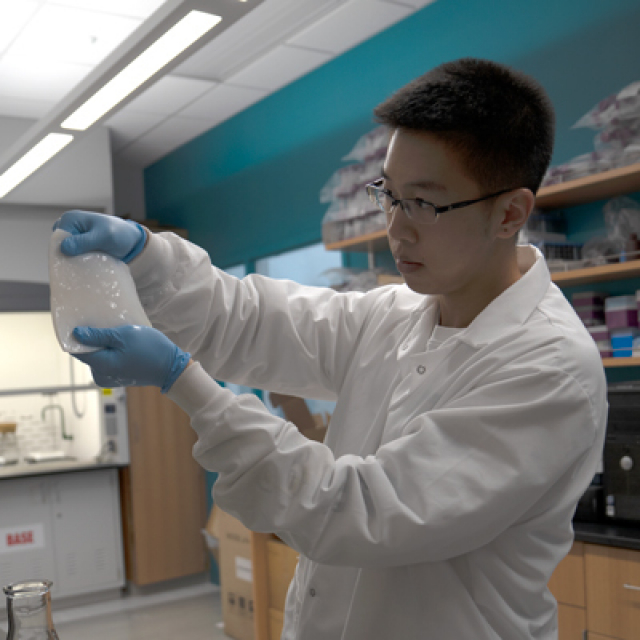 The Center of Excellence | Industrial Biotechnology is pleased to announce a new round of seed grant funding for interdisciplinary research, curricular development, or educational activities in the broad area of industrial biotechnology. Full-time faculty, staff, and students are eligible to apply; the application deadline is Friday, February 7, 2020. Funding of up to $25,000 per project is available. In this cycle, total available funding is up to $100,000.

Last year's seed grants funded projects that ranged from from protein purification to biofuels and involved faculty in 4 different departments spanning 3 different academic colleges:
Andrew Zydney, director of the Center of Excellence | Industrial Biotechnology (CoEIB) is working on creating a cost-effective protein purification protocol to separate Cas9 (CRISPR associated protein 9) from RNA. Cas9 is not a commercial product that you can buy in large quantities. "We're fortunate that we have the CSL Behring Fermentation Facility here, so we can make our own," Zydney said. "The next step in the process will be to couple the Cas9 to the RNA and look at the purification of these RNA protein complexes from the free RNA."
Ming Tien, professor of Biochemistry, is researching methods to better access cellulose found in switchgrass for biofuel production. Cellulose is the carbon source of plants, and is encapsulated by lignin, which is insoluble and very difficult for enzymes to access. "We've done some preliminary work with bacterial cellulose synthase such that we can create shorter, more accessible cellulose strands," Tien said.
Jeffrey Catchmark, professor of Agricultural and Biological Engineering, co-cultured the cellulose producing bacteria Gluconacetobacter hansenii with the pullulan producing fungi Aureobasidium pullulans. This was the first time a fungi has been co-cultured with a cellulose producing bacteria. Bacterial cellulose is biocompatible and has medical applications such as repairing head injuries where the dura that protects your brain has been damaged.
Students from all majors are welcome to apply although they must partner with a faculty or staff member as Principal Investigator. Mark Signs and Ashik Sathish, directors of the CSL Behring Fermentation Facility, as well as Andrew Zydney, have offered to assist as appropriate. Potential areas of interest could include undergraduate research projects or support for development of online or hands-on educational modules
Zydney strongly encourages students to think about how industrial biotechnology can fit into their college career. "Students should get involved with organizations like the Society for Industrial Biotechnology and expand the scope of their experiences. From the employer's point of view, it's great to interview student candidates who have some hands-on practical experience in our fermentation facility, even if that's not their long-term career goal."

Proposals that leverage the capabilities of the CSL Behring Fermentation Facility, provide matching funds to support new industry-funded collaborations, or support graduate/undergraduate students in industrial biotechnology research or educational activities will receive additional favorable consideration.
For more information, please contact Wendy Oakes (mwso5012@psu.edu).