Are you ready to share your research with us?
We are bringing back the annual Huck Life Sciences Symposium for the 7th year! This FREE event provides a forum for life science researchers and is open to students, post-doctoral fellows, faculty, staff, facilities and organizations. Since 2015, this event organized by the Huck Graduate Student Advisory Committee has brought together hundreds of researchers from diverse scientific fields, promoting interdisciplinary collaboration and networking. Register for the symposium to learn about some cool science, get the inside scoop on career opportunities after graduation (in academia and industry), and network with other life scientists!
New information!
Sign-up for the 2023 Life Sciences Symposium here by May 12th for registration with breakfast, lunch, dinner and coffee.
Check-out the LSS schedule here!
The Life Sciences Symposium will feature:
Keynote talk and panel (P.S., our theme this year is Breaking Barriers to Diversity)
Graduate student and postdoc talks
Student poster presentations
Breaking into academia and industry workshops
Networking opportunities
and more!
Workshops and Panel
Breaking into Academia workshop:
Featuring new Penn State PIs:
Dr. Jordan Bisanz (BMB)
Dr. Melanie McReynolds (BMB)
Dr. Grayson Sipe (Biology)

Breaking into Industry workshop:
Featuring Penn State alumni:
Dr. Archi Dasgupta
Dr. Rajarshi Guha
Dr. Andrew Latham
Dr. Naomi Yamada
Breaking barriers to DEI in STEM panel:
Dr. Paul Turne, the LSS keynote speaker from Yale
Dr. Jared Ali, Associate Professor of Entomology and acting chair of Huck's Ecology IGDP
Dr. Dara Purvis, Professor of Law and Associate Dean for Research and Partnerships at Penn State Law

Keynote Speaker
Dr. Paul Turner
Dr. Paul Turner is the Rachel Carson Professor of Ecology and Evolutionary Biology (EEB) at Yale University, and Microbiology faculty member at Yale School of Medicine. He obtained a BA in Biology (1988) from University of Rochester, a PhD in Microbial Evolution (1995) from Michigan State University, and did postdocs at National Institutes of Health, University of Valencia in Spain, and University of Maryland-College Park, before joining Yale in 2001. Dr. Turner studies evolutionary genetics of viruses, particularly phages (bacteria-specific viruses) that infect bacterial pathogens and RNA viruses transmitted by mosquitoes, and researches the use of phages to treat antibiotic-resistant bacterial diseases. He is very active in science-communication outreach to the general public, and is involved in the Yale National Initiative where faculty collaborate with K-12 teachers to improve STEMM education in underserved public schools. Dr. Turner's current service includes the National Science Foundation's Bio Advisory Committee and President-elect of the International Society for Evolution, Medicine and Public Health. His honors include Fellowships in the National Academy of Sciences, American Academy of Arts & Sciences, and American Academy of Microbiology.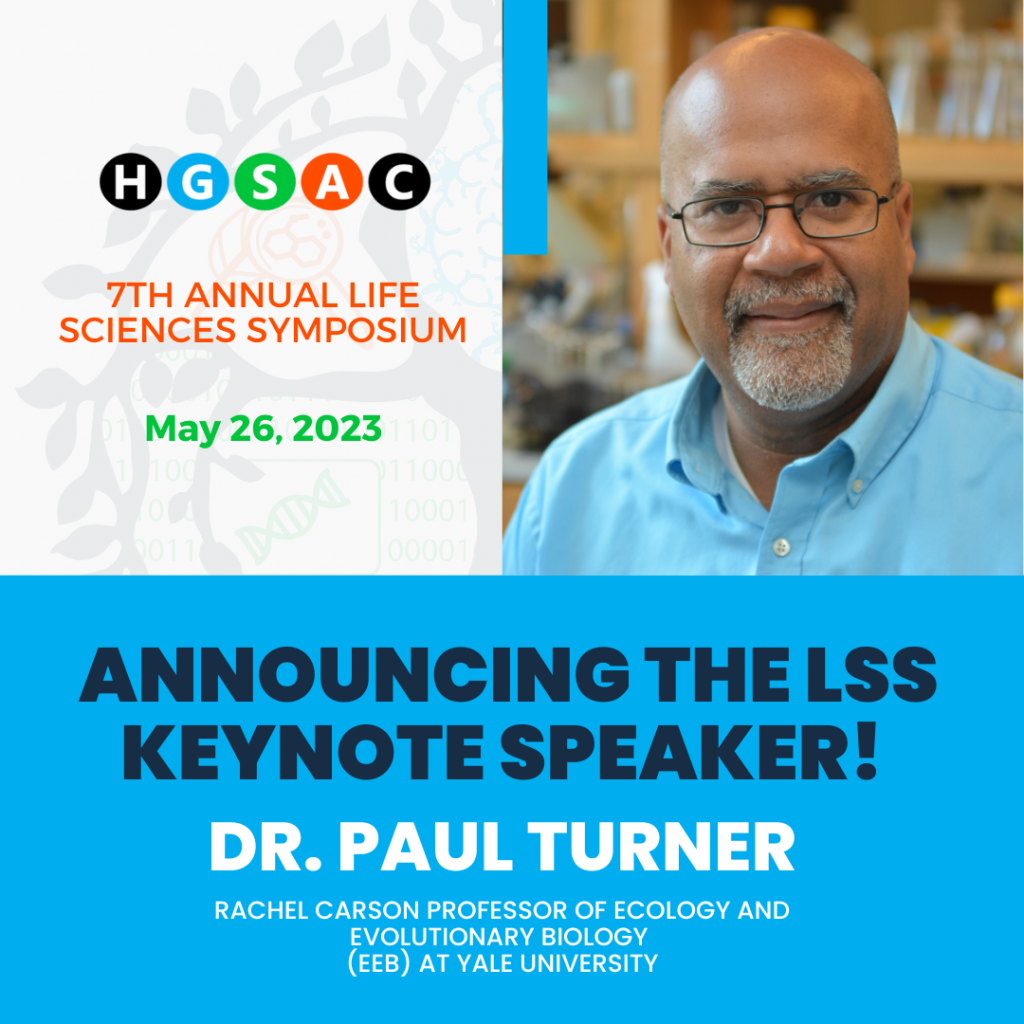 Dr. Paul Turner, will be having dinner with students after the Life Sciences Symposium, at 6:30 PM at the Tavern.
There is space available for ten students, and will be on a first come first serve basis.
Please use this link to sign up: Dr. Paul Turner Dinner Signup



Check in on LSS updates or check out previous year's symposia here.
Got questions?
Contact us via psu.hgsac@gmail.com