Patrick Drew
Associate Director of the Neuroscience Institute; Huck Distinguished Associate Professor of Neural Engineering and Neurosurgery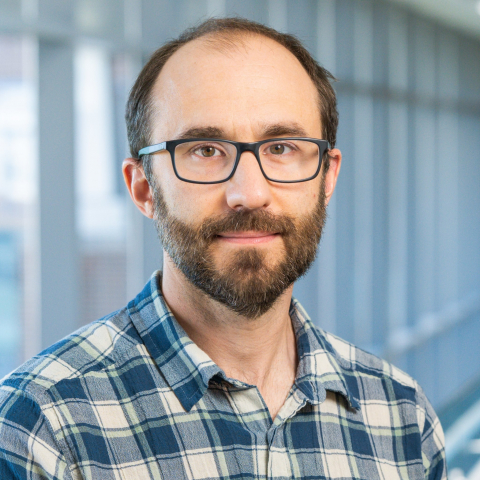 W317 Millennium Science Complex
University Park,
Research Summary
Role of blood flow and cerebrospinal fluid movement in the development of neurodegenerative diseases, control of cerebral blood flow, neurovascular coupling.
Huck Affiliations
Links
Publication Tags
Hemodynamics
Locomotion
Brain
Cerebral Blood Volume
Photons
Dilatation
Cerebrovascular Circulation
Blood
Imaging Techniques
Blood Vessels
Constriction
Oxygen
Respiration
Infection
Bone
Oxygenation
Cerebrospinal Fluid
Sudden Death
Epilepsy
Calcitonin Gene Related Peptide
Radon
Malaria
Somatosensory Cortex
Lasers
Vibrissae
Most Recent Papers
Cerebral oxygenation during locomotion is modulated by respiration
Qingguang Zhang, Morgane Roche, Kyle W. Gheres, Emmanuelle Chaigneau, Ravi T. Kedarasetti, William D. Haselden, Serge Charpak, Patrick J. Drew, 2019, Nature communications
Twitches, Blinks, and Fidgets
Patrick James Drew, Aaron T. Winder, Qingguang Zhang, 2019, Neuroscientist on p. 298-313
Anatomical basis and physiological role of cerebrospinal fluid transport through the murine cribriform plate
Jordan N. Norwood, Qingguang Zhang, David Card, Amanda Craine, Timothy M. Ryan, Patrick J. Drew, 2019, eLife
Weak correlations between hemodynamic signals and ongoing neural activity during the resting state
Aaron T. Winder, Christina Echagarruga, Qingguang Zhang, Patrick J. Drew, 2017, Nature Neuroscience on p. 1761-1769
A Murine Model to Study Epilepsy and SUDEP Induced by Malaria Infection
Paddy Ssentongo, Anna E. Robuccio, Godfrey Thuku, Derek G. Sim, Ali Nabi, Fatemeh Bahari, Balaji Shanmugasundaram, Myles W. Billard, Andrew Geronimo, Kurt W. Short, Patrick J. Drew, Jennifer Baccon, Steven L. Weinstein, Frank G. Gilliam, José A. Stoute, Vernon M. Chinchilli, Andrew F. Read, Bruce J. Gluckman, Steven J. Schiff, 2017, Scientific reports
Effects of voluntary locomotion and calcitonin gene-related peptide on the dynamics of single dural vessels in awake mice
Yu Rong Gao, Patrick J. Drew, 2016, Journal of Neuroscience on p. 2503-2516
Mechanical restriction of intracortical vessel dilation by brain tissue sculpts the hemodynamic response
Yu Rong Gao, Stephanie E. Greene, Patrick J. Drew, 2015, NeuroImage on p. 162-176
Quantitative separation of arterial and venous cerebral blood volume increases during voluntary locomotion
Bing Xing Huo, Yu Rong Gao, Patrick J. Drew, 2015, NeuroImage on p. 369-379
Venous cerebral blood volume increase during voluntary locomotion reflects cardiovascular changes
Bing Xing Huo, Stephanie E. Greene, Patrick J. Drew, 2015, NeuroImage on p. 301-312
Determination of vessel cross-sectional area by thresholding in Radon space
Yu Rong Gao, Patrick J. Drew, 2014, Journal of Cerebral Blood Flow and Metabolism on p. 1180-1187
View More
Most-Cited Papers
Fluctuating and sensory-induced vasodynamics in rodent cortex extend arteriole capacity
Patrick J. Drew, Andy Y. Shih, David Kleinfeld, 2011, Proceedings of the National Academy of Sciences of the United States of America on p. 8473-8478
A polished and reinforced thinned-skull window for long-term imaging of the mouse brain.
Andy Y. Shih, Celine Mateo, Patrick James Drew, Philbert S. Tsai, David Kleinfeld, 2012, Journal of visualized experiments : JoVE
Weak correlations between hemodynamic signals and ongoing neural activity during the resting state
Aaron T. Winder, Christina Echagarruga, Qingguang Zhang, Patrick J. Drew, 2017, Nature Neuroscience on p. 1761-1769
Quantitative separation of arterial and venous cerebral blood volume increases during voluntary locomotion
Bing Xing Huo, Yu Rong Gao, Patrick J. Drew, 2015, NeuroImage on p. 369-379
Mechanical restriction of intracortical vessel dilation by brain tissue sculpts the hemodynamic response
Yu Rong Gao, Stephanie E. Greene, Patrick J. Drew, 2015, NeuroImage on p. 162-176
Determination of vessel cross-sectional area by thresholding in Radon space
Yu Rong Gao, Patrick J. Drew, 2014, Journal of Cerebral Blood Flow and Metabolism on p. 1180-1187
Effects of voluntary locomotion and calcitonin gene-related peptide on the dynamics of single dural vessels in awake mice
Yu Rong Gao, Patrick J. Drew, 2016, Journal of Neuroscience on p. 2503-2516
Venous cerebral blood volume increase during voluntary locomotion reflects cardiovascular changes
Bing Xing Huo, Stephanie E. Greene, Patrick J. Drew, 2015, NeuroImage on p. 301-312
Two-photon imaging of blood flow in the rat cortex
Jonathan D. Driscoll, Andy Y. Shih, Patrick J. Drew, Gert Cauwenberghs, David Kleinfeld, 2013, Cold Spring Harbor Protocols on p. 759-767
A Murine Model to Study Epilepsy and SUDEP Induced by Malaria Infection
Paddy Ssentongo, Anna E. Robuccio, Godfrey Thuku, Derek G. Sim, Ali Nabi, Fatemeh Bahari, Balaji Shanmugasundaram, Myles W. Billard, Andrew Geronimo, Kurt W. Short, Patrick J. Drew, Jennifer Baccon, Steven L. Weinstein, Frank G. Gilliam, José A. Stoute, Vernon M. Chinchilli, Andrew F. Read, Bruce J. Gluckman, Steven J. Schiff, 2017, Scientific reports
View More