Patrick Drew
Associate Director of the Neuroscience Institute; Professor of Engineering Science and Mechanics, of Neurosurgery, of Biology, and of Biomedical Engineering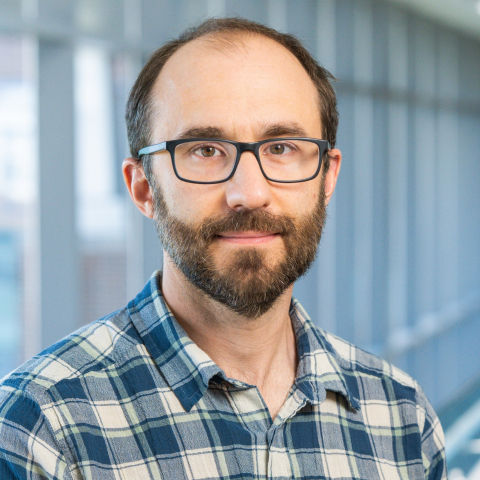 W317 Millennium Science Complex
University Park,
Research Summary
Optical imaging of brain dynamics during sleep and behavior; Role of blood flow and cerebrospinal fluid movement in neurodegenerative disease
Huck Graduate Students
Huck Affiliations
Links
Publication Tags
These publication tags are generated from the output of this researcher. Click any tag below to view other Huck researchers working on the same topic.
Brain
Hemodynamics
Blood Vessels
Cerebrospinal Fluid
Oxygen
Cerebral Blood Volume
Arterioles
Neurovascular Coupling
Oxygenation
Vasodilation
Magnetic Resonance Imaging
Locomotion
Drive
Dioxygen
Dilatation
Neurons
Somatosensory Cortex
Optical Imaging
Parvalbumins
Arousal
Neuroimaging
Head
Neurosciences
Plate Like Crystal
Blinking
Most Recent Publications
Qingqing Zhang, Samuel R. Cramer, Kevin L. Turner, Thomas Neuberger, Patrick J. Drew, Nanyin Zhang, 2023, NeuroImage
Relating Pupil Diameter and Blinking to Cortical Activity and Hemodynamics across Arousal States
Kevin L. Turner, Kyle W. Gheres, Patrick J. Drew, 2023, Journal of Neuroscience on p. 949-964
Thanh Tan Vo, Geun Ho Im, Kayoung Han, Minah Suh, Patrick J. Drew, Seong Gi Kim, 2023, Proceedings of the National Academy of Sciences of the United States of America
R. Kedarasetti, Patrick J. Drew, Francesco Costanzo, 2022, Fluids and Barriers of the CNS on p. 34-1–34-24
W Haselden, Patrick Drew, Ephraim Church, 2022, Journal of neurosurgery. Case lessons on p. CASE2290
Aaron T. Winder, Christina Echagarruga, Qingguang Zhang, Patrick J. Drew, 2022, Nature Neuroscience on p. 975
Yuan ting Wu, Hannah C. Bennett, Uree Chon, Daniel J. Vanselow, Qingguang Zhang, Rodrigo Mun˜ oz-Castan˜ eda, Rodrigo Muñoz-Castañeda, Keith C. Cheng, Pavel Osten, Patrick J. Drew, Yongsoo Kim, 2022, Cell Reports
Shubham Mirg, Haoyang Chen, Kevin Turner, Kyle Gheres, Jinyun Liu, Bruce J. Gluckman, Patrick Drew, Sri Rajasekhar Kothapalli, 2022, Optics Letters on p. 1121-1124
Could respiration-driven blood oxygen changes modulate neural activity?
Qingguang Zhang, William D. Haselden, Serge Charpak, Patrick J. Drew, 2022, Pflugers Archiv fur die gesamte Physiologie des Menschen und der Tiere
Cerebral Oxygenation Dynamics in Awake Behaving Mice
Qingguang Zhang, Morgane Roche, Kyle W. Gheres, Emmanuelle Chaigneau, William D. Haselden, Ravi T. Kedarasetti, Serge Charpak, Patrick J. Drew, 2022,
View More
Most-Cited Papers
Yu Rong Gao, Yuncong Ma, Qingguang Zhang, Aaron T. Winder, Zhifeng Liang, Lilith Antinori, Patrick J. Drew, Nanyin Zhang, 2017, NeuroImage on p. 382-398
Aaron T. Winder, Christina Echagarruga, Qingguang Zhang, Patrick J. Drew, 2017, Nature Neuroscience on p. 1761-1769
Andy Y. Shih, Charlotta Rühlmann, Pablo Blinder, Anna Devor, Patrick J. Drew, Beth Friedman, Per M. Knutsen, Patrick D. Lyden, Céline Matéo, Lisa Mellander, Nozomi Nishimura, Chris B. Schaffer, Philbert S. Tsai, David Kleinfeld, 2015, Microcirculation on p. 204-218
View More