Neela Yennawar
Director, X-Ray Crystallography and Automated Biological Calorimetry Core Facilities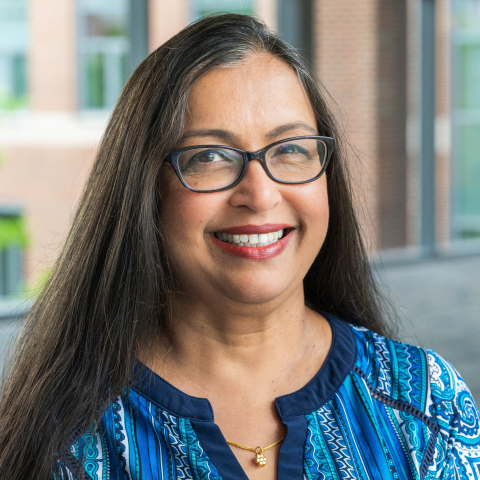 0088 Althouse Lab
University Park, PA 16802
Research Summary
Biological calorimetry, protein characterization, molecular modeling, X-ray crystallography, and small-angle X-ray scattering.
Huck Affiliations
Publication Tags
Rna
Enzymes
X Ray Crystallography
Transfer Rna
Tea
Oxidation Reduction
Proteins
Glutamic Acid
Glutaminase
Theaflavin
Transaminases
Alpha Hydroxyglutarate
Lipase
Biosynthesis
X Rays
Rna Folding
Nucleotides
Temperature
In Vitro Techniques
Hot Temperature
Catalytic Domain
Heterojunctions
Dihydroxyacetone Phosphate
Triacylglycerol Lipase
Abdomen
Most Recent Papers
Single-nucleotide control of tRNA folding cooperativity under near-cellular conditions
Kathleen A. Leamy, Ryota Yamagami, Neela H. Yennawar, Philip C. Bevilacqua, 2019, Proceedings of the National Academy of Sciences of the United States of America on p. 23075-23082
Enhanced performance and stability in DNA-perovskite heterostructure-based solar cells
Yuchen Hou, Kai Wang, Dong Yang, Yuanyuan Jiang, Neela Yennawar, Ke Wang, Mohan Sanghadasa, Congcong Wu, Shashank Priya, 2019, ACS Energy Letters on p. 2646-2655
An unexpected species determined by X-ray crystallography that may represent an intermediate in the reaction catalyzed by quinolinate synthase
Olga A. Esakova, Alexey Silakov, Tyler L. Grove, Douglas M. Warui, Neela H. Yennawar, Squire J. Booker, 2019, Journal of the American Chemical Society on p. 14142-14151
Physicochemical interactions with (-)-epigallocatechin-3-gallate drive structural modification of celiac-associated peptide α<sub>2</sub>-gliadin (57-89) at physiological conditions
Charlene B. Van Buiten, Neela H. Yennawar, Carlos N. Pacheco, Emmanuel Hatzakis, Ryan J. Elias, 2019, Food and Function on p. 2997-3007
Structures of Class Id Ribonucleotide Reductase Catalytic Subunits Reveal a Minimal Architecture for Deoxynucleotide Biosynthesis
Hannah R. Rose, Ailiena O. Maggiolo, Molly J. McBride, Gavin M. Palowitch, Maria Eirini Pandelia, Katherine M. Davis, Neela H. Yennawar, Amie K. Boal, 2019, Biochemistry on p. 1845-1860
Transaminase Inhibition by 2-Hydroxyglutarate Impairs Glutamate Biosynthesis and Redox Homeostasis in Glioma
Samuel K. McBrayer, Jared R. Mayers, Gabriel J. DiNatale, Diana D. Shi, Januka Khanal, Abhishek A. Chakraborty, Kristopher A. Sarosiek, Kimberly J. Briggs, Alissa K. Robbins, Tomasz Sewastianik, Sarah J. Shareef, Benjamin A. Olenchock, Seth J. Parker, Kensuke Tateishi, Jessica B. Spinelli, Mirazul Islam, Marcia C. Haigis, Ryan E. Looper, Keith L. Ligon, Bradley E. Bernstein, Ruben D. Carrasco, Daniel P. Cahill, John M. Asara, Christian M. Metallo, Neela H. Yennawar, Matthew G. Vander Heiden, William G. Kaelin, 2018, Cell on p. 101-116.e25
Molecular Mechanism for Folding Cooperativity of Functional RNAs in Living Organisms
Kathleen A. Leamy, Neela Yennawar, Philip C. Bevilacqua, 2018, Biochemistry on p. 2994-3002
Cooperative RNA Folding under Cellular Conditions Arises from Both Tertiary Structure Stabilization and Secondary Structure Destabilization
Kathleen A. Leamy, Neela H. Yennawar, Philip C. Bevilacqua, 2017, Biochemistry on p. 3422-3433
Inhibition of pancreatic lipase by black tea theaflavins
Shannon L. Glisan, Kimberly A. Grove, Neela H. Yennawar, Joshua D. Lambert, 2017, Food Chemistry on p. 296-300
"The GlcN6P cofactor plays multiple catalytic roles in the glmS ribozyme"
Jamie Bingaman, Sixue Zhang, David Stevens, Neela Yennawar, Sharon Hammes-Schiffer, Philip Bevilacqua, 2017, Nature Chemical Biology on p. 439-445
View More
Most-Cited Papers
Structural basis for methyl transfer by a radical SAM enzyme
Amie Kathleen Boal, Tyler L. Grove, Monica I. McLaughlin, Neela Yennawar, Squire J. Booker, Amy C. Rosenzweig, 2011, Science on p. 1089-1092
Structural basis for entropy-driven cellulose binding by a type-A cellulose-binding module (CBM) and bacterial expansin
Nikolaos Georgelis, Neela H. Yennawar, Daniel J. Cosgrove, 2012, Proceedings of the National Academy of Sciences of the United States of America on p. 14830-14835
Molecular crowding favors reactivity of a human ribozyme under physiological ionic conditions
Christopher A. Strulson, Neela Yennawar, Robert P. Rambo, Philip C. Bevilacqua, 2013, Biochemistry on p. 8187-8197
Precise Manipulation and Patterning of Protein Crystals for Macromolecular Crystallography Using Surface Acoustic Waves
Feng Guo, Weijie Zhou, Peng Li, Zhangming Mao, Neela H. Yennawar, Jarrod B. French, Tony Jun Huang, 2015, Small on p. 2733-2737
Transaminase Inhibition by 2-Hydroxyglutarate Impairs Glutamate Biosynthesis and Redox Homeostasis in Glioma
Samuel K. McBrayer, Jared R. Mayers, Gabriel J. DiNatale, Diana D. Shi, Januka Khanal, Abhishek A. Chakraborty, Kristopher A. Sarosiek, Kimberly J. Briggs, Alissa K. Robbins, Tomasz Sewastianik, Sarah J. Shareef, Benjamin A. Olenchock, Seth J. Parker, Kensuke Tateishi, Jessica B. Spinelli, Mirazul Islam, Marcia C. Haigis, Ryan E. Looper, Keith L. Ligon, Bradley E. Bernstein, Ruben D. Carrasco, Daniel P. Cahill, John M. Asara, Christian M. Metallo, Neela H. Yennawar, Matthew G. Vander Heiden, William G. Kaelin, 2018, Cell on p. 101-116.e25
Inhibition of pancreatic lipase by black tea theaflavins
Shannon L. Glisan, Kimberly A. Grove, Neela H. Yennawar, Joshua D. Lambert, 2017, Food Chemistry on p. 296-300
Cooperative RNA Folding under Cellular Conditions Arises from Both Tertiary Structure Stabilization and Secondary Structure Destabilization
Kathleen A. Leamy, Neela H. Yennawar, Philip C. Bevilacqua, 2017, Biochemistry on p. 3422-3433
X-ray crystal structure and small-angle X-ray scattering of sheep liver sorbitol dehydrogenase
Hemant Yennawar, Magda Mller, Richard Gillilan, Neela Yennawar, 2011, Acta Crystallographica Section D: Biological Crystallography on p. 440-446
Kinetic and structural characterization of dihydrofolate reductase from Streptococcus pneumoniae
Jeeyeon Lee, Neela Yennawar, Jongsik Gam, Stephen Benkovic, 2010, Biochemistry on p. 195-206
Structural and biochemical characterization of a ferredoxin
Adepu K. Kumar, R. Siva Sai Kumar, Neela H. Yennawar, Hemant P. Yennawar, James G. Ferry, 2015, Biochemistry on p. 3122-3128
View More