Melissa Rolls
Chair, Intercollege Graduate Degree Program in Molecular, Cellular and Integrative Biosciences; Director of the Center for Cellular Dynamics; Paul Berg Professor of Biochemistry and Molecular Biology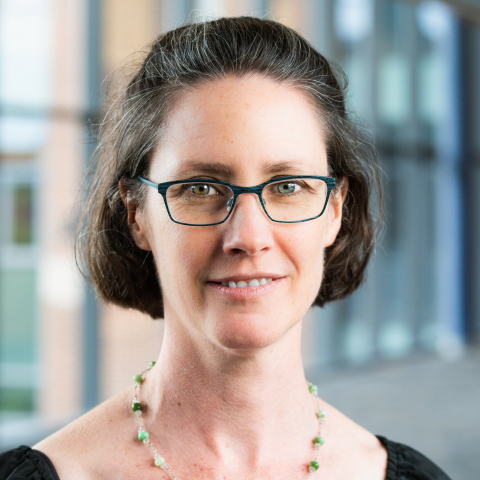 118 Huck Life Sciences
University Park, PA 16802
Research Summary
Subcellular compartmentalization of neurons. The cellular basis of neuronal polarity and neuronal responses to injury including degeneration and regeneration.
Huck Graduate Students
Huck Affiliations
Links
Publication Tags
Dendrites
Neurons
Microtubules
Axons
Drosophila
Proteins
Regeneration
Wounds And Injuries
Spastin
Tubulin
Genes
Dendrites (Metallography)
Phosphotransferases
Growth
Leucine Zippers
Defects
Mitochondria
Microtubule Proteins
Sensory Receptor Cells
Rna Interference
Nucleation
Wnt Proteins
Drosophila Melanogaster
Receptor Protein Tyrosine Kinases
Receptor Tyrosine Kinase Like Orphan Receptors
Most Recent Papers
Neurons survive simultaneous injury to axons and dendrites and regrow both types of processes in vivo
Matthew Shorey, Michelle C. Stone, Jenna Mandel, Melissa M. Rolls, 2020, Developmental Biology on p. 108-118
Kinetochore proteins suppress neuronal microtubule dynamics and promote dendrite regeneration
James I. Hertzler, Samantha I. Simonovitch, Richard M. Albertson, Alexis T. Weiner, Derek M.R. Nye, Melissa M. Rolls, 2020, Molecular Biology of the Cell on p. 2125-2138
Microtubule dynamics in healthy and injured neurons.
Melissa Rolls, P Thyagarajan, C Feng, 2020, Developmental neurobiology
Endosomal Wnt signaling proteins control microtubule nucleation in dendrites
Alexis T. Weiner, Dylan Y. Seebold, Pedro Torres-Gutierrez, Christin Folker, Rachel D. Swope, Gregory O. Kothe, Jessica G. Stoltz, Madeleine K. Zalenski, Christopher Kozlowski, Dylan J. Barbera, Mit A. Patel, Pankajam Thyagarajan, Matthew Shorey, Derek M.R. Nye, Matthew Keegan, Kana Behari, Song Song, Jeffrey D. Axelrod, Melissa M. Rolls, 2020, PLoS Biology
The receptor tyrosine kinase Ror is required for dendrite regeneration in Drosophila neurons
Derek M.R. Nye, Richard M. Albertson, Alexis T. Weiner, J. Ian Hertzler, Matthew Shorey, Deborah C.I. Goberdhan, Clive Wilson, Kevin A. Janes, Melissa M. Rolls, 2020, PLoS Biology
Cytoskeletal and synaptic polarity of LWamide-like plus ganglion neurons in the sea anemone Nematostella vectensis
Michelle Stone, Gregory Kothe, Melissa Rolls, Timothy Jegla, 2020, JOURNAL OF EXPERIMENTAL BIOLOGY
Degeneration of Injured Axons and Dendrites Requires Restraint of a Protective JNK Signaling Pathway by the Transmembrane Protein Raw
Yan Hao, Thomas J. Waller, Derek M. Nye, Jiaxing Li, Yanxiao Zhang, Richard I. Hume, Melissa M. Rolls, Catherine A. Collins, 2019, Journal of Neuroscience on p. 8457-8470
Patronin-mediated minus end growth is required for dendritic microtubule polarity
Chengye Feng, Pankajam Thyagarajan, Matthew Shorey, Dylan Y. Seebold, Alexis T. Weiner, Richard M. Albertson, Kavitha S. Rao, Alvaro Sagasti, Daniel J. Goetschius, Melissa M. Rolls, 2019, Journal of Cell Biology on p. 2309-2328
Pervasive genetic interactions modulate neurodevelopmental defects of the autism-Associated 16p11.2 deletion in Drosophila melanogaster
Janani Iyer, Mayanglambam Dhruba Singh, Matthew Jensen, Payal Patel, Lucilla Pizzo, Emily Huber, Haley Koerselman, Alexis T. Weiner, Paola Lepanto, Komal Vadodaria, Alexis Kubina, Qingyu Wang, Abigail Talbert, Sneha Yennawar, Jose Badano, J. Robert Manak, Melissa Rolls, Arjun Krishnan, Santhosh Girirajan, 2018, Nature Communications
Identification of proteins required for precise positioning of Apc2 in dendrites
Alexis T. Weiner, Dylan Y. Seebold, Nick L. Michael, Michelle Guignet, Chengye Feng, Brandon Follick, Brandon A. Yusko, Nathan P. Wasilko, Pedro Torres-Gutierrez, Melissa M. Rolls, 2018, G3: Genes, Genomes, Genetics on p. 1841-1853
View More
Most-Cited Papers
Neuronal polarity in Drosophila
Melissa Rolls, 2011, Developmental Neurobiology on p. 419-429
γ-tubulin controls neuronal microtubule polarity independently of Golgi outposts
Michelle M. Nguyen, Christie J. McCracken, E. S. Milner, Daniel J. Goetschius, Alexis T. Weiner, Melissa K. Long, Nick L. Michael, Sean Munro, Melissa Rolls, 2014, Molecular Biology of the Cell on p. 2039-2050
Axon injury and stress trigger a microtubule-based neuroprotective pathway
Li Chen, Michelle C. Stone, Juan Tao, Melissa Rolls, 2012, Proceedings of the National Academy of Sciences of the United States of America on p. 11842-11847
Microtubules are organized independently of the centrosome in Drosophila neurons
Michelle M. Nguyen, Michelle C. Stone, Melissa M. Rolls, 2011, Neural Development
Dendrites have a rapid program of injury-induced degeneration that is molecularly distinct from developmental pruning
Juan Tao, Melissa M. Rolls, 2011, Journal of Neuroscience on p. 5398-5405
Normal Spastin Gene Dosage Is Specifically Required for Axon Regeneration
Michelle C. Stone, Kavitha Rao, Kyle W. Gheres, Seahee Kim, Juan Tao, Caroline La Rochelle, Christin T. Folker, Nina T. Sherwood, Melissa Rolls, 2012, Cell Reports on p. 1340-1350
Katanin p60-like1 promotes microtubule growth and terminal dendrite stability in the larval class IV sensory neurons of Drosophila
Andrea Stewart, Asako Tsubouchi, Melissa M. Rolls, W. Daniel Tracey, Nina Tang Sherwood, 2012, Journal of Neuroscience on p. 11631-11642
Dendrite injury triggers DLK-independent regeneration
Michelle C. Stone, Richard M. Albertson, Li Chen, Melissa Rolls, 2014, Cell Reports on p. 247-253
Development of dendrite polarity in Drosophila neurons
Sarah E. Hill, Manpreet Parmar, Kyle W. Gheres, Michelle A. Guignet, Yanmei Huang, F. R. Jackson, Melissa M. Rolls, 2012, Neural Development
Spastin, atlastin, and ER relocalization are involved in axon but not dendrite regeneration
Kavitha Rao, Michelle C. Stone, Alexis T. Weiner, Kyle W. Gheres, Chaoming Zhou, David L. Deitcher, Edwin S. Levitan, Melissa Rolls, 2016, Molecular Biology of the Cell on p. 3245-3256
View More