Manuel Llinas
Professor of Biochemistry and Molecular Biology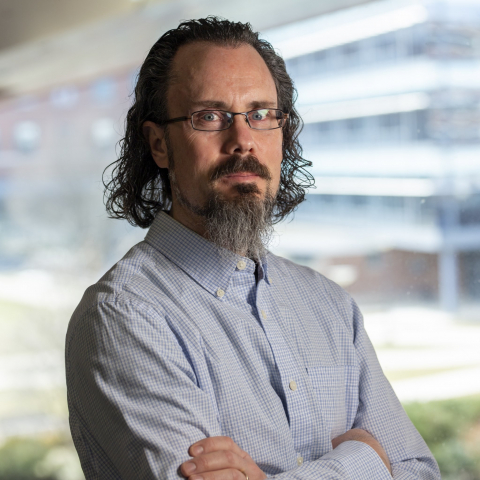 W126 Millennium Science Complex
State College, Pennsylvania 16803
He/Him
Research Summary
Understanding the molecular mechanisms of gene regulation and metabolism in the malaria parasite Plasmodium falciparum using functional genomics and metabolomics.
Huck Graduate Students
Huck Affiliations
Links
Publication Tags
Parasites
Malaria
Plasmodium Falciparum
Genes
Antimalarials
Pharmaceutical Preparations
Sexual Development
Proteins
Drug Discovery
Plasmodium
Mutation
Drugs
Artemisinine
Genome
Life Cycle Stages
Transcription Factors
Gametocytes
Metabolism
Gene Expression
Tricarboxylic Acids
Protein
Zinc Finger Nucleases
Artesunate
Pharmacological Metabolism
Glutathione Transferase
Most Recent Papers
H3K36 methylation reprograms gene expression to drive early gametocyte development in Plasmodium falciparum
Jessica Connacher, Gabrielle A. Josling, Lindsey M. Orchard, Janette Reader, Manuel Llinás, Lyn Marié Birkholtz, 2021, Epigenetics and Chromatin
Multistage and transmission-blocking targeted antimalarials discovered from the open-source MMV Pandemic Response Box
Janette Reader, Mariëtte E. van der Watt, Dale Taylor, Claire Le Manach, Nimisha Mittal, Sabine Ottilie, Anjo Theron, Phanankosi Moyo, Erica Erlank, Luisa Nardini, Nelius Venter, Sonja Lauterbach, Belinda Bezuidenhout, Andre Horatscheck, Ashleigh van Heerden, Natalie J. Spillman, Anne N. Cowell, Jessica Connacher, Daniel Opperman, Lindsey M. Orchard, Manuel Llinás, Eva S. Istvan, Daniel E. Goldberg, Grant A. Boyle, David Calvo, Dalu Mancama, Theresa L. Coetzer, Elizabeth A. Winzeler, James Duffy, Lizette L. Koekemoer, Gregory Basarab, Kelly Chibale, Lyn Marié Birkholtz, 2021, Nature Communications
Artemisinin-resistant K13 mutations rewire Plasmodium falciparum's intra-erythrocytic metabolic program to enhance survival
Sachel Mok, Barbara H. Stokes, Nina F. Gnädig, Leila S. Ross, Tomas Yeo, Chanaki Amaratunga, Erik Allman, Lev Solyakov, Andrew R. Bottrill, Jaishree Tripathi, Rick M. Fairhurst, Manuel Llinás, Zbynek Bozdech, Andrew B. Tobin, David A. Fidock, 2021, Nature Communications
Chemogenomic Fingerprints Associated with Stage-Specific Gametocytocidal Compound Action against Human Malaria Parasites
Jandeli Niemand, Riëtte Van Biljon, Mariëtte Van Der Watt, Ashleigh Van Heerden, Janette Reader, Roelof Van Wyk, Lindsey Orchard, Kelly Chibale, Manuel Llinás, Lyn Marié Birkholtz, 2021, ACS Infectious Diseases on p. 2904-2916
A heat-shock response regulated by the PfAP2-HS transcription factor protects human malaria parasites from febrile temperatures
Elisabet Tintó-Font, Lucas Michel-Todó, Timothy J. Russell, Núria Casas-Vila, David J. Conway, Zbynek Bozdech, Manuel Llinás, Alfred Cortés, 2021, Nature Microbiology on p. 1163-1174
The Kringle of Life
Manuel Llinás, 2021, Protein Journal on p. 454-456
Re-Envisioning Anti-Apicomplexan Parasite Drug Discovery Approaches
Gabriel W. Rangel, Manuel Llinás, 2021, Frontiers in cellular and infection microbiology
MalDA, Accelerating Malaria Drug Discovery
Tuo Yang, Sabine Ottilie, Eva S. Istvan, Karla P. Godinez-Macias, Amanda K. Lukens, Beatriz Baragaña, Brice Campo, Chris Walpole, Jacquin C. Niles, Kelly Chibale, Koen J. Dechering, Manuel Llinás, Marcus C.S. Lee, Nobutaka Kato, Susan Wyllie, Case W. McNamara, Francisco Javier Gamo, Jeremy Burrows, David A. Fidock, Daniel E. Goldberg, Ian H. Gilbert, Dyann F. Wirth, Elizabeth A. Winzeler, 2021, Trends in Parasitology on p. 493-507
The PfAP2-G2 transcription factor is a critical regulator of gametocyte maturation
Suprita Singh, Joana M. Santos, Lindsey M. Orchard, Naomi Yamada, Riëtte van Biljon, Heather J. Painter, Shaun Mahony, Manuel Llinás, 2021, Molecular Microbiology on p. 1005-1024
PfMFR3
Frances Rocamora, Purva Gupta, Eva S. Istvan, Madeline R. Luth, Emma F. Carpenter, Krittikorn Kümpornsin, Erika Sasaki, Jaeson Calla, Nimisha Mittal, Krypton Carolino, Edward Owen, Manuel Llinás, Sabine Ottilie, Daniel E. Goldberg, Marcus C.S. Lee, Elizabeth A. Winzeler, 2021, ACS Infectious Diseases on p. 811-825
View More
Most-Cited Papers
A transcriptional switch underlies commitment to sexual development in malaria parasites
Björn F.C. Kafsack, Núria Rovira-Graells, Taane G. Clark, Cristina Bancells, Valerie M. Crowley, Susana G. Campino, April E. Williams, Laura G. Drought, Dominic P. Kwiatkowski, David A. Baker, Alfred Cortés, Manuel Llinás, 2014, Nature on p. 248-252
A cascade of DNA-binding proteins for sexual commitment and development in Plasmodium
Abhinav Sinha, Katie R. Hughes, Katarzyna K. Modrzynska, Thomas D. Otto, Claudia Pfander, Nicholas J. Dickens, Agnieszka A. Religa, Ellen Bushell, Anne L. Graham, Rachael Cameron, Bjorn F.C. Kafsack, April E. Williams, Manuel Llinás, Matthew Berriman, Oliver Billker, Andrew P. Waters, 2014, Nature on p. 253-257
Open Source Drug Discovery with the Malaria Box Compound Collection for Neglected Diseases and Beyond
Wesley C. Van Voorhis, John H. Adams, Roberto Adelfio, Vida Ahyong, Myles H. Akabas, Pietro Alano, Aintzane Alday, Yesmalie Alemán Resto, Aishah Alsibaee, Ainhoa Alzualde, Katherine T. Andrews, Simon V. Avery, Vicky M. Avery, Lawrence Ayong, Mark Baker, Stephen Baker, Choukri Ben Mamoun, Sangeeta Bhatia, Quentin Bickle, Lotfi Bounaadja, Tana Bowling, Jürgen Bosch, Lauren E. Boucher, Fabrice F. Boyom, Jose Brea, Marian Brennan, Audrey Burton, Conor R. Caffrey, Grazia Camarda, Manuela Carrasquilla, Dee Carter, Maria Belen Cassera, Ken Chih-Chien Cheng, Worathad Chindaudomsate, Anthony Chubb, Beatrice L. Colon, Daisy D. Colón-López, Yolanda Corbett, Gregory J. Crowther, Noemi Cowan, Sarah D'Alessandro, Na Le Dang, Michael Delves, Joseph L. DeRisi, Alan Y. Du, Sandra Duffy, Shimaa Abd El-Salam El-Sayed, Michael T. Ferdig, José A. Fernández Robledo, David A. Fidock, Isabelle Florent, Patrick V.T. Fokou, Ani Galstian, Francisco Javier Gamo, Suzanne Gokool, Ben Gold, Todd Golub, Gregory M. Goldgof, Rajarshi Guha, W. Armand Guiguemde, Nil Gural, R. Kiplin Guy, Michael A.E. Hansen, Kirsten K. Hanson, Andrew Hemphill, Rob Hooft van Huijsduijnen, Takaaki Horii, Paul Horrocks, Tyler B. Hughes, Christopher Huston, Ikuo Igarashi, Katrin Ingram-Sieber, Maurice A. Itoe, Ajit Jadhav, Amornrat Naranuntarat Jensen, Laran T. Jensen, Rays H.Y. Jiang, Annette Kaiser, Jennifer Keiser, Thomas Ketas, Sebastien Kicka, Sunyoung Kim, Kiaran Kirk, Vidya P. Kumar, Dennis E. Kyle, Maria Jose Lafuente, Scott Landfear, Nathan Lee, Sukjun Lee, Adele M. Lehane, Fengwu Li, David Little, Liqiong Liu, Manuel Llinás, Maria I. Loza, Aristea Lubar, Leonardo Lucantoni, Isabelle Lucet, Louis Maes, Dalu Mancama, Nuha R. Mansour, Sandra March, Sheena McGowan, Iset Medina Vera, Stephan Meister, Luke Mercer, Jordi Mestres, Alvine N. Mfopa, Raj N. Misra, Seunghyun Moon, John P. Moore, Francielly Morais Rodrigues da Costa, Joachim Müller, Arantza Muriana, Stephen Nakazawa Hewitt, Bakela Nare, Carl Nathan, Nathalie Narraidoo, Sujeevi Nawaratna, Kayode K. Ojo, Diana Ortiz, Gordana Panic, George Papadatos, Silvia Parapini, Kailash Patra, Ngoc Pham, Sarah Prats, David M. Plouffe, Sally Ann Poulsen, Anupam Pradhan, Celia Quevedo, Ronald J. Quinn, Christopher A. Rice, Mohamed Abdo Rizk, Andrea Ruecker, Robert St. Onge, Rafaela Salgado Ferreira, Jasmeet Samra, Natalie G. Robinett, Ulrich Schlecht, Marjorie Schmitt, Filipe Silva Villela, Francesco Silvestrini, Robert Sinden, Dennis A. Smith, Thierry Soldati, Andreas Spitzmüller, Serge Maximilian Stamm, David J. Sullivan, William Sullivan, Sundari Suresh, Brian M. Suzuki, Yo Suzuki, S. Joshua Swamidass, Donatella Taramelli, Lauve R.Y. Tchokouaha, Anjo Theron, David Thomas, Kathryn F. Tonissen, Simon Townson, Abhai K. Tripathi, Valentin Trofimov, Kenneth O. Udenze, Imran Ullah, Cindy Vallieres, Edgar Vigil, Joseph M. Vinetz, Phat Voong Vinh, Hoan Vu, Nao Aki Watanabe, Kate Weatherby, Pamela M. White, Andrew F. Wilks, Elizabeth A. Winzeler, Edward Wojcik, Melanie Wree, Wesley Wu, Naoaki Yokoyama, Paul H.A. Zollo, Nada Abla, Benjamin Blasco, Jeremy Burrows, Benoît Laleu, Didier Leroy, Thomas Spangenberg, Timothy Wells, Paul A. Willis, 2016, PLoS Pathogens
A Plasmodium falciparum Histone Deacetylase regulates antigenic variation and gametocyte conversion
Bradley I. Coleman, Kristen M. Skillman, Rays H.Y. Jiang, Lauren M. Childs, Lindsey M. Altenhofen, Markus Ganter, Yvette Leung, Ilana Goldowitz, Björn F.C. Kafsack, Matthias Marti, Manuel Llinás, Caroline O. Buckee, Manoj T. Duraisingh, 2014, Cell Host and Microbe on p. 177-186
Site-specific genome editing in Plasmodium falciparum using engineered zinc-finger nucleases
Judith Straimer, Marcus C.S. Lee, Andrew H. Lee, Bryan Zeitler, April E. Williams, Jocelynn R. Pearl, Lei Zhang, Edward J. Rebar, Philip D. Gregory, Manuel Llinás, Fyodor D. Urnov, David A. Fidock, 2012, Nature Methods on p. 993-998
Sexual development in Plasmodium parasites
Gabrielle A. Josling, Manuel Llinás, 2015, Nature Reviews Microbiology on p. 573-587
Mapping the malaria parasite druggable genome by using in vitro evolution and chemogenomics.
Annie N. Cowell, Eva S. Istvan, Amanda K. Lukens, Maria G. Gomez-Lorenzo, Manu Vanaerschot, Tomoyo Sakata-Kato, Erika L. Flannery, Pamela Magistrado, Edward Owen, Matthew Abraham, Gregory La Monte, Heather J. Painter, Roy M. Williams, Virginia Franco, Maria Linares, Ignacio Arriaga, Selina Bopp, Victoria C. Corey, Nina F. Gnädig, Olivia Coburn-Flynn, Christin Reimer, Purva Gupta, James M. Murithi, Pedro A. Moura, Olivia Fuchs, Erika Sasaki, Sang W. Kim, Christine H. Teng, Lawrence T. Wang, Asl Akidil, Sophie Adjalley, Paul A. Willis, Dionicio Siegel, Olga Tanaseichuk, Yang Zhong, Yingyao Zhou, Manuel Llinás, Sabine Ottilie, Francisco Javier Gamo, Marcus C.S. Lee, Daniel E. Goldberg, David A. Fidock, Dyann F. Wirth, Elizabeth A. Winzeler, 2018, Science on p. 191-199
Plasmodium falciparum responds to amino acid starvation by entering into a hibernatory state
Shalon E. Babbitt, Lindsey Altenhofen, Simon A. Cobbold, Eva S. Istvan, Clare Fennellf, Christian Doerig, Manuel Llinás, Daniel E. Goldberg, 2012, Proceedings of the National Academy of Sciences of the United States of America
Supergenomic network compression and the discovery of exp1 as a glutathione transferase inhibited by artesunate
Andreas Martin Lisewski, Joel P. Quiros, Caroline L. Ng, Anbu Karani Adikesavan, Kazutoyo Miura, Nagireddy Putluri, Richard T. Eastman, Daniel Scanfeld, Sam J. Regenbogen, Lindsey Altenhofen, Manuel Llinás, Arun Sreekumar, Carole Long, David A. Fidock, Olivier Lichtarge, 2014, Cell on p. 916-928
Genetic investigation of tricarboxylic acid metabolism during the plasmodium falciparum life cycle
Hangjun Ke, Ian A. Lewis, Joanne M. Morrisey, Kyle J. McLean, Suresh M. Ganesan, Heather J. Painter, Michael W. Mather, Marcelo Jacobs-Lorena, Manuel Llinás, Akhil B. Vaidya, 2015, Cell Reports on p. 164-174
View More