Kevin Hockett
Huck Early Career Chair; Assistant Professor of Microbial Ecology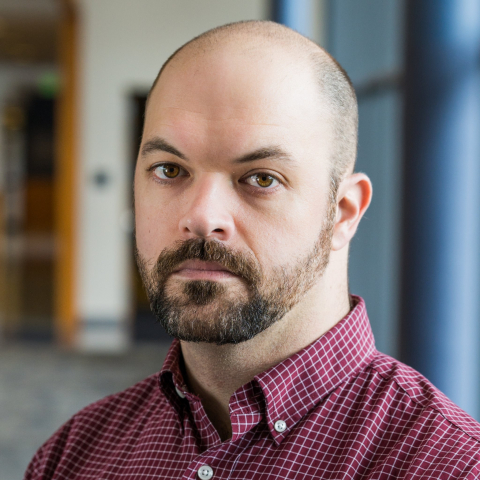 316 Buckhout Lab
University Park, PA 16802
Research Summary
Biological Control, Biology and Ecology of Plant-Microbe and Plant-Environment Interactions, Microbial Ecology and Population Biology Faculty
Huck Affiliations
Links
Publication Tags
Pseudomonas Syringae
Bacteria
Bacteriocins
Bacteriophages
Genes
Sulfur
Ascomycota
Pseudomonas
Fungi
Symbiosis
Temperature
Proteins
Genomics
Bacterium
Genome
Virulence
Endophytes
Gene Expression
Ecology
Strain
Mushrooms
Dilution
Pseudomonas Fluorescens
Agar
Plasmids
Most Recent Papers
First Report of Brown Spot on White Button Mushroom (Agaricus bisporus) Caused by Cedecea neteri in Iran
Mozhde Hamidizade, S. Mohsen Taghavi, Hamzeh Mafakheri, Rachel A. Herschlag, Samuel J. Martins, Kevin L. Hockett, Carolee T. Bull, Ebrahim Osdaghi, 2022, Plant Disease on p. 1291
Transcriptional Profiles of a Foliar Fungal Endophyte (Pestalotiopsis, Ascomycota) and Its Bacterial Symbiont (Luteibacter, Gammaproteobacteria) Reveal Sulfur Exchange and Growth Regulation during Early Phases of Symbiotic Interaction
Justin P. Shaffer, Morgan E. Carter, Joseph E. Spraker, Meara Clark, Brian A. Smith, Kevin L. Hockett, David A. Baltrus, A. Elizabeth Arnold, 2022, mSystems
Prophylactic Application of Tailocins Prevents Infection by Pseudomonas syringae
David A. Baltrus, Meara Clark, Kevin L. Hockett, Madison Mollico, Caitlin Smith, Savannah Weaver, 2022, Phytopathology on p. 561-566
Genome Mining Shows Ubiquitous Presence and Extensive Diversity of Toxin-Antitoxin Systems in Pseudomonas syringae
Prem P. Kandel, Marina Naumova, Chad Fautt, Ravikumar R. Patel, Lindsay R. Triplett, Kevin L. Hockett, 2022, Frontiers in Microbiology
Prophylactic Application of Tailocins Prevents Infection by Pseudomonas syringae.
David Baltrus, Meara Clark, Kevin Hockett, Madison Mollico, Caitlin Smith, Savannah Weaver, 2021, Phytopathology
Pseudomonas syringae pv. Phaseolicola uses distinct modes of stationary-phase persistence to survive bacteriocin and streptomycin treatments
Ravikumar R. Patel, Prem P. Kandel, Eboni Traverso, Kevin L. Hockett, Lindsay R. Triplett, 2021, mBio
Not all Viruses are Bad: Controlling Mushroom Blotch Disease with Bacteriophages
Abdelmonim Ahmad, Kevin Hockett, C Bull, 2020, Mushroom News
Pseudomonas can survive tailocin killing via persistence-like and heterogenous resistance mechanisms
Prem P. Kandel, David A. Baltrus, Kevin L. Hockett, 2020, Journal of Bacteriology
Bacterial brown pit, a new disease of edible mushrooms caused by mycetocola sp.
Mozhde Hamidizade, S. Mohsen Taghavi, Samuel J. Martins, Rachel A. Herschlag, Kevin L. Hockett, Carolee T. Bull, Ebrahim Osdaghi, 2020, Plant Disease on p. 1445-1454
Comparing approaches for capturing bacterial assemblages associated with symptomatic (Bacterial Blotch) and asymptomatic mushroom (Agaricus bisporus) caps
Samuel J. Martins, Ryan V. Trexler, Fabricio R. Vieira, John A. Pecchia, Prem P. Kandel, Kevin L. Hockett, Terrence H. Bell, Carolee T. Bull, 2020, Phytobiomes Journal on p. 90-99
View More
Most-Cited Papers
The Inherent Conflicts in Developing Soil Microbial Inoculants
Laura M. Kaminsky, Ryan V. Trexler, Rondy J. Malik, Kevin L. Hockett, Terrence H. Bell, 2019, Trends in Biotechnology on p. 140-151
Thermo-Regulation of Genes Mediating Motility and Plant Interactions in Pseudomonas syringae
Kevin L. Hockett, Adrien Y. Burch, Steven E. Lindow, 2013, PLoS One on p. 12
Use of the soft-agar overlay technique to screen for bacterially produced inhibitory compounds
Kevin L. Hockett, David A. Baltrus, 2017, Journal of Visualized Experiments
Independent co-option of a tailed bacteriophage into a killing complex in Pseudomonas
Kevin L. Hockett, Tanya Renner, David A. Baltrus, 2015, mBio on p. 11
Isolation of endohyphal bacteria from foliar Ascomycota and In Vitro establishment of their symbiotic associations
Kayla R. Arendt, Kevin L. Hockett, Sarah J. Araldi-Brondolo, David A. Baltrus, A. Elizabeth Arnold, 2016, Applied and Environmental Microbiology on p. 2943-2949
100 years since Tolaas
Ebrahim Osdaghi, Samuel J. Martins, Laura Ramos-Sepulveda, Fabrício Rocha Vieira, John A. Pecchia, David Meigs Beyer, Terrence H. Bell, Yinong Yang, Kevin L. Hockett, Carolee T. Bull, 2019, Plant Disease on p. 2714-2732
Pseudomonas syringae CC1557
Kevin L. Hockett, Marc T. Nishimura, Erick Karlsrud, Kevin Dougherty, David A. Baltrus, 2014, Molecular Plant-Microbe Interactions on p. 923-932
PA506, a conjugative plasmid of the plant epiphyte Pseudomonas fluorescens A506
Virginia O. Stockwell, Edward W. Davis, Alyssa Carey, Brenda T. Shaffer, Dmitri V. Mavrodi, Karl A. Hassan, Kevin Hockett, Linda S. Thomashow, Ian T. Paulsen, Joyce E. Lopera, 2013, Applied and Environmental Microbiology on p. 5272-5282
Pseudomonas can survive tailocin killing via persistence-like and heterogenous resistance mechanisms
Prem P. Kandel, David A. Baltrus, Kevin L. Hockett, 2020, Journal of Bacteriology
Ecological genomics of pseudomonas syringae
David A. Baltrus, Tory A. Hendry, Kevin L. Hockett, 2014, on p. 59-77
View More