Dec 22, 2022
2022 Top 10 Most Popular Microbiome Center News Articles
The stories that made the year in 2022 for the Penn State Microbiome Center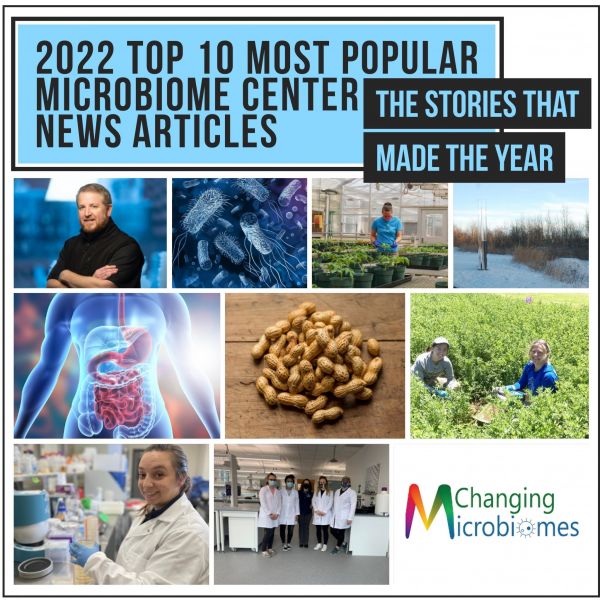 The Penn State Microbiome Center in the Huck Institutes of the Life Sciences provides centralized resources and community support to Penn State faculty, students, and staff. Its mission is to optimize, accelerate, and disseminate long-lasting knowledge and resources on the microbiome. With nearly 12,000 views, the top ten Penn State Microbiome Center related news articles are a perfect example that we are a world-class destination for microbiome scholarship with growth in all pillars of the Center's expertise.
In 2022, our most viewed news showcased the Center's cutting-edge research in gut microbiomes, plant disease suppressive microbes, foodborne pathogens, and antimicrobial resistance. These stories celebrate successful faculty grant applications and graduate student achievements. Lastly, they highlight recent Center ventures including expanding our global impact, bringing on a new director, Seth Bordenstein, and holding the successful Bi-annual Microbiome Symposium – Changing Microbiomes.
As we head into January and the new year, we look forward to your exciting ideas, discoveries, and breakthroughs to come. Please reach out to us with your interests, needs, and opportunities for group work and service so we can build upon our 2022 success.
Top 10 Most Popular Microbiome Center Related News Articles in 2022
1. Peanuts and herbs and spices may positively impact gut microbiome

Two studies lead by PSU Department of Nutrition researchers found that small diet changes, like adding herbs and spices or choosing peanuts, rather than a high carbohydrate snack, can impact your gut microbiome. Study authors Assistant Research Professor Kristina S Petersen, graduate student Philip A. Sapp, Professor Penny M. Kris-Etherton, and external collaborators predict that the observed increase in bacterial diversity may promote gut and overall health.
2. Seth Bordenstein named director of the Penn State Microbiome Center
The Microbiome Center brought on new leadership in Fall 2022. Professor and Director Seth Bordenstein brings over two decades of symbiosis and host-microbiome research expertise and science outreach efforts across the globe. He was formerly the director of the Vanderbilt University Microbiome Innovation Center.
3. Microbiologists get grant to study biofilms guarding foodborne pathogen Listeria
Assistant Professor Jasna Kovac and Professor Luke LaBorde from the Department of Food Sciences received a $605,000 grant from the United States Department of Agriculture (USDA). This grant will support investigations into how multi-strain bacterial biofilms could protect foodborne pathogen Listeria monocytogenes and reduce sanitation treatment efficacy.
4. Predictive model uses gut microbes to forecast human diseases, health outcomes
Professor and Vice Chair for Research Dajiang Liu, from the Department of Public Health Science and Biochemistry and Molecular Biology, worked with a team from Texas to improve microbiome-based disease outcome prediction models using AI supervised contrastive learning.
5. Students in Department of Animal Science receive accolades for research
Graduate students Emily Van Syoc and Sophia Kenney, who work in the laboratory of Assistant Professor Erika Ganda in the Department of Animal Sciences, received prestigious fellowships from the NIH and USDA.
6. New plant science team gets grants from USDA-NIFA for research on soil microbes
Assistant Professor Liana Burghardt, from the Department of Plant Sciences, was awarded two USDA grants totaling $950,000. These funds will support projects focused on rhizobia–plant mutualistic bacteria­– adaptations.
7. Above-ground microbial communities that quell plant diseases can be developed
Plant pathology graduate student Hanareia Ehau-Taumanunu and Assistant Professor Kevin Hockett developed a plant disease suppressive phyllosphere microbiome using selective passaging.
8. Microbiome Center to host 'Changing Microbiomes' symposium in early June
The PSU Microbiome Center hosted a major research symposium in 2022. This symposium will be a bi-annual event and be held again in 2024.
9. FDA-approved cholesterol medicine may help prevent antibiotic resistance
A research team led by Assistant Professor Amir Sheikhi and graduate student Shang-Lin Yeh from the departments of chemical and biomedical engineering, are helping to combat rampant antimicrobial resistance. They developed a biomaterial to capture off-target antibiotics in the gastrointestinal tract in order to prevent resistance development in these microbial populations.
10. New exhibition to examine the impact of extraction economies on climate change
Adjunct research associate from Arts and Design Research Incubator, Cynthia White, and Assistant Teaching Professor of Architecture, Laia Celma, co-curated an exhibition focused on highlighting the consequences of extraction economies.