Jasna Kovac
Lester Earl and Veronica Casida Career Development Professor of Food Safety; Assistant Professor of Food Science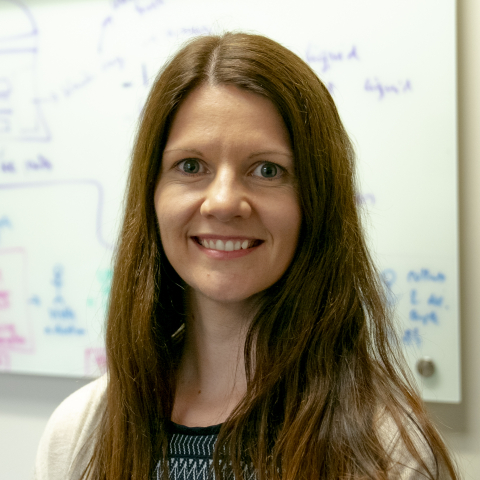 437 Rodney A. Erickson Food Science
University Park, PA
She/Her
Research Summary
Integrating epidemiological, microbiological, molecular and omics methods to better understand microbial pathogenic potential, antimicrobial resistance, and epidemiology of foodborne pathogens.

Huck Graduate Students
Huck Affiliations
Links
Publication Tags
Bacillus Cereus
Genes
Genome
Genomics
Food
Virulence
Phylogeny
Bacteriology
Dairies
Food Microbiology
Food Safety
Milk
Nucleotides
Animals
Dairy Products
Emetics
Gene
Anthrax
Cytotoxicity
Antibiotic Resistance
Phenotype
Fatty Acids
New Species
Farms
Antibiotics
Most Recent Papers
DNA-based Assays
Jasna Kovac, L Naum, K Lampel, 2022, on p. 12
Exploring the relationship between gender and food safety risks in the dairy value chain in Ethiopia
Ariel V. Garsow, Marie R. Biondi, Barbara B. Kowalcyk, Jessie L. Vipham, Jasna Kovac, Kebede Amenu, Ashagrie Zewdu, Kathleen E. Colverson, 2022, International Dairy Journal
Kin discrimination promotes horizontal gene transfer between unrelated strains in Bacillus subtilis
Polonca Stefanic, Katarina Belcijan, Barbara Kraigher, Rok Kostanjšek, Joseph Nesme, Jonas Stenløkke Madsen, Jasna Kovac, Søren Johannes Sørensen, Michiel Vos, Ines Mandic-Mulec, 2021, Nature Communications
Development of a database and standardized approach for rpoB sequence-based subtyping and identification of aerobic spore-forming Bacillales.
A Gaballa, R Cheng, A Trmcic, Jasna Kovac, D Kent, N Martin, M Wiedmann, 2021, Journal of microbiological methods on p. 106350
Challenging the "gold standard" of colony-forming units - Validation of a multiplex real-time PCR for quantification of viable Campylobacter spp. in meat rinses.
K Stingl, J Heise, M Thieck, I Wulsten, E Pacholewicz, A Iwobi, J Govindaswamy, V Zeller-Péronnet, S Scheuring, H Luu, V Fridriksdottir, G Gölz, F Priller, I Gruntar, F Jorgensen, M Koene, Jasna Kovac, S Lick, E Répérant, A Rohlfing, A Zawilak-Pawlik, M Rossow, A Schlierf, K Frost, K Simon, S Uhlig, I Huber, 2021, International journal of food microbiology on p. 109417
Keeping up with the Bacillus cereus group: taxonomy through the genomics era and beyond.
Laura M. Carroll, Rachel A. Cheng, Martin Wiedmann, Jasna Kovac, 2021, Critical Reviews in Food Science and Nutrition on p. 1-26
Evaluation of the Thermal Inactivation of a Salmonella Serotype Oranienburg Strain During Cocoa Roasting at Conditions Relevant to the Fine Chocolate Industry
Runan Yan, Gabriella Pinto, Rebecca Taylor-Roseman, Karen Cogan, Greg D'Alesandre, Jasna Kovac, 2021, Frontiers in Microbiology
Alicyclobacillus mali sp. Nov., alicyclobacillus suci sp. nov. and alicyclobacillus fructus sp. nov., thermoacidophilic sporeforming bacteria isolated from fruit beverages
Katerina Roth, Yadwinder Singh Rana, Devin Daeschel, Jasna Kovac, Randy Worobo, Abigail B. Snyder, 2021, International Journal of Systematic Bacteriology
Unique inducible filamentous motility identified in pathogenic bacillus cereus group species
Martha M. Liu, Shannon Coleman, Lauren Wilkinson, Maren L. Smith, Thomas Hoang, Naomi Niyah, Manjari Mukherjee, Steven Huynh, Craig T. Parker, Jasna Kovac, Robert E.W. Hancock, Erin C. Gaynor, 2020, ISME Journal on p. 2997-3010
Whole Genome Sequencing: The Impact on Foodborne Outbreak Investigations
Jasna Kovac, Edward G. Dudley, Erin M. Nawrocki, Runan Yan, Taejung Chung, 2020, on p. 147-159
View More
Most-Cited Papers
Bacillus wiedmannii sp. nov., a psychrotolerant and cytotoxic bacillus cereus group species isolated from dairy foods and dairy environments
Rachel A. Miller, Sarah M. Beno, David J. Kent, Laura M. Carroll, Nicole H. Martin, Kathryn J. Boor, Jasna Kovac, 2016, International Journal of Systematic Bacteriology on p. 4744-4753
Antibiotic resistance modulation and modes of action of (-)-α-Pinene in Campylobacter jejuni
Jasna Kovač, Katarina Šimunović, Zuowei Wu, Anja Klančnik, Franz Bucar, Qijing Zhang, Sonja Smole Možina, 2015, PLoS One on p. e0122871
Characterization of egg laying hen and broiler fecal microbiota in poultry farms in Croatia, Czech Republic, Hungary and Slovenia
Petra Videnska, Md Masudur Rahman, Marcela Faldynova, Vladimir Babak, Marta Elsheimer Matulova, Estella Prukner-Radovcic, Ivan Krizek, Sonja Smole-Mozina, Jasna Kovac, Ama Szmolka, Bela Nagy, Karel Sedlar, Darina Cejkova, Ivan Rychlik, 2014, PLoS One
Characterization of emetic and diarrheal Bacillus cereus strains from a 2016 foodborne outbreak using whole-genome sequencing: Addressing the microbiological, epidemiological, and bioinformatic challenges
Laura M. Carroll, Martin Wiedmann, Manjari Mukherjee, David C. Nicholas, Lisa A. Mingle, Nellie B. Dumas, Jocelyn A. Cole, Jasna Kovac, 2019, Frontiers in Microbiology
Proposal of a taxonomic nomenclature for the bacillus cereus group which reconciles genomic definitions of bacterial species with clinical and industrial phenotypes
Laura M. Carroll, Martin Wiedmann, Jasna Kovac, 2020, mBio
Rapid, high-throughput identification of anthrax-causing and emetic Bacillus cereus group genome assemblies via BTyper, a computational tool for virulencebased classification of Bacillus cereus group isolates by using nucleotide sequencing data
Laura M. Carroll, Jasna Kovac, Rachel A. Miller, Martin Wiedmann, 2017, Applied and Environmental Microbiology
Intraclade variability in toxin production and cytotoxicity of Bacillus cereus group type strains and dairy-associated isolates
Rachel A. Miller, Jiahui Jian, Sarah M. Beno, Martin Wiedmann, Jasna Kovac, 2018, Applied and Environmental Microbiology
Production of hemolysin BL by Bacillus cereus group isolates of dairy origin is associated with whole-genome phylogenetic clade
Jasna Kovac, Rachel A. Miller, Laura M. Carroll, David J. Kent, Jiahui Jian, Sarah M. Beno, Martin Wiedmann, 2016, BMC Genomics
Precision food safety
Jasna Kovac, Henk den Bakker, Laura M. Carroll, Martin Wiedmann, 2017, TrAC - Trends in Analytical Chemistry on p. 52-61
Virulence and antimicrobial resistance determinants of verotoxigenic Escherichia coli (VTEC) and of multidrug-resistant E. coli from foods of animal origin illegally imported to the EU by flight passengers
B. Nagy, A. Szmolka, S. Smole Možina, J. Kovač, A. Strauss, S. Schlager, J. Beutlich, B. Appel, M. Lušicky, P. Aprikian, J. Pászti, I. Tóth, R. Kugler, M. Wagner, 2015, International Journal of Food Microbiology on p. 52-59
View More