Jasna Kovac
Lester Earl and Veronica Casida Career Development Professor of Food Safety; Assistant Professor of Food Science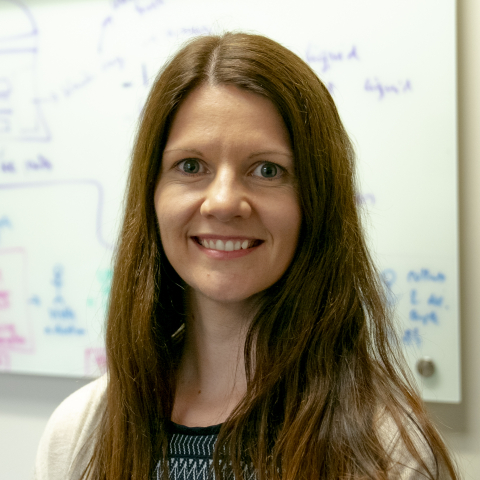 437 Rodney A. Erickson Food Science
University Park, PA
She/Her
Research Summary
Integrating epidemiological, microbiological, molecular and omics methods to better understand microbial pathogenic potential, antimicrobial resistance, and epidemiology of foodborne pathogens.

Huck Graduate Students
Huck Affiliations
Links
Publication Tags
Bacillus Cereus
Genes
Genome
Salmonella
Genomics
Virulence
Food
Phylogeny
Bacteriology
Food Microbiology
Dairy Products
Anti Bacterial Agents
Dairies
Food Safety
Campylobacter Jejuni
Emetics
Anthrax
Ciprofloxacin
Cytotoxicity
Nucleotides
Antibiotic Resistance
Whole Genome Sequencing
Milk
Animals
Gene
Most Recent Papers
Kin discrimination promotes horizontal gene transfer between unrelated strains in Bacillus subtilis.
P Stefanic, K Belcijan, B Kraigher, R Kostanjšek, J Nesme, J Madsen, Jasna Kovac, S Sørensen, M Vos, I Mandic-Mulec, 2021, Nature communications on p. 3457
Keeping up with the Bacillus cereus group: taxonomy through the genomics era and beyond.
Laura Carroll, Rachel Cheng, Martin Wiedmann, Jasna Kovac, 2021, Critical Reviews in Food Science and Nutrition on p. 1-26
Evaluation of the Thermal Inactivation of a Salmonella Serotype Oranienburg Strain During Cocoa Roasting at Conditions Relevant to the Fine Chocolate Industry
Runan Yan, Gabriella Pinto, Rebecca Taylor-Roseman, Karen Cogan, Greg D'Alesandre, Jasna Kovac, 2021, Frontiers in Microbiology
Unique inducible filamentous motility identified in pathogenic bacillus cereus group species
Martha M. Liu, Shannon Coleman, Lauren Wilkinson, Maren L. Smith, Thomas Hoang, Naomi Niyah, Manjari Mukherjee, Steven Huynh, Craig T. Parker, Jasna Kovac, Robert E.W. Hancock, Erin C. Gaynor, 2020, ISME Journal on p. 2997-3010
Novel effective bacillus cereus group species "bacillus clarus" is represented by antibiotic-producing strain ATCC 21929 isolated from soil
Marysabel Méndez Acevedo, Laura M. Carroll, Manjari Mukherjee, Emma Mills, Lingzi Xiaoli, Edward G. Dudley, Jasna Kovac, 2020, mSphere
Review of the prevalence of foodborne pathogens in milk and dairy products in Ethiopia
Abdi Keba, M. Laura Rolon, Aynadis Tamene, Kindinew Dessie, Jessie Vipham, Jasna Kovac, Ashagrie Zewdu, 2020, International Dairy Journal
No assembly required: Using BTyper3 to assess the congruency of a proposed taxonomic framework for the Bacillus cereus group with historical typing methods
Laura M. Carroll, Rachel A. Cheng, Jasna Kovac, 2020, Frontiers in Microbiology
The Composition of Microbial Communities in Six Streams, and Its Association With Environmental Conditions, and Foodborne Pathogen Isolation
Taejung Chung, Daniel L. Weller, Jasna Kovac, 2020, Frontiers in Microbiology
Whole-genome sequences of salmonella isolates from an ecological wastewater treatment system
Charles J. Connolly, Laura Kaminsky, Gabriella N. Pinto, Priscilla C. Sinclair, Gyasu Bajracharya, Runan Yan, Erin M. Nawrocki, Edward G. Dudley, Jasna Kovaca, 2020, Microbiology Resource Announcements
Extended enrichment procedures can be used to define false-negative probabilities for cultural gold standard methods for salmonella detection, facilitating comparisons between gold standard and alternative methods
Genevieve Sullivan, Xiaodong Guo, Jeffrey I. Tokman, Sherry Roof, Aljosa Trmcic, Robert C. Baker, Silin Tang, Peter Markwell, Martin Wiedmann, Jasna Kovac, 2020, Journal of Food Protection on p. 1030-1037
View More
Most-Cited Papers
Bacillus wiedmannii sp. nov., a psychrotolerant and cytotoxic bacillus cereus group species isolated from dairy foods and dairy environments
Rachel A. Miller, Sarah M. Beno, David J. Kent, Laura M. Carroll, Nicole H. Martin, Kathryn J. Boor, Jasna Kovac, 2016, International Journal of Systematic Bacteriology on p. 4744-4753
Characterization of egg laying hen and broiler fecal microbiota in poultry farms in Croatia, Czech Republic, Hungary and Slovenia
Petra Videnska, Md Masudur Rahman, Marcela Faldynova, Vladimir Babak, Marta Elsheimer Matulova, Estella Prukner-Radovcic, Ivan Krizek, Sonja Smole-Mozina, Jasna Kovac, Ama Szmolka, Bela Nagy, Karel Sedlar, Darina Cejkova, Ivan Rychlik, 2014, PLoS One
Antibiotic resistance modulation and modes of action of (-)-α-Pinene in Campylobacter jejuni
Jasna Kovač, Katarina Šimunović, Zuowei Wu, Anja Klančnik, Franz Bucar, Qijing Zhang, Sonja Smole Možina, 2015, PLoS One on p. e0122871
Rapid, high-throughput identification of anthrax-causing and emetic Bacillus cereus group genome assemblies via BTyper, a computational tool for virulencebased classification of Bacillus cereus group isolates by using nucleotide sequencing data
Laura M. Carroll, Jasna Kovac, Rachel A. Miller, Martin Wiedmann, 2017, Applied and Environmental Microbiology
Production of hemolysin BL by Bacillus cereus group isolates of dairy origin is associated with whole-genome phylogenetic clade
Jasna Kovac, Rachel A. Miller, Laura M. Carroll, David J. Kent, Jiahui Jian, Sarah M. Beno, Martin Wiedmann, 2016, BMC Genomics
Characterization of emetic and diarrheal Bacillus cereus strains from a 2016 foodborne outbreak using whole-genome sequencing: Addressing the microbiological, epidemiological, and bioinformatic challenges
Laura M. Carroll, Martin Wiedmann, Manjari Mukherjee, David C. Nicholas, Lisa A. Mingle, Nellie B. Dumas, Jocelyn A. Cole, Jasna Kovac, 2019, Frontiers in Microbiology
Intraclade variability in toxin production and cytotoxicity of Bacillus cereus group type strains and dairy-associated isolates
Rachel A. Miller, Jiahui Jian, Sarah M. Beno, Martin Wiedmann, Jasna Kovac, 2018, Applied and Environmental Microbiology
Precision food safety
Jasna Kovac, Henk den Bakker, Laura M. Carroll, Martin Wiedmann, 2017, TrAC - Trends in Analytical Chemistry on p. 52-61
High genetic similarity of ciprofloxacin-resistant Campylobacter jejuni in central Europe
Jasna Kovač, Neža Čadež, Beatrix Stessl, Kerstin Stingl, Igor Gruntar, Matjaž Ocepek, Marija Trkov, Martin Wagner, Sonja Smole Možina, 2015, Frontiers in Microbiology
Virulence and antimicrobial resistance determinants of verotoxigenic Escherichia coli (VTEC) and of multidrug-resistant E. coli from foods of animal origin illegally imported to the EU by flight passengers
B. Nagy, A. Szmolka, S. Smole Možina, J. Kovač, A. Strauss, S. Schlager, J. Beutlich, B. Appel, M. Lušicky, P. Aprikian, J. Pászti, I. Tóth, R. Kugler, M. Wagner, 2015, International Journal of Food Microbiology on p. 52-59
View More