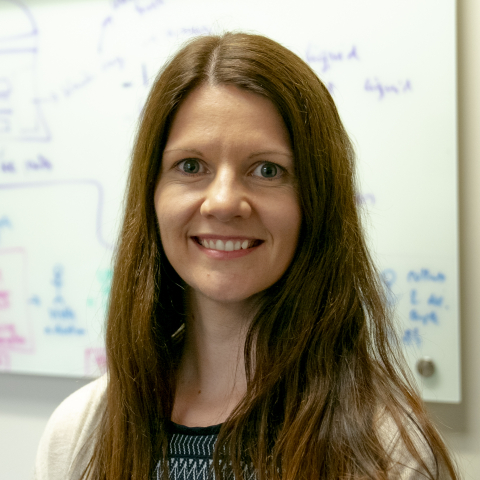 Jasna Kovac
Lester Earl and Veronica Casida Career Development Professor of Food Safety; Assistant Professor of Food Science
Visit my Website
Most Recent Papers
Unique inducible filamentous motility identified in pathogenic Bacillus cereus group species.
M Liu, S Coleman, L Wilkinson, M Smith, T Hoang, N Niyah, M Mukherjee, S Huynh, C Parker, Jasna Kovac, Hancock REW, E Gaynor, 2020, The ISME journal
The Composition of Microbial Communities in Six Streams, and Its Association With Environmental Conditions, and Foodborne Pathogen Isolation.
T Chung, D Weller, Jasna Kovac, 2020, Frontiers in microbiology on p. 1757
Whole-Genome Sequences of <i>Salmonella</i> Isolates from an Ecological Wastewater Treatment System.
C Connolly, L Kaminsky, G Pinto, P Sinclair, G Bajracharya, R Yan, E Nawrocki, Edward Dudley, Jasna Kovac, 2020, Microbiology resource announcements
Extended Enrichment Procedures Can Be Used To Define False-Negative Probabilities for Cultural Gold Standard Methods for Salmonella Detection, Facilitating Comparisons between Gold Standard and Alternative Methods.
G Sullivan, Xu Guo, J Tokman, S Roof, A Trmcic, R Baker, S Tang, P Markwell, M Wiedmann, Jasna Kovac, 2020, Journal of food protection on p. 1030-1037
(-)-α-Pinene reduces quorum sensing and Campylobacter jejuni colonization in broiler chickens.
K Šimunović, O Sahin, Jasna Kovac, Z Shen, A Klančnik, Q Zhang, S Smole Možina, 2020, PloS one on p. e0230423
Proposal of a Taxonomic Nomenclature for the Bacillus cereus Group Which Reconciles Genomic Definitions of Bacterial Species with Clinical and Industrial Phenotypes.
L Carroll, M Wiedmann, Jasna Kovac, 2020, mBio
Paenibacillus odorifer, the Predominant <i>Paenibacillus</i> Species Isolated from Milk in the United States, Demonstrates Genetic and Phenotypic Conservation of Psychrotolerance but Clade-Associated Differences in Nitrogen Metabolic Pathways.
S Beno, R Cheng, R Orsi, D Duncan, X Guo, Jasna Kovac, L Carroll, N Martin, M Wiedmann, 2020, mSphere
A century of gray
Samuel J. Reichler, Nicole H. Martin, Rachel L. Evanowski, Jasna Kovac, Martin Wiedmann, Renato H. Orsi, 2019, Journal of dairy science on p. 5979-6000
Serotype-specific evolutionary patterns of antimicrobial-resistant Salmonella enterica
Jingqiu Liao, Renato Hohl Orsi, Laura M. Carroll, Jasna Kovac, Hongyu Ou, Hailong Zhang, Martin Wiedmann, 2019, BMC Evolutionary Biology on p. 132
A conceptual framework for developing recommendations for no-harvest buffers around in-field feces
Daniel L. Weller, Jasna Kovac, David J. Kent, Sherry Roof, Jeffrey I. Tokman, Erika Mudrak, Martin Wiedmann, 2019, Journal of Food Protection on p. 1052-1060
View More
Recent Most-Cited Papers
Characterization of egg laying hen and broiler fecal microbiota in poultry farms in Croatia, Czech Republic, Hungary and Slovenia
Petra Videnska, Md Masudur Rahman, Marcela Faldynova, Vladimir Babak, Marta Elsheimer Matulova, Estella Prukner-Radovcic, Ivan Krizek, Sonja Smole-Mozina, Jasna Kovac, Ama Szmolka, Bela Nagy, Karel Sedlar, Darina Cejkova, Ivan Rychlik, 2014, PloS one
Bacillus wiedmannii sp. nov., a psychrotolerant and cytotoxic bacillus cereus group species isolated from dairy foods and dairy environments
Rachel A. Miller, Sarah M. Beno, David J. Kent, Laura M. Carroll, Nicole H. Martin, Kathryn J. Boor, Jasna Kovac, 2016, International journal of systematic and evolutionary microbiology on p. 4744-4753
Antibiotic resistance modulation and modes of action of (-)-α-Pinene in Campylobacter jejuni
Jasna Kovač, Katarina Šimunović, Zuowei Wu, Anja Klančnik, Franz Bucar, Qijing Zhang, Sonja Smole Možina, 2015, PloS one on p. e0122871
Virulence and antimicrobial resistance determinants of verotoxigenic Escherichia coli (VTEC) and of multidrug-resistant E. coli from foods of animal origin illegally imported to the EU by flight passengers
B. Nagy, A. Szmolka, S. Smole Možina, J. Kovač, A. Strauss, S. Schlager, J. Beutlich, B. Appel, M. Lušicky, P. Aprikian, J. Pászti, I. Tóth, R. Kugler, M. Wagner, 2015, International journal of food microbiology on p. 52-59
Rapid, high-throughput identification of anthrax-causing and emetic Bacillus cereus group genome assemblies via BTyper, a computational tool for virulencebased classification of Bacillus cereus group isolates by using nucleotide sequencing data
Laura M. Carroll, Jasna Kovac, Rachel A. Miller, Martin Wiedmann, 2017, Applied and environmental microbiology
High genetic similarity of ciprofloxacin-resistant Campylobacter jejuni in central Europe
Jasna Kovač, Neža Čadež, Beatrix Stessl, Kerstin Stingl, Igor Gruntar, Matjaž Ocepek, Marija Trkov, Martin Wagner, Sonja Smole Možina, 2015, Frontiers in Microbiology
Production of hemolysin BL by Bacillus cereus group isolates of dairy origin is associated with whole-genome phylogenetic clade
Jasna Kovac, Rachel A. Miller, Laura M. Carroll, David J. Kent, Jiahui Jian, Sarah M. Beno, Martin Wiedmann, 2016, BMC genomics
Antimicrobial and resistance modulatory activity of alpinia katsumadai seed phenolic extract, essential oil and post-distillation extract
Jasna Kovac, Neda Gavarić, Franz Bucar, Sonja Smole Možina, 2014, Food Technology and Biotechnology on p. 248-254
Anti-Campylobacter and resistance-modifying activity of Alpinia katsumadai seed extracts
A. Klančnik, B. Gröblacher, Jasna Kovac, F. Bucar, S. Smole Možina, 2012, Journal of Applied Microbiology on p. 1249-1262
The evidence for clonal spreading of quinolone resistance with a particular clonal complex of Campylobacter jejuni
J. Kovač, N. Čadež, M. Lušicky, E. Møller Nielsen, M. Ocepek, P. Raspor, S. Smole Možina, 2014, Epidemiology and Infection on p. 2595-2603
View More