Jasna Kovac
Lester Earl and Veronica Casida Career Development Professor of Food Safety; Associate Professor of Food Science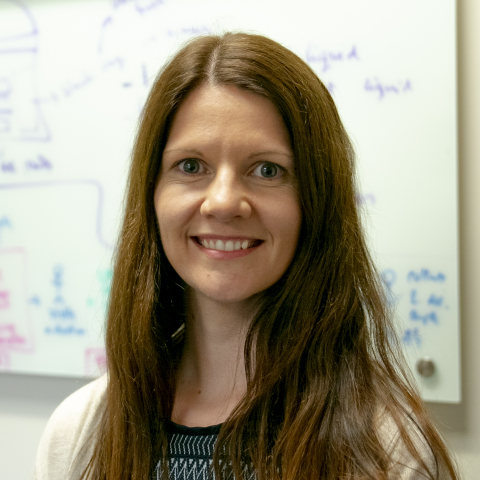 437 Rodney A. Erickson Food Science
University Park, PA
She/Her
Research Summary
Integrating epidemiological, microbiological, molecular and omics methods to better understand microbial pathogenic potential, antimicrobial resistance, and epidemiology of foodborne pathogens.

Huck Graduate Students
Huck Affiliations
Links
Publication Tags
These publication tags are generated from the output of this researcher. Click any tag below to view other Huck researchers working on the same topic.
Bacillus Cereus
Genome
Genes
Food
Phylogeny
Food Microbiology
Dairies
Ethiopia
Bacteriology
Dairy Products
Anthrax
Milk
Emetics
Nucleotides
Cytotoxicity
Phenotype
Campylobacter
Genomics
Whole Genome Sequencing
Gene
Microbiota
Campylobacter Jejuni
Farms
Hygiene
Alpha Pinene
Most Recent Publications
M. Laura Rolon, Xiaoqing Tan, Taejung Chung, Narjol Gonzalez-Escalona, Yi Chen, Dumitru Macarisin, Luke F. LaBorde, Jasna Kovac, 2023, Microbiome
Prevalence of ciprofloxacin resistance and associated genetic determinants differed among Campylobacter isolated from human and poultry meat sources in Pennsylvania
Runan Yan, Nkuchia M. M'ikanatha, Irving Nachamkin, Lauren K. Hudson, Thomas G. Denes, Jasna Kovac, 2023, Food Microbiology
Abdi Bedassa, Henok Nahusenay, Zerihun Asefa, Tesfaye Sisay, Gebrerufael Girmay, Jasna Kovac, Jessie L. Vipham, Ashagrie Zewdu, 2023, International Journal of Food Contamination
View More
Most-Cited Papers
Rachel A. Miller, Sarah M. Beno, David J. Kent, Laura M. Carroll, Nicole H. Martin, Kathryn J. Boor, Jasna Kovac, 2016, International Journal of Systematic Bacteriology on p. 4744-4753
Jasna Kovač, Katarina Šimunović, Zuowei Wu, Anja Klančnik, Franz Bucar, Qijing Zhang, Sonja Smole Možina, 2015, PLoS One on p. e0122871
Laura M. Carroll, Martin Wiedmann, Jasna Kovac, 2020, mBio
View More