David Hughes
Huck Chair in Global Food Security; Professor of Entomology and of Biology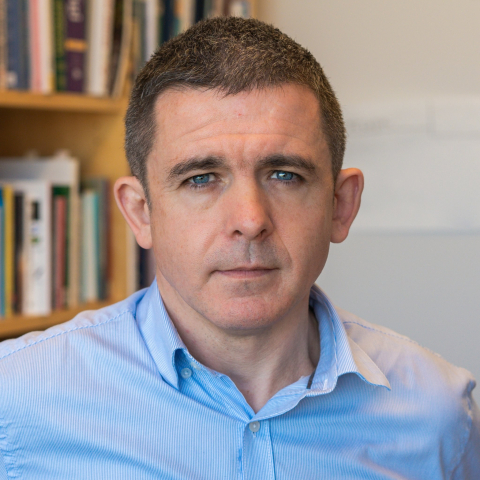 W249 Millenium Science Complex
University Park, PA 16802
Research Summary
Parasite manipulation of host behavior
Huck Graduate Students
Huck Affiliations
Links
Publication Tags
These publication tags are generated from the output of this researcher. Click any tag below to view other Huck researchers working on the same topic.
Fungi
Learning
Ants
Artificial Intelligence
Vietnam
Hypocreales
Food
Formicidae
Parasites
Cassava
New Combination
Brain
Image Segmentation
Disease Detection
Food Assistance
Ophiocordyceps
Fungus
Disease Diagnosis
Plant Diseases And Disorders
Soil
Behavior Control
Ant
Technology
Phylogenetics
New Species
Most Recent Publications
Yizhe Zhang, Natalie Imirzian, Christoph Kurze, Hao Zheng, David P. Hughes, Danny Z. Chen, 2023, Scientific Reports
Gloria K. Folson, Boateng Bannerman, Vicentia Atadze, Gabriel Ador, Bastien Kolt, Peter McCloskey, Rohit Gangupantulu, Alejandra Arrieta, Bianca C. Braga, Joanne Arsenault, Annalyse Kehs, Frank Doyle, Lan Mai Tran, Nga Thu Hoang, David Hughes, Phuong Hong Nguyen, Aulo Gelli, 2023, Journal of Nutrition on p. 2328-2338
Chen Zhou, Victor G. Bucklew, Perry S. Edwards, Chenji Zhang, Jinkai Yang, Philip J. Ryan, David P. Hughes, Xinshun Qu, Zhiwen Liu, 2023, Applied Spectroscopy on p. 491-499
View More
Most-Cited Papers
Sharada P. Mohanty, David P. Hughes, Marcel Salathé, 2016, Frontiers in Plant Science
Amanda Ramcharan, Kelsee Baranowski, Peter McCloskey, Babuali Ahmed, James Legg, David P. Hughes, 2017, Frontiers in Plant Science
Deep adversarial networks for biomedical image segmentation utilizing unannotated images
Yizhe Zhang, Lin Yang, Jianxu Chen, Maridel Fredericksen, David P. Hughes, Danny Z. Chen, 2017, on p. 408-416
Pedro W. Crous, Michael J. Wingfield, Treena I. Burgess, G. E.St J. Hardy, Colin Crane, Sarah Barrett, José F. Cano-Lira, Johannes J. Le Roux, Raja Thangavel, Josep Guarro, Alberto M. Stchigel, María P. Martín, Donis S. Alfredo, Paul A. Barber, Robert W. Barreto, Iuri G. Baseia, Julia Cano-Canals, Ratchadawan Cheewangkoon, Renato J. Ferreira, Josepa Gené, Christian Lechat, Gabriel Moreno, Francois Roets, Roger G. Shivas, Julieth O. Sousa, Yu Pei Tan, Nathan P. Wiederhold, Sandra E. Abell, Thiago Accioly, José Luis Albizu, Janaina L. Alves, Zaida Inês Antoniolli, Nick Aplin, João Araújo, Mahdi Arzanlou, Jadson D.P. Bezerra, Jean Philippe Bouchara, Juan Ramón Carlavilla, Aurelio Castillo, Vanina L. Castroagudín, Paulo C. Ceresini, Gordon F. Claridge, Gilberto Coelho, Victor R.M. Coimbra, L. A. Costa, Keith C. da Cunha, Silvana S. da Silva, Rosalie Daniel, Z. Wilhelm de Beer, Margarita Dueñas, Jacqueline Edwards, P. Enwistle, Patrícia O. Fiuza, Jacques Fournier, Dania García, Tatiana B. Gibertoni, Sandrine Giraud, Marcela Guevara-Suarez, Luís F.P. Gusmão, Sukanya Haituk, Michel Heykoop, Yuuri Hirooka, Tina Antje Hofmann, Jos Houbraken, David P. Hughes, Ivona Kautmanová, Olga Koppel, Ondřej Koukol, Ellen Larsson, K. P.Deepna Latha, Dong Hyeon Lee, Daniela O. Lisboa, Willyane S. Lisboa, Ángela López-Villalba, João L.N. Maciel, Patinjareveettil Manimohan, José Luis Manjón, Seonju Marincowitz, Thomas S. Marney, Martin Meijer, Andrew N. Miller, Ibai Olariaga, Laura M. Paiva, Meike Piepenbring, Juan Carlos Poveda-Molero, K. N.Anil Raj, Huzefa A. Raja, Amandine Rougeron, Isabel Salcedo, Rosita Samadi, Tiago A.B. Santos, Kelly Scarlett, Keith A. Seifert, Lucas Shuttleworth, Gladstone A. Silva, Meiriele Silva, João Paulo Zen Siqueira, Cristina M. Souza-Motta, Steven L. Stephenson, Deanna A. Sutton, Nisachon Tamakeaw, M. Teresa Telleria, Nicomedes Valenzuela-Lopez, Altus Viljoen, Cobus M. Visagie, Alfredo Vizzini, Felipe Wartchow, Brenda D. Wingfield, Eugene Yurchenko, Juan Carlos Zamora, Johannes Z. Groenewald, 2016, Persoonia: Molecular Phylogeny and Evolution of Fungi on p. 218-403
C. Alisha Quandt, Ryan M. Kepler, Walter Gams, João P.M. Araújo, Sayaka Ban, Harry C. Evans, David Hughes, Richard Humber, Nigel Hywel-Jones, Zengzhi Li, J. Jennifer Luangsa-ard, Stephen A. Rehner, Tatiana Sanjuan, Hiroki Sato, Bhushan Shrestha, Gi Ho Sung, Yi Jian Yao, Rasoul Zare, Joseph W. Spatafora, 2014, IMA Fungus on p. 121-134
Diversity of Entomopathogenic Fungi. Which Groups Conquered the Insect Body?
J. P.M. Araújo, David Peter Hughes, 2016, on p. 1-39
Amanda Ramcharan, Peter McCloskey, Kelsee Baranowski, Neema Mbilinyi, Latifa Mrisho, Mathias Ndalahwa, James Legg, David P. Hughes, 2019, Frontiers in Plant Science
Charissa de Bekker, Robin A. Ohm, Raquel G. Loreto, Aswathy Sebastian, Istvan Albert, Martha Merrow, Andreas Brachmann, David P. Hughes, 2015, BMC Genomics
Charissa De Bekker, Lauren E. Quevillon, Philip B. Smith, Kimberly R. Fleming, Debashis Ghosh, Andrew D. Patterson, David P. Hughes, 2014, BMC Evolutionary Biology
J. P.M. Araújo, H. C. Evans, R. Kepler, D. P. Hughes, 2018, Studies in Mycology on p. 119-160
View More