Yinong Yang
Professor, Department of Plant Pathology and Environmental Microbiology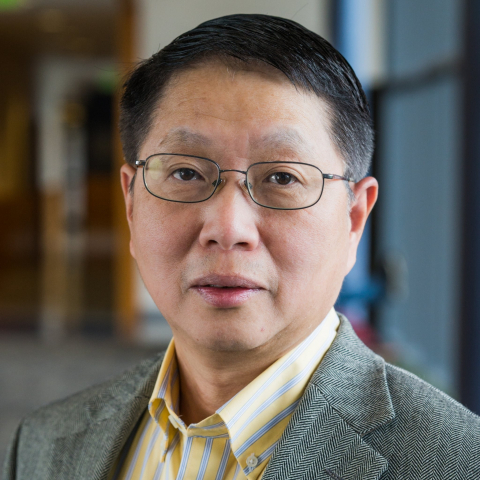 405C Huck Life Sciences
University Park, PA
Research Summary
Signal perception and transduction in rice-pathogen interactions. Molecular and genomic strategies for increasing disease resistance and drought tolerance in cereal crops.
Huck Affiliations
Links
Publication Tags
Genes
Clustered Regularly Interspaced Short Palindromic Repeats
Rice
Oryza
Proteins
Rna
Gene Editing
Nucleotides
Dna
Guide Rna
Disease Resistance
Mutation
Adenine
Genome
Phenotype
Pathogens
Methodology
Growth
Gels
Genomics
Phosphorylation
Crispr Associated Proteins
Immunity
Point Mutation
Plant Growth Regulators
Most Recent Publications
Cas12a-Based Diagnostics for Potato Purple Top Disease Complex Associated with Infection by 'Candidatus Phytoplasma trifolii'-Related Strains
Matthew S. Wheatley, Qin Wang, Wei Wei, Kristi D. Bottner-Parker, Yan Zhao, Yinong Yang, 2022, Plant Disease on p. 2039-2045
Fine-tuning OsCPK18/OsCPK4 activity via genome editing of phosphorylation motif improves rice yield and immunity
Hong Li, Yun Zhang, Caiyun Wu, Jinpeng Bi, Yache Chen, Changjin Jiang, Miaomiao Cui, Yuedan Chen, Xin Hou, Meng Yuan, Lizhong Xiong, Yinong Yang, Kabin Xie, 2022, Plant Biotechnology Journal
Highly Sensitive and Rapid Detection of Citrus Huanglongbing Pathogen ('Candidatus Liberibacter asiaticus') Using Cas12a-Based Methods
Matthew S. Wheatley, Yong Ping Duan, Yinong Yang, 2021, Phytopathology on p. 2375-2382
CRISPR-Cas12a-based DNA detection for fast pathogen diagnosis and GMO test in plants.
Y.-M. Zhang, Yinong Yang, K Xie, 2021, on p. 221-233
Matthew S. Wheatley, Yinong Yang, 2021, Phytopathology on p. 1080-1090
A versatile nanoluciferase toolkit and optimized in-gel detection method for protein analysis in plants
Hong Li, Caiyun Wu, Manman Du, Yache Chen, Xin Hou, Yinong Yang, Kabin Xie, 2021, Molecular Breeding
A FLASH pipeline for arrayed CRISPR library construction and the gene function discovery of rice receptor-like kinases
Kaiyuan Chen, Runnan Ke, Manman Du, Yuqing Yi, Yache Chen, Xiaochun Wang, Lu Yao, Hao Liu, Xin Hou, Lizhong Xiong, Yinong Yang, Kabin Xie, 2021, Molecular Plant
Xiaohan Yang, June Medford, Kasey Markel, Patrick Shih, Henrique De Paoli, Cong Trinh, Alistair McCormick, Raphael Ployet, Steven Hussey, Alexander Myburg, Poul Erik Jensen, Md Mahmudul Hassan, Jin Zhang, Wellington Muchero, Udaya Kalluri, Hengfu Yin, Renying Zhuo, Paul Abraham, Jin-Gui Chen, David Weston, Yinong Yang, Degao Liu, Yi Li, Jessy Labbe, Bing Yang, Jun Hyung Lee, Robert Cottingham, Stanton Martin, Mengzhu Lu, Timothy Tschaplinski, Guoliang Yuan, Haiwei Lu, Priya Ranjan, Julie Mitchell, Stan Wullschleger, Gerald Tuskan, 2020, BioDesign Research
Kutubuddin A. Molla, Justin Shih, Yinong Yang, 2020, aBIOTECH on p. 106-118
Efficient expression of multiple guide RNAs for CRISPR/Cas genome editing
Vicki Hsieh-Feng, Yinong Yang, 2020, aBIOTECH on p. 123-134
View More
Most-Cited Papers
Kabin Xie, Bastian Minkenberg, Yinong Yang, 2015, Proceedings of the National Academy of Sciences of the United States of America on p. 3570-3575
Dong Lei Yang, Jian Yao, Chuan Sheng Mei, Xiao Hong Tong, Long Jun Zeng, Qun Li, Lang Tao Xiao, Tai Ping Sun, Jigang Li, Xing Wang Deng, Chin Mei Lee, Michael F. Thomashow, Yinong Yang, Zuhua He, Sheng Yang He, 2012, Proceedings of the National Academy of Sciences of the United States of America on p. E1192-E1200
Kabin Xie, Yinong Yang, 2013, Molecular Plant on p. 1975-1983
Kabin Xie, Jianwei Zhang, Yinong Yang, 2014, Molecular Plant on p. 923-926
Dong Lei Yang, Yinong Yang, Zuhua He, 2013, Molecular Plant on p. 675-685
CRISPR/Cas-Mediated Base Editing
Kutubuddin A. Molla, Yinong Yang, 2019, Trends in Biotechnology on p. 1121-1142
Hongwu Bian, Yakun Xie, Fu Guo, Ning Han, Shengyun Ma, Zhanghui Zeng, Junhui Wang, Yinong Yang, Muyuan Zhu, 2012, New Phytologist on p. 149-161
Transgenic rice with inducible ethylene production exhibits broad-spectrum disease resistance to the fungal pathogens Magnaporthe oryzae and Rhizoctonia solani
Emily E. Helliwell, Qin Wang, Yinong Yang, 2013, Plant Biotechnology Journal on p. 33-42
Haijun Zhao, Xueyan Wang, Yulin Jia, Bastian Minkenberg, Matthew Wheatley, Jiangbo Fan, Melissa H. Jia, Adam Famoso, Jeremy D. Edwards, Yeshi Wamishe, Barbara Valent, Guo Liang Wang, Yinong Yang, 2018, Nature Communications
Kabin Xie, Jianping Chen, Qin Wang, Yinong Yang, 2014, Plant Cell on p. 3077-3089
View More