Yinong Yang
Professor, Department of Plant Pathology and Environmental Microbiology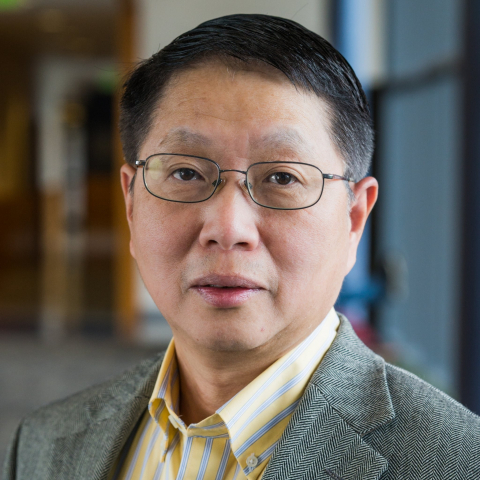 405C Huck Life Sciences
University Park, PA
Research Summary
Signal perception and transduction in rice-pathogen interactions. Molecular and genomic strategies for increasing disease resistance and drought tolerance in cereal crops.
Huck Graduate Students
Huck Affiliations
Links
Publication Tags
Genes
Clustered Regularly Interspaced Short Palindromic Repeats
Rice
Oryza
Proteins
Gene Editing
Rna
Mutation
Nucleotides
Dna
Guide Rna
Disease Resistance
Genome
Genomics
Adenine
Phenotype
Pathogens
Methodology
Machine Learning
Growth
Gels
Phosphorylation
Crispr Associated Proteins
Point Mutation
Immunity
Most Recent Papers
Highly Sensitive and Rapid Detection of Citrus Huanglongbing Pathogen ('Candidatus Liberibacter asiaticus') Using Cas12a-Based Methods
Matthew S. Wheatley, Yong Ping Duan, Yinong Yang, 2021, Phytopathology on p. 2375-2382
Versatile applications of the CRISPR/cas toolkit in plant pathology and disease management
Matthew S. Wheatley, Yinong Yang, 2021, Phytopathology on p. 1080-1090
CRISPR-Cas12a-based DNA detection for fast pathogen diagnosis and GMO test in plants.
Y.-M. Zhang, Yinong Yang, K Xie, 2021, on p. 221-233
Targeted mutation of transcription factor genes alters metaxylem vessel size and number in rice roots
J Reeger, M Wheatley, Yinong Yang, K Brown, 2021, Plant Direct on p. e00328
A versatile nanoluciferase toolkit and optimized in-gel detection method for protein analysis in plants
Hong Li, Caiyun Wu, Manman Du, Yache Chen, Xin Hou, Yinong Yang, Kabin Xie, 2021, Molecular Breeding
A FLASH pipeline for arrayed CRISPR library construction and the gene function discovery of rice receptor-like kinases
Kaiyuan Chen, Runnan Ke, Manman Du, Yuqing Yi, Yache Chen, Xiaochun Wang, Lu Yao, Hao Liu, Xin Hou, Lizhong Xiong, Yinong Yang, Kabin Xie, 2021, Molecular Plant
Plant biosystems design research roadmap 1.0
Xiaohan Yang, June Medford, Kasey Markel, Patrick Shih, Henrique De Paoli, Cong Trinh, Alistair McCormick, Raphael Ployet, Steven Hussey, Alexander Myburg, Poul Erik Jensen, Md Mahmudul Hassan, Jin Zhang, Wellington Muchero, Udaya Kalluri, Hengfu Yin, Renying Zhuo, Paul Abraham, Jin-Gui Chen, David Weston, Yinong Yang, Degao Liu, Yi Li, Jessy Labbe, Bing Yang, Jun Hyung Lee, Robert Cottingham, Stanton Martin, Mengzhu Lu, Timothy Tschaplinski, Guoliang Yuan, Haiwei Lu, Priya Ranjan, Julie Mitchell, Stan Wullschleger, Gerald Tuskan, 2020, BioDesign Research
Efficient expression of multiple guide RNAs for CRISPR/Cas genome editing
Vicki Hsieh-Feng, Yinong Yang, 2020, aBIOTECH on p. 123-134
Single-nucleotide editing for zebra3 and wsl5 phenotypes in rice using CRISPR/Cas9-mediated adenine base editors
Kutubuddin A. Molla, Justin Shih, Yinong Yang, 2020, aBIOTECH on p. 106-118
Predicting CRISPR/Cas9-Induced Mutations for Precise Genome Editing
Kutubuddin A. Molla, Yinong Yang, 2020, Trends in Biotechnology on p. 136-141
View More
Most-Cited Papers
Boosting CRISPR/Cas9 multiplex editing capability with the endogenous tRNA-processing system
Kabin Xie, Bastian Minkenberg, Yinong Yang, 2015, Proceedings of the National Academy of Sciences of the United States of America on p. 3570-3575
Plant hormone jasmonate prioritizes defense over growth by interfering with gibberellin signaling cascade
Dong Lei Yang, Jian Yao, Chuan Sheng Mei, Xiao Hong Tong, Long Jun Zeng, Qun Li, Lang Tao Xiao, Tai Ping Sun, Jigang Li, Xing Wang Deng, Chin Mei Lee, Michael F. Thomashow, Yinong Yang, Zuhua He, Sheng Yang He, 2012, Proceedings of the National Academy of Sciences of the United States of America on p. E1192-E1200
RNA-Guided genome editing in plants using a CRISPR-Cas system
Kabin Xie, Yinong Yang, 2013, Molecular Plant on p. 1975-1983
Genome-wide prediction of highly specific guide RNA spacers for CRISPR-Cas9-mediated genome editing in model plants and major crops
Kabin Xie, Jianwei Zhang, Yinong Yang, 2014, Molecular Plant on p. 923-926
Roles of plant hormones and their interplay in rice immunity
Dong Lei Yang, Yinong Yang, Zuhua He, 2013, Molecular Plant on p. 675-685
Distinctive expression patterns and roles of the miRNA393/TIR1 homolog module in regulating flag leaf inclination and primary and crown root growth in rice (Oryza sativa)
Hongwu Bian, Yakun Xie, Fu Guo, Ning Han, Shengyun Ma, Zhanghui Zeng, Junhui Wang, Yinong Yang, Muyuan Zhu, 2012, New Phytologist on p. 149-161
CRISPR/Cas-Mediated Base Editing
Kutubuddin A. Molla, Yinong Yang, 2019, Trends in Biotechnology on p. 1121-1142
Transgenic rice with inducible ethylene production exhibits broad-spectrum disease resistance to the fungal pathogens Magnaporthe oryzae and Rhizoctonia solani
Emily E. Helliwell, Qin Wang, Yinong Yang, 2013, Plant Biotechnology Journal on p. 33-42
The rice blast resistance gene Ptr encodes an atypical protein required for broad-spectrum disease resistance
Haijun Zhao, Xueyan Wang, Yulin Jia, Bastian Minkenberg, Matthew Wheatley, Jiangbo Fan, Melissa H. Jia, Adam Famoso, Jeremy D. Edwards, Yeshi Wamishe, Barbara Valent, Guo Liang Wang, Yinong Yang, 2018, Nature Communications
Direct phosphorylation and activation of a mitogen-activated protein kinase by a calcium-dependent protein kinase in rice
Kabin Xie, Jianping Chen, Qin Wang, Yinong Yang, 2014, Plant Cell on p. 3077-3089
View More