Tim Miyashiro
Associate Professor of Biochemistry and Molecular Biology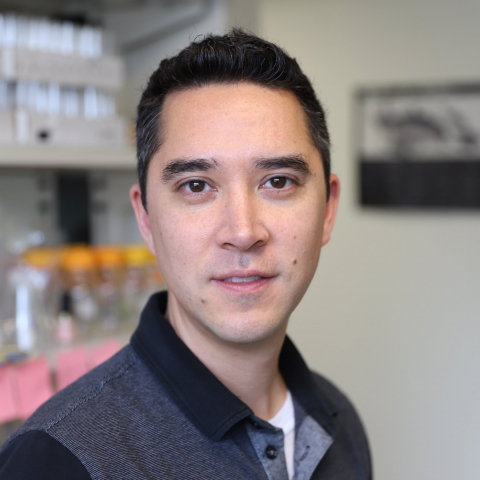 410 Frear South
University Park, PA
Research Summary
How bacteria adapt to a host environment. The mutualistic symbiosis established between the Hawaiian bobtail squid (Euprymna scolopes) and a bioluminescent bacterium (Vibrio fischeri).
Huck Graduate Students
Huck Affiliations
Links
Publication Tags
These publication tags are generated from the output of this researcher. Click any tag below to view other Huck researchers working on the same topic.
Aliivibrio Fischeri
Symbiosis
Decapodiformes
Light
Bacteria
Type Vi Secretion Systems
Luminescence
Vibrio
Genes
Animals
Genome
Symbionts
Symbiont
Population
Vibrio Fischeri
Organ
Squid
Bioluminescence
In Vitro Techniques
Persistence
Intraspecific Competition
Biofilms
Sulfur
Colonization
Growth
Most Recent Publications
Kirsten R. Guckes, Tim I. Miyashiro, 2023, Journal of General Microbiology
Andrew Cecere, Tim Miyashiro, 2022, LABORATORY ANIMAL RESEARCH on p. 25
Quorum Sensing Facilitates Interpopulation Signaling by Vibrio fischeri within the Light Organ of Euprymna scolopes
Taylor A. Yount, Andrew N. Murtha, Andrew G. Cecere, Tim I. Miyashiro, 2022, Israel Journal of Chemistry
View More
Most-Cited Papers
Lauren Speare, Andrew G. Cecere, Kirsten R. Guckes, Stephanie Smith, Michael S. Wollenberg, Mark J. Mandel, Tim Miyashiro, Alecia N. Septer, 2018, Proceedings of the National Academy of Sciences of the United States of America on p. E8528-E8537
Subhash C. Verma, Tim Miyashiro, 2013, International Journal of Molecular Sciences on p. 16386-16401
Eric J. Koch, Tim Miyashiro, Margaret J. McFall-Ngai, Edward G. Ruby, 2014, Molecular Ecology on p. 1624-1634
View More