Song Tan
Director of the Center for Eukaryotic Gene Regulation; Professor of Biochemistry and Molecular Biology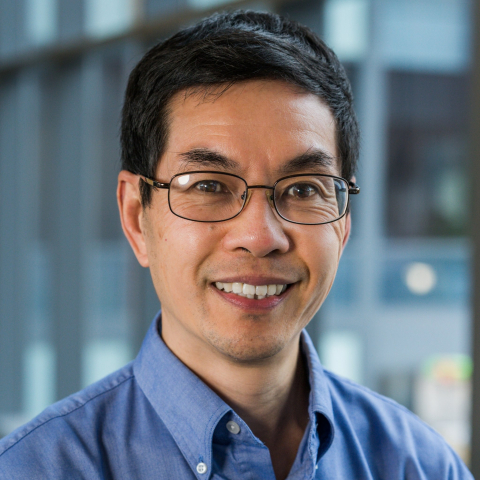 468A North Frear Laboratory
University Park, PA 16802
Research Summary
Structural biology of eukaryotic gene regulation.
Huck Graduate Students
Huck Affiliations
Links
Publication Tags
Nucleosomes
Histones
Histone Acetyltransferases
Acetylation
Chromatin
Dna
Enzymes
Histone Methyltransferase
Histone Methyltransferases
Crosstalk
Histone Demethylases
Ubiquitination
Isotopes
Nuclear Magnetic Resonance Spectroscopy
Proteins
Eukaryota
Yeasts
Methylation
Chromatin Assembly And Disassembly
Adenosine Triphosphate
Escherichia Coli
Post Translational Protein Processing
Lysine
Sucrose
Molecular Weight
Most Recent Papers
The Ada2/Ada3/Gcn5/Sgf29 histone acetyltransferase module.
J Espinola-Lopez, Song Tan, 2021, Biochimica et biophysica acta. Gene regulatory mechanisms on p. 194629
Mechanistic Insights into Regulation of the ALC1 Remodeler by the Nucleosome Acidic Patch.
L Lehmann, L Bacic, G Hewitt, K Brackmann, A Sabantsev, G Gaullier, S Pytharopoulou, G Degliesposti, H Okkenhaug, Song Tan, A Costa, J Skehel, S Boulton, S Deindl, 2020, Cell reports on p. 108529
Crystal Structure of the LSD1/CoREST Histone Demethylase Bound to Its Nucleosome Substrate
Sang Ah Kim, Jiang Zhu, Neela Yennawar, Priit Eek, Song Tan, 2020, Molecular Cell on p. 903-914.e4
The Ada2/Ada3/Gcn5/Sgf29 histone acetyltransferase module
Jose M. Espinola-Lopez, Song Tan, 2020, Biochimica et Biophysica Acta - Gene Regulatory Mechanisms
Structural basis for activation of SAGA histone acetyltransferase Gcn5 by partner subunit Ada2
Jian Sun, Marcin Paduch, Sang Ah Kim, Ryan M. Kramer, Adam F. Barrios, Vincent Lu, Judy Luke, Svitlana Usatyuk, Anthony A. Kossiakoff, Song Tan, 2018, Proceedings of the National Academy of Sciences of the United States of America on p. 10010-10015
The pPSU Plasmids for Generating DNA Molecular Weight Markers
Ryan C. Henrici, Turner J. Pecen, James L. Johnston, Song Tan, 2017, Scientific Reports
Elimination of truncated recombinant protein expressed in Escherichia coli by removing cryptic translation initiation site
Matthew J. Jennings, Adam F. Barrios, Song Tan, 2016, Protein Expression and Purification on p. 17-21
Multivalent interactions by the set8 histone methyltransferase with its nucleosome substrate
Taverekere S. Girish, Robert K. McGinty, Song Tan, 2016, Journal of Molecular Biology on p. 1531-1543
Preparation, Crystallization, and Structure Determination of Chromatin Enzyme/Nucleosome Complexes.
R McGinty, R Makde, Song Tan, 2016, Methods in enzymology on p. 43-65
Recognition of the nucleosome by chromatin factors and enzymes
Robert McGinty, Song Tan, 2016, CURRENT OPINION IN STRUCTURAL BIOLOGY on p. 54-61
View More
Most-Cited Papers
Crystal structure of the PRC1 ubiquitylation module bound to the nucleosome
Robert K. McGinty, Ryan C. Henrici, Song Tan, 2014, Nature on p. 591-596
Exchange of associated factors directs a switch in HBO1 acetyltransferase histone tail specificity
Marie Eve Lalonde, Nikita Avvakumov, Karen C. Glass, France Hélène Joncas, Nehmé Saksouk, Michael Holliday, Eric Paquet, Kezhi Yan, Qiong Tong, Brianna J. Klein, Song Tan, Xiang Jiao Yang, Tatiana G. Kutateladze, Jacques Côté, 2013, Genes and Development on p. 2009-2024
Histone H3 tail acetylation modulates ATP-dependent remodeling through multiple mechanisms
Nilanjana Chatterjee, Divya Sinha, Mekonnen Lemma-Dechassa, Song Tan, Michael A. Shogren-Knaak, Blaine Bartholomew, 2011, Nucleic Acids Research on p. 8378-8391
Structure and nucleosome interaction of the yeast NuA4 and Piccolo-NuA4 histone acetyltransferase complexes
Johnathan R. Chittuluru, Yuriy Chaban, Julie Monnet-Saksouk, Michael J. Carrozza, Vasileia Sapountzi, William Selleck, Jiehuan Huang, Rhea T. Utley, Myriam Cramet, Stephane Allard, Gang Cai, Jerry L. Workman, Michael G. Fried, Song Tan, Jacques Côté, Francisco J. Asturias, 2011, Nature Structural and Molecular Biology on p. 1196-1203
ASH2L regulates ubiquitylation signaling to MLL
Lipeng Wu, Shirley Y. Lee, Bo Zhou, Uyen T T Nguyen, Tom W. Muir, Song Tan, Yali Dou, 2013, Molecular Cell on p. 1108-1120
Extranucleosomal DNA enhances the activity of the LSD1/CoREST histone demethylase complex
Sang Ah Kim, Nilanjana Chatterjee, Matthew J. Jennings, Blaine Bartholomew, Song Tan, 2015, Nucleic Acids Research on p. 4868-4880
Site-specific acetylation mark on an essential chromatin-remodeling complex promotes resistance to replication stress
Georgette M. Charles, Changbin Chen, Susan C. Shih, Sean R. Collins, Pedro Beltrao, Xin Zhang, Tanu Sharma, Song Tan, Alma L. Burlingame, Nevan J. Krogan, Hiten D. Madhani, Geeta J. Narlikar, 2011, Proceedings of the National Academy of Sciences of the United States of America on p. 10620-10625
Piccolo NuA4-catalyzed acetylation of nucleosomal histones
Jiehuan Huang, Song Tan, 2013, Molecular and Cellular Biology on p. 159-169
Multivalent interactions by the set8 histone methyltransferase with its nucleosome substrate
Taverekere S. Girish, Robert K. McGinty, Song Tan, 2016, Journal of Molecular Biology on p. 1531-1543
Differentially Isotope-Labeled Nucleosomes To Study Asymmetric Histone Modification Crosstalk by Time-Resolved NMR Spectroscopy
Stamatios Liokatis, Rebecca Klingberg, Song Tan, Dirk Schwarzer, 2016, Angewandte Chemie - International Edition on p. 8262-8265
View More