Seogchan Kang
Professor of Plant Pathology & Environmental Microbiology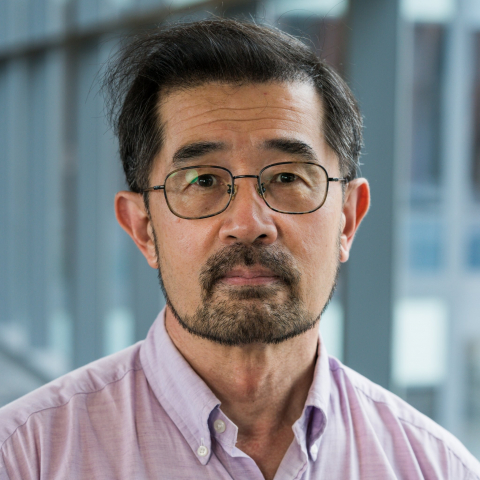 311 Buckhout Lab
University Park, PA
Research Summary
Genetic and cellular mechanisms underpinning plant-fungal interactions with Arabidopsis thaliana and Fusarium oxysporum as a model system. Molecular genetics and comparative genomics of fungal plant pathogens. Bioinformatics.
Huck Affiliations
Links
Publication Tags
Fungi
Genes
Verticillium
Virulence
Fusarium
Proteins
Pathogens
Growth
Verticillium Dahliae
Oryza
Genome
Volatile Compounds
Bacteria
Genomics
Blood Vessels
Dna Transposable Elements
Enzymes
Magnaporthe
Dna
Immunity
Auxins
Protein Kinases
Soil
Trichoderma
Gene Expression
Most Recent Papers
Molecular changes associated with spontaneous phenotypic variation of Paenibacillus polymyxa, a commonly used biocontrol agent, and temperature-dependent control of variation
Younmi Lee, Young Soo Kim, Kotnala Balaraju, Young Su Seo, Jungwook Park, Choong Min Ryu, Seung Hwan Park, Jihyun F. Kim, Seogchan Kang, Yongho Jeon, 2020, Scientific Reports
Two nuclear effectors of the rice blast fungus modulate host immunity via transcriptional reprogramming
Seongbeom Kim, Chi Yeol Kim, Sook Young Park, Ki Tae Kim, Jongbum Jeon, Hyunjung Chung, Gobong Choi, Seomun Kwon, Jaeyoung Choi, Junhyun Jeon, Jong Seong Jeon, Chang Hyun Khang, Seogchan Kang, Yong Hwan Lee, 2020, Nature Communications
First report of Vascular Wilt on Lentil (Lens culinaris Medikus) Caused by Fusarium redolens in Pakistan
Seogchan Kang, 2020, Plant Disease on p. 2525
Expression patterns of transposable elements in magnaporthe oryzae under diverse developmental and environmental conditions
Hyunjung Chung, Seogchan Kang, Yong Hwan Lee, Sook Young Park, 2020, Research in Plant Disease on p. 38-43
Evolution of the genes encoding effector candidates within multiple pathotypes of magnaporthe oryzae
Ki Tae Kim, Jaeho Ko, Hyeunjeong Song, Gobong Choi, Hyunbin Kim, Jongbum Jeon, Kyeongchae Cheong, Seogchan Kang, Yong Hwan Lee, 2019, Frontiers in Microbiology
Disruption and over expression of the gene encoding ACC (1-aminocyclopropane-1-carboxylic acid) deaminase in soil-borne fungal pathogen verticillium dahliae revealed the role of ACC as a potential regulator of virulence and plant defense
Maria Dimitra Tsolakidou, Iakovos Pantelides, Aliki K. Tzima, Seogchan Kang, Epaminondas J. Paplomatas, Dimitris Tsaltas, 2019, Molecular Plant-Microbe Interactions on p. 639-653
I Plate-based Assay for Studying How Fungal Volatile Compounds (VCs) Affect Plant Growth and Development and the Identification of VCs via SPME-GC-MS
Wenzhao Wang, Ningxiao Li, Xingzhong Liu, Seogchan Kang, 2019, BIO-PROTOCOL
Secreted metabolite-mediated interactions between rhizosphere bacteria and Trichoderma biocontrol agents
Ningxiao Li, Md Tariqul Islam, Seogchan Kang, 2019, PLoS One
Volatile compounds emitted by diverse verticillium species enhance plant growth by manipulating auxin signaling
Ningxiao Li, Wenzhao Wang, Vasileios Bitas, Krishna Subbarao, Xingzhong Liu, Seogchan Kang, 2018, Molecular Plant-Microbe Interactions on p. 1021-1031
Do volatile compounds produced by Fusarium oxysporum and Verticillium dahliae affect stress tolerance in plants?
Ningxiao Li, Seogchan Kang, 2018, Mycology on p. 166-175
View More
Most-Cited Papers
Comparative genomics yields insights into niche adaptation of plant vascular wilt pathogens
Steven J. Klosterman, Krishna V. Subbarao, Seogchan Kang, Paola Veronese, Scott E. Gold, Bart P.H.J. Thomma, Zehua Chen, Bernard Henrissat, Yong Hwan Lee, Jongsun Park, Maria D. Garcia-Pedrajas, Dez J. Barbara, Amy Anchieta, Ronnie de Jonge, Parthasarathy Santhanam, Karunakaran Maruthachalam, Zahi Atallah, Stefan G. Amyotte, Zahi Paz, Patrik Inderbitzin, Ryan J. Hayes, David I. Heiman, Sarah Young, Qiandong Zeng, Reinhard Engels, James Galagan, Christina A. Cuomo, Katherine F. Dobinson, Li Jun Ma, 2011, PLoS Pathogens
Phylogenetic analyses of RPB1 and RPB2 support a middle Cretaceous origin for a clade comprising all agriculturally and medically important fusaria
Kerry O'Donnell, Alejandro P. Rooney, Robert H. Proctor, Daren W. Brown, Susan P. McCormick, Todd J. Ward, Rasmus J.N. Frandsen, Erik Lysøe, Stephen A. Rehner, Takayuki Aoki, Vincent A.R.G. Robert, Pedro W. Crous, Johannes Z. Groenewald, Seogchan Kang, David M. Geiser, 2013, Fungal Genetics and Biology on p. 20-31
One fungus, one name: Defining the genus Fusarium in a scientifically robust way that preserves longstanding use
David M. Geiser, Takayuki Aoki, Charles W. Bacon, Scott E. Baker, Madan K. Bhattacharyya, Mary E. Brandt, Daren W. Brown, Lester W. Burgess, Sofia Chulze, Jeffrey J. Coleman, James C. Correll, Sarah F. Covert, Pedro W. Crous, Christina A. Cuomo, G. Sybren De Hoog, Antonio Di Pietro, Wade H. Elmer, Lynn Epstein, Rasmus J.N. Frandsen, Stanley Freeman, Tatiana Gagkaeva, Anthony E. Glenn, Thomas R. Gordon, Nancy F. Gregory, Kim E. Hammond-Kosack, Linda E. Hanson, María Del Mar Jímenez-Gasco, Seogchan Kang, H. Corby Kistler, Gretchen A. Kuldau, John F. Leslie, Antonio Logrieco, Guozhong Lu, Erik Lysøe, Li Jun Ma, Susan P. McCormick, Quirico Migheli, Antonio Moretti, Françoise Munaut, Kerry O'Donnell, Ludwig Pfenning, Randy C. Ploetz, Robert H. Proctor, Stephen A. Rehner, Vincent A.R.G. Robert, Alejandro P. Rooney, Baharuddin Bin Salleh, Maria Mercedes Scandiani, Jonathan Scauflaire, Dylan P.G. Short, Emma Steenkamp, Haruhisa Suga, Brett A. Summerell, Deanna A. Sutton, Ulf Thrane, Francis Trail, Anne Van Diepeningen, Hans D. VanEtten, Altus Viljoen, Cees Waalwijk, Todd J. Ward, Michael J. Wingfield, Jin Rong Xu, Xiao Bing Yang, Tapani Yli-Mattila, Ning Zhang, 2013, Phytopathology on p. 400-408
Phylogenetic diversity of insecticolous fusaria inferred from multilocus DNA sequence data and their molecular identification via FUSARIUM-ID and Fusarium MLST
Kerry O'Donnell, Richard A. Humber, David M. Geiser, Seogchan Kang, Bongsoo Park, Vincent A.R.G. Robert, Pedro W. Crous, Peter R. Johnston, Takayuki Aoki, Alejandro P. Rooney, Stephen A. Rehner, 2012, Mycologia on p. 427-445
Systematic and searchable classification of cytochrome P450 proteins encoded by fungal and oomycete genomes
Venkatesh Moktali, Jongsun Park, Natalie D. Fedorova-Abrams, Bongsoo Park, Jaeyoung Choi, Yong Hwan Lee, Seogchan Kang, 2012, BMC Genomics
VdSNF1, the sucrose nonfermenting protein kinase gene of verticillium dahliae, is required for virulence and expression of genes involved in cell-wall degradation
Aliki K. Tzima, Epaminondas J. Paplomatas, Payungsak Rauyaree, Manuel D. Ospina-Giraldo, Seogchan Kang, 2011, Molecular Plant-Microbe Interactions on p. 129-142
Kingdom-wide analysis of fungal small secreted proteins (SSPs) reveals their potential role in host association
Ki Tae Kim, Jongbum Jeon, Jaeyoung Choi, Kyeongchae Cheong, Hyeunjeong Song, Gobong Choi, Seogchan Kang, Yong Hwan Lee, 2016, Frontiers in Plant Science
The G protein β subunit controls virulence and multiple growth- and development-related traits in Verticillium dahliae
Aliki K. Tzima, Epaminondas J. Paplomatas, Dimitrios I. Tsitsigiannis, Seogchan Kang, 2012, Fungal Genetics and Biology on p. 271-283
Identification of pathogenicity-related genes in the vascular wilt fungus Verticillium dahliae by Agrobacterium tumefaciens-mediated T-DNA insertional mutagenesis
K. Maruthachalam, S. J. Klosterman, S. Kang, R. J. Hayes, K. V. Subbarao, 2011, Molecular Biotechnology on p. 209-221
Cyber infrastructure for Fusarium: Three integrated platforms supporting strain identification, phylogenetics, comparative genomics and knowledge sharing
Bongsoo Park, Jongsun Park, Kyeong Chae Cheong, Jaeyoung Choi, Kyongyong Jung, Donghan Kim, Yong Hwan Lee, Todd J. Ward, Kerry O'Donnell, David M. Geiser, Seogchan Kang, 2011, Nucleic Acids Research on p. D640-D646
View More