Robert Sainburg
Director of the Center for Movement Science and Technology; Professor of Kinesiology; Professor of Neurology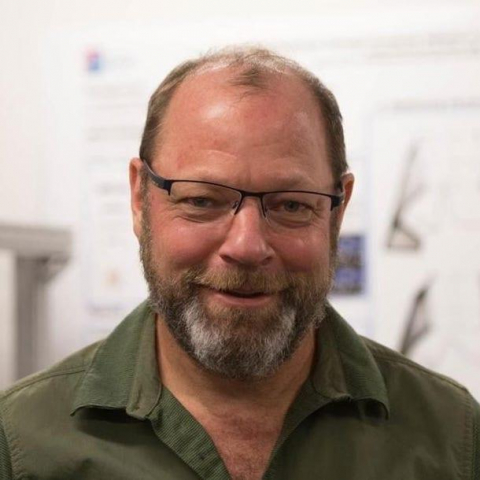 29 Recreation Building
University Park, PA
Research Summary
Neural mechanisms underlying control of multijoint arm movements in humans.
Huck Affiliations
Links
Publication Tags
Arm
Brain
Hand
Stroke
Functional Laterality
Direction Compound
Research
Sensory Feedback
Extremities
Proprioception
Young Adult
Electric Impedance
Posture
Age Groups
Biomechanical Phenomena
Cerebral Dominance
Upper Extremity
Learning
Forearm
Wrist
Parietal Lobe
Transfer (Psychology)
Healthy Volunteers
Trajectories
Joints
Most Recent Papers
When the non-dominant arm dominates
Brooke Dexheimer, Robert Sainburg, 2021, Experimental Brain Research on p. 655-665
Somatosensory deafferentation reveals lateralized roles of proprioception in feedback and adaptive feedforward control of movement and posture
Shanie AL Jayasinghe, Fabrice R. Sarlegna, Robert A. Scheidt, Robert L. Sainburg, 2021, Current Opinion in Physiology on p. 141-147
Interlimb Responses to Perturbations of Bilateral Movements are Asymmetric.
J Schaffer, Robert Sainburg, 2021, Journal of motor behavior on p. 217-233
Motor Deficits in the Ipsilesional Arm of Severely Paretic Stroke Survivors Correlate With Functional Independence in Left, but Not Right Hemisphere Damage
David Good, David A. Wagstaff, Carolee Winstein, Robert L. Sainburg, 2020, Frontiers in Human Neuroscience
Left hemisphere damage produces deficits in predictive control of bilateral coordination
Jacob E. Schaffer, Candice Maenza, David C. Good, Andrzej Przybyla, Robert L. Sainburg, 2020, Experimental Brain Research on p. 2733-2744
The neural foundations of handedness
S. A.L. Jayasinghe, F. R. Sarlegna, R. A. Scheidt, R. L. Sainburg, 2020, Journal of Neurophysiology on p. 259-267
Interlimb responses to perturbations of bilateral movements are asymmetric
Jacob E Schaffer, Robert L Sainburg, 2020, Journal of Motor Behavior on p. 1-17
Lateralization of Goal-Directed Movement
Robert L. Sainburg, 2020,
Competition for limited neural resources in older adults leads to greater asymmetry of bilateral movements than in young adults.
E Woytowicz, Robert Sainburg, K Westlake, J Whitall, 2020, Journal of Neurophysiology on p. 1295-1304
Interlimb differences in coordination of rapid wrist/forearm movements
Gautum A. Srinivasan, Tarika Embar, Robert Sainburg, 2020, Experimental Brain Research on p. 713-725
View More
Most-Cited Papers
The effects of brain lateralization on motor control and adaptation
Pratik K. Mutha, Kathleen Y. Haaland, Robert L. Sainburg, 2012, Journal of Motor Behavior on p. 455-469
Convergent models of handedness and brain lateralization
Robert L. Sainburg, 2014, Frontiers in Psychology
Contralesional motor deficits after unilateral stroke reflect hemisphere-specific control mechanisms
Saandeep Mani, Pratik K. Mutha, Andrzej Przybyla, Kathleen Y. Haaland, David C. Good, Robert L. Sainburg, 2013, Brain on p. 1288-1303
Left parietal regions are critical for adaptive visuomotor control
Pratik K. Mutha, Robert L. Sainburg, Kathleen Y. Haaland, 2011, Journal of Neuroscience on p. 6972-6981
Rethinking motor lateralization specialized but complementary mechanisms for motor control of each arm
Pratik K. Mutha, Kathleen Y. Haaland, Robert L. Sainburg, 2013, PLoS One
Hemispheric specialization for movement control produces dissociable differences in online corrections after stroke
Sydney Y. Schaefer, Pratik K. Mutha, Kathleen Y. Haaland, Robert L. Sainburg, 2012, Cerebral Cortex on p. 1407-1419
Dynamic dominance varies with handedness
Andrzej Przybyla, David Good, Robert L. Sainburg, 2012, Experimental Brain Research on p. 419-431
Motor asymmetry reduction in older adults
Andrzej Przybyla, Kathleen Y. Haaland, Leia B. Bagesteiro, Robert L. Sainburg, 2011, Neuroscience Letters on p. 99-104
Aging reduces asymmetries in interlimb transfer of visuomotor adaptation
Jinsung Wang, Andrzej Przybyla, Kati Wuebbenhorst, Kathleen Y. Haaland, Robert L. Sainburg, 2011, Experimental Brain Research on p. 283-290
Motor lateralization is characterized by a serial hybrid control scheme
V. Yadav, Robert L. Sainburg, 2011, Neuroscience on p. 153-167
View More