Nikki Crowley
Huck Early Career Chair in Neurobiology & Neural Engineering; Assistant Professor of Biology and Biomedical Engineering; Associate Director for Postdoctoral Training and Leadership, Center for Neural Engineering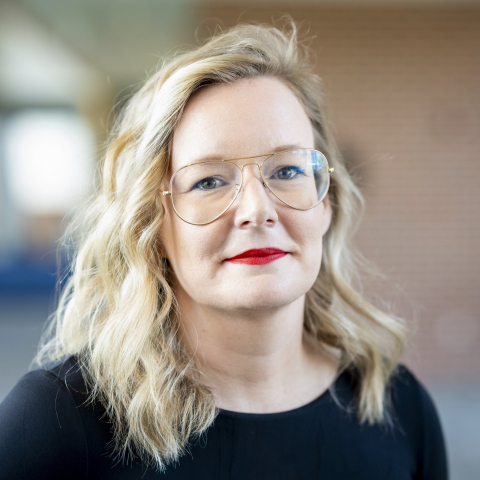 326 Mueller Lab
University Park, PA
Research Summary
Investigation of peptidergic transmission throughout the brain, using cell-specific and pathway-specific manipulations to understand how peptides alter neuronal signaling and behavior, particularly in the context of stress and drug use.
Huck Graduate Students
Huck Affiliations
Links
Publication Tags
These publication tags are generated from the output of this researcher. Click any tag below to view other Huck researchers working on the same topic.
Neurons
Brain
Anxiety
Ethanol
Kappa Opioid Receptor
Dynorphins
Somatostatin
Alcohols
Prefrontal Cortex
Septal Nuclei
Peptides
Central Amygdaloid Nucleus
Alcohol Drinking
Binge Drinking
Amygdala
Basolateral Nuclear Complex
Neurotensin
Reward
Neuropeptides
Corpus Striatum
Depression
Parabrachial Nucleus
Drive
Sucrose
Alcoholism
Most Recent Publications
Targeted and transient opening of the blood brain barrier in discrete neurocircuits and brain regions
Nicole A. Crowley, Scott H. Medina, 2023, Neuropsychopharmacology on p. 253-254
An innovative approach to examining the role of neurotransmitters in fear circuitry
Keith R. Griffith, Nicole A. Crowley, 2022, Neuropsychopharmacology on p. 2175-2176
Malini Suresh Nair, Nigel C. Dao, Daniela Lopez Melean, Keith R. Griffith, W. David Starnes, J. Brody Moyer, Avery R. Sicher, Dakota F. Brockway, Kathleen D. Meeks, Nicole A. Crowley, 2022, Journal of Electrophysiological Techniques on p. 38-46
Avery R. Sicher, Arielle Duerr, William D. Starnes, Nicole A. Crowley, 2022, Frontiers in Neuroscience
Developing breakthrough psychiatric treatments by modulating G protein-coupled receptors on prefrontal cortex somatostatin interneurons
Nicole A. Crowley, Max E. Joffe, 2022, Neuropsychopharmacology on p. 389-390
Nigel C. Dao, Dakota F. Brockway, Malini Suresh Nair, Avery R. Sicher, Nicole A. Crowley, 2021, Neuropsychopharmacology on p. 1906-1917
Nigel C. Dao, Malini Suresh Nair, Sarah N. Magee, J. Brody Moyer, Veronica Sendao, Dakota F. Brockway, Nicole A. Crowley, 2020, Frontiers in Behavioral Neuroscience
María Luisa Torruella-Suárez, Jessica R. Vandenberg, Elizabeth S. Cogan, Gregory J. Tipton, Adonay Teklezghi, Kedar Dange, Gunjan K. Patel, Jenna A. McHenry, J. Andrew Hardaway, Pranish A. Kantak, Nicole A. Crowley, Jeffrey F. DiBerto, Sara P. Faccidomo, Clyde W. Hodge, Garret D. Stuber, Zoé A. McElligott, 2020, Journal of Neuroscience on p. 632-647
Colleen McSweeney, Fengping Dong, Miranda Chen, Jessica Vitale, Li Xu, Nicole Crowley, Bernhard Luscher, D Zou, Yingwei Mao, 2020, Translational Psychiatry
Dakota F. Brockway, Nicole A. Crowley, 2020, Frontiers in Behavioral Neuroscience
View More
Most-Cited Papers
Eyal Vardy, J. Elliott Robinson, Chia Li, Reid H.J. Olsen, Jeffrey F. DiBerto, Patrick M. Giguere, Flori M. Sassano, Xi Ping Huang, Hu Zhu, Daniel J. Urban, Kate L. White, Joseph E. Rittiner, Nicole A. Crowley, Kristen E. Pleil, Christopher M. Mazzone, Philip D. Mosier, Juan Song, Thomas L. Kash, C. J. Malanga, Michael J. Krashes, Bryan L. Roth, 2015, Neuron on p. 936-946
Ream Al-Hasani, Jordan G. McCall, Gunchul Shin, Adrian M. Gomez, Gavin P. Schmitz, Julio M. Bernardi, Chang O. Pyo, Sung Il Park, Catherine M. Marcinkiewcz, Nicole A. Crowley, Michael J. Krashes, Bradford B. Lowell, Thomas L. Kash, John A. Rogers, Michael R. Bruchas, 2015, Neuron on p. 1063-1077
Lauren DePoy, Rachel Daut, Jonathan L. Brigman, Kathryn MacPherson, Nicole Crowley, Ozge Gunduz-Cinar, Charles L. Pickens, Resat Cinar, Lisa M. Saksida, George Kunos, David M. Lovinger, Timothy J. Bussey, Marguerite C. Camp, Andrew Holmes, 2013, Proceedings of the National Academy of Sciences of the United States of America on p. 14783-14788
View More