Nicole Etter
Assistant Professor of Health and Human Development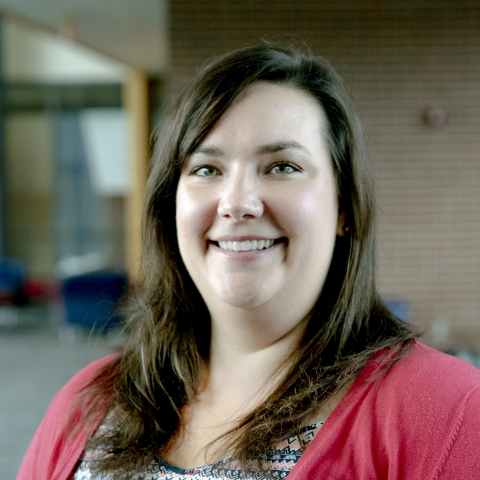 404C Ford
University Park, PA
Research Summary
The relationship between tactile sensation and skilled oral behaviors (e.g. speech and swallowing) in healthy young, aging, and clinical populations.
Huck Affiliations
Links
Publication Tags
Food
Lip
Hearing
Reproducibility Of Results
Cognition
Young Adult
Therapeutics
Voice Quality
Healthy Aging
Pressure
Tongue
Particle Size
Size Perception
Chocolate
Quality Of Life
Motor Skills
Population
Voice Disorders
Self Report
Anxiety
Touch
Hair
Differential Threshold
Food Preferences
Rehabilitation
Most Recent Papers
Speech Pathology
Kay Payne, Nicole Etter,
Aging Voice Index: Reliability and Validity
Nicole Etter, Edie Hapner, Julie Barkmeier-Kraemer, Jackie Gartner-Schmidt, Emily Dressler, Joseph Stemple, Journal of Voice
Chemosensation
Nicole Etter, Richard Andreatta,
How can Speech-Language Pathologists Think about Sensation during Assessment and Treatment of Dysphagia?
A Madhavan, Nicole Etter, 2021, Perspectives of the ASHA Special Interest Groups
Speech motor control and orofacial point pressure sensation in adults with ADHD
Nicole M. Etter, Farlah A. Cadely, Madison G. Peters, Crystal R. Dahm, Kristina A. Neely, 2021, Neuroscience Letters
Sensory profiles in adults with and without ADHD
M. S. Kamath, C. R. Dahm, J. R. Tucker, C. L. Huang-Pollock, N. M. Etter, K. A. Neely, 2020, Research in Developmental Disabilities
Changes in motor skills, sensory profiles, and cognition drive food selection in older adults with preclinical dysphagia
Nicole Michele Etter, Aarthi Madhavan, 2020, Journal of Speech and Hearing Disorders on p. 2723-2730
Assessment of midline lingual point-pressure somatosensation using von frey hair monofilaments
Nicole M. Etter, Scott P. Breen, Maya I.M. Alcala, Gregory R. Ziegler, John E. Hayes, 2020, Journal of Visualized Experiments
Oral somatosensatory acuity is related to particle size perception in chocolate
Scott P. Breen, Nicole Michele Etter, Gregory Ray Ziegler, John E. Hayes, 2019, Scientific Reports on p. 7437
Aging Voice Index (AVI)
Nicole M. Etter, Edie R. Hapner, Julie M. Barkmeier-Kraemer, Jackie L. Gartner-Schmidt, Emily V. Dressler, Joseph C. Stemple, 2019, Journal of Voice on p. 807.e7-807.e12
View More
Most-Cited Papers
Facilitating neurorehabilitation through principles of engagement
Megan M. Danzl, Nicole Michele Etter, Richard O. Andreatta, Patrick H. Kitzman, 2012, Journal of Allied Health on p. 35-41
Defining the lived experience of older adults with voice disorders
Nicole M. Etter, Joseph C. Stemple, Dana M. Howell, 2013, Journal of Voice on p. 61-67
Oral somatosensatory acuity is related to particle size perception in chocolate
Scott P. Breen, Nicole Michele Etter, Gregory Ray Ziegler, John E. Hayes, 2019, Scientific Reports on p. 7437
Aging Voice Index (AVI)
Nicole M. Etter, Edie R. Hapner, Julie M. Barkmeier-Kraemer, Jackie L. Gartner-Schmidt, Emily V. Dressler, Joseph C. Stemple, 2019, Journal of Voice on p. 807.e7-807.e12
Feasibility of automatic speech recognition for providing feedback during tablet-based treatment for apraxia of speech plus aphasia
Kirrie J. Ballard, Nicole Michele Etter, Songjia Shen, Penelope Monroe, Chek Tien Tand, 2019, American Journal of Speech-Language Pathology on p. 818-834
Clinically available assessment measures for lingual and labial somatosensation in healthy adults
Nicole M. Etter, Olivia M. Miller, Kirrie J. Ballard, 2017, American Journal of Speech-Language Pathology on p. 982-990
Labial vibrotactile somatosensory perception
Nicole M. Etter, Emily M. Van Meter, Richard D. Andreatta, 2014, Perceptual and Motor Skills on p. 622-635
Effects of ageing on orofacial fine force control and its relationship with parallel change in sensory perception
Nicole Michele Etter, Patrick O. McKeon, Emily V. Dressler, Richard D. Andreatta, 2017, International Journal of Speech-Language Pathology on p. 502-515
The relationship between labial vibrotactile detection and pure-tone hearing thresholds in healthy, ageing adults
Nicole M. Etter, Emily V. Dressler, Richard D. Andreatta, 2016, International Journal of Speech-Language Pathology on p. 89-96
Sensory profiles in adults with and without ADHD
M. S. Kamath, C. R. Dahm, J. R. Tucker, C. L. Huang-Pollock, N. M. Etter, K. A. Neely, 2020, Research in Developmental Disabilities
View More