Nicole Etter
Assistant Professor of Health and Human Development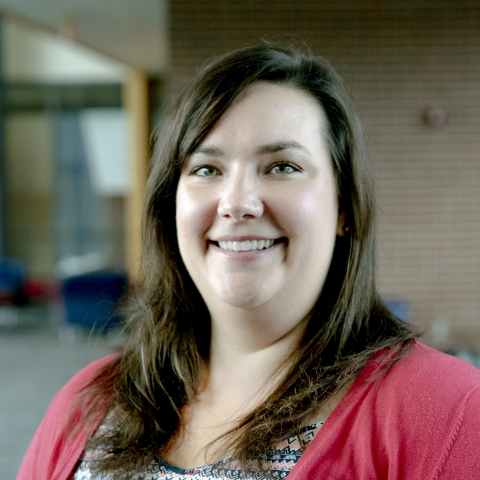 404C Ford
University Park, PA
Research Summary
The relationship between tactile sensation and skilled oral behaviors (e.g. speech and swallowing) in healthy young, aging, and clinical populations.
Huck Affiliations
Links
Publication Tags
Reproducibility Of Results
Lip
Young Adult
Therapeutics
Hearing
Population
Voice Quality
Quality Of Life
Voice Disorders
Size Perception
Recognition (Psychology)
Chocolate
Sensory Perception
Hair
Apraxias
Particle Size
Speech Disorder
Tongue
Aphasia
Discrimination
Tablets
Food
Speech Disorders
Differential Threshold
Smoking
Most Recent Papers
Aging Voice Index: Reliability and Validity
Nicole Etter, Edie Hapner, Julie Barkmeier-Kraemer, Jackie Gartner-Schmidt, Emily Dressler, Joseph Stemple, Journal of Voice
Changes in motor skills, sensory profiles, and cognition drive food selection in older adults with pre-clinical dysphagia
Nicole Etter, Aarthi Madhavan, 2020, Journal of Speech, Language, and Hearing Research
Assessment of Midline Lingual Point-Pressure Somatosensation Using Von Frey Hair Monofilaments.
Nicole Etter, S Breen, Alcala MIM, Gregory Ziegler, John Hayes, 2020, Journal of visualized experiments : JoVE
Oral somatosensatory acuity is related to particle size perception in chocolate
Scott P. Breen, Nicole Michele Etter, Gregory Ray Ziegler, John E. Hayes, 2019, Scientific reports on p. 7437
Aging Voice Index (AVI)
Nicole Michele Etter, Edie R. Hapner, Julie M. Barkmeier-Kraemer, Jackie L. Gartner-Schmidt, Emily V. Dressler, Joseph C. Stemple, 2019, Journal of Voice on p. 807.e7-807.e12
Feasibility of automatic speech recognition for providing feedback during tablet-based treatment for apraxia of speech plus aphasia
Kirrie J. Ballard, Nicole Michele Etter, Songjia Shen, Penelope Monroe, Chek Tien Tand, 2019, American journal of speech-language pathology on p. 818-834
Translation, Validity, and Reliability of the Persian Version of the Aging Voice Index
Akram Ahmadi, Shamim Hosseinifar, Maryam Faham, Mohammad Moez Shahramnia, Abbas Ebadi, Nicole M. Etter, Amir Shiani, Mehdi Dehghan, 2019, Journal of Voice
Reliability of Clinical Measures to Assess Labial Sensation in a Healthy Young Population
Nicole Etter, Olivia Miller, Kirrie Ballard, 2017, American Journal of Speech Language Pathology
Clinically available assessment measures for lingual and labial somatosensation in healthy adults
Nicole Michele Etter, Olivia M. Miller, Kirrie J. Ballard, 2017, American Journal of Speech-Language Pathology on p. 982-990
Effects of ageing on orofacial fine force control and its relationship with parallel change in sensory perception
Nicole Michele Etter, Patrick O. McKeon, Emily V. Dressler, Richard D. Andreatta, 2017, International Journal of Speech-Language Pathology on p. 502-515
View More
Most-Cited Papers
Defining the lived experience of older adults with voice disorders
Nicole M. Etter, Joseph C. Stemple, Dana M. Howell, 2013, Journal of Voice on p. 61-67
Oral somatosensatory acuity is related to particle size perception in chocolate
Scott P. Breen, Nicole Michele Etter, Gregory Ray Ziegler, John E. Hayes, 2019, Scientific reports on p. 7437
Labial vibrotactile somatosensory perception
Nicole M. Etter, Emily M. Van Meter, Richard D. Andreatta, 2014, Perceptual and motor skills on p. 622-635
Aging Voice Index (AVI)
Nicole Michele Etter, Edie R. Hapner, Julie M. Barkmeier-Kraemer, Jackie L. Gartner-Schmidt, Emily V. Dressler, Joseph C. Stemple, 2019, Journal of Voice on p. 807.e7-807.e12
Clinically available assessment measures for lingual and labial somatosensation in healthy adults
Nicole Michele Etter, Olivia M. Miller, Kirrie J. Ballard, 2017, American Journal of Speech-Language Pathology on p. 982-990
The relationship between labial vibrotactile detection and pure-tone hearing thresholds in healthy, ageing adults
Nicole Michele Etter, Emily V. Dressler, Richard D. Andreatta, 2016, International Journal of Speech-Language Pathology on p. 89-96
Effects of ageing on orofacial fine force control and its relationship with parallel change in sensory perception
Nicole Michele Etter, Patrick O. McKeon, Emily V. Dressler, Richard D. Andreatta, 2017, International Journal of Speech-Language Pathology on p. 502-515
Feasibility of automatic speech recognition for providing feedback during tablet-based treatment for apraxia of speech plus aphasia
Kirrie J. Ballard, Nicole Michele Etter, Songjia Shen, Penelope Monroe, Chek Tien Tand, 2019, American journal of speech-language pathology on p. 818-834
Translation, Validity, and Reliability of the Persian Version of the Aging Voice Index
Akram Ahmadi, Shamim Hosseinifar, Maryam Faham, Mohammad Moez Shahramnia, Abbas Ebadi, Nicole M. Etter, Amir Shiani, Mehdi Dehghan, 2019, Journal of Voice
What have we learned from physiological approaches to characterizing dysarthrias and other speech production disorders
Nicole Etter, 2010, Perspectives: Speech Science and Orofacial Disorders on p. 25-54
View More