Nicole Etter
Assistant Professor of Health and Human Development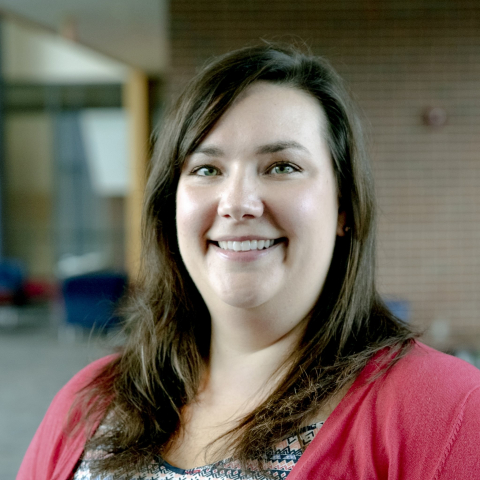 404C Ford
University Park, PA
Research Summary
The relationship between tactile sensation and skilled oral behaviors (e.g. speech and swallowing) in healthy young, aging, and clinical populations.
Huck Affiliations
Links
Publication Tags
These publication tags are generated from the output of this researcher. Click any tag below to view other Huck researchers working on the same topic.
Lip
Hearing
Healthy Aging
Reproducibility Of Results
Young Adult
Discrimination
Tongue
Population
Group
Hair
Voice Quality
Therapeutics
Voice Disorders
Speech Disorder
Testing
Pressure
Quality Of Life
Cohort
Touch
Longevity
Chocolate
Psychology Recognition
Adhd
Recognition (Psychology)
Sensory Perception
Most Recent Publications
Speech Pathology
Kay Payne, Nicole Etter,
Reframing Aging Voice and Presbyphonia: What Else Can we Do?
Megan Stradtman, Nicole Etter, Perspectives of the ASHA special interest groups (SIG 3)
Chemosensation
Nicole Etter, Richard Andreatta,
Aging Voice Index: Reliability and Validity
Nicole Etter, Edie Hapner, Julie Barkmeier-Kraemer, Jackie Gartner-Schmidt, Emily Dressler, Joseph Stemple, Journal of Voice
Kai Kai Ma, Aarthi Madhavan, Nicole M. Etter, Helene Hopfer, John E. Hayes, 2023, Journal of Texture Studies
Aarthi Madhavan, Larissa Lam, Nicole M. Etter, Krista M. Wilkinson, 2023, Frontiers in Psychology
Clinically Measuring Orofacial Somatosensation in a Cohort of Healthy Aging Adults
Nicole M. Etter, Nicole Schmauk, Kristina A. Neely, 2023, American Journal of Speech-Language Pathology on p. 306-315
Comparison of Self-Report of Dysphagia using the Eating Assessment Tool (EAT-10) and the Sydney Swallowing Questionnaire (SSQ) in Community Dwelling Older Adults
Aarthi Madhavan, Nicole Shuman, Claire Snyder, Claire Snyder, Nicole Shuman, Nicole Etter, 2021, Perspectives of the ASHA Special Interest Groups on p. 1198-1204
N Etter, A Madhavan, Elise Lindquist, A Byrd, Anne Marie Kubat, 2021, Teaching and Learning in Communication Sciences and Disorders
A Madhavan, Nicole Etter, 2021, Perspectives of the ASHA Special Interest Groups
View More
Most-Cited Papers
Scott Breen, Nicole M. Etter, J Hayes, Gregory R. Ziegler, G Ziegler, John E. Hayes, 2019, Scientific Reports on p. 7437
Defining the lived experience of older adults with voice disorders
Nicole M. Etter, Joseph C. Stemple, Dana M. Howell, 2013, Journal of Voice on p. 61-67
Feasibility of automatic speech recognition for providing feedback during tablet-based treatment for apraxia of speech plus aphasia
Kirrie J. Ballard, Nicole M. Etter, Songjia Shen, Penelope Monroe, Chek Tien Tand, 2019, American Journal of Speech-Language Pathology on p. 818-834
Aging Voice Index (AVI): Reliability and Validity of a Voice Quality of Life Scale for Older Adults
Nicole M. Etter, Edie R. Hapner, Julie M. Barkmeier-Kraemer, Jackie L. Gartner-Schmidt, Emily V. Dressler, Joseph C. Stemple, 2019, Journal of Voice on p. 807.e7-807.e12
Clinically available assessment measures for lingual and labial somatosensation in healthy adults: Normative data and test reliability
Nicole M. Etter, Olivia M. Miller, Kirrie J. Ballard, 2017, American Journal of Speech-Language Pathology on p. 982-990
M. S. Kamath, C. R. Dahm, J. R. Tucker, C. L. Huang-Pollock, N. M. Etter, K. A. Neely, 2020, Research in Developmental Disabilities
Labial vibrotactile somatosensory perception: A pilot study in healthy aging versus young adult participants
Nicole M. Etter, Emily M. Van Meter, Richard D. Andreatta, 2014, Perceptual and Motor Skills on p. 622-635
Translation, Validity, and Reliability of the Persian Version of the Aging Voice Index
Akram Ahmadi, Shamim Hosseinifar, Maryam Faham, Mohammad Moez Shahramnia, Abbas Ebadi, Nicole M. Etter, Amir Shiani, Mehdi Dehghan, 2019, Journal of Voice
The relationship between labial vibrotactile detection and pure-tone hearing thresholds in healthy, ageing adults
Nicole M. Etter, Emily V. Dressler, Richard D. Andreatta, 2016, International Journal of Speech-Language Pathology on p. 89-96
Effects of ageing on orofacial fine force control and its relationship with parallel change in sensory perception
Nicole M. Etter, Patrick O. McKeon, Emily V. Dressler, Richard D. Andreatta, 2017, International Journal of Speech-Language Pathology on p. 502-515
View More