Laura Cabrera
Huck Early Career Chair in Neuroethics; Associate Professor of Engineering Science and Mechanics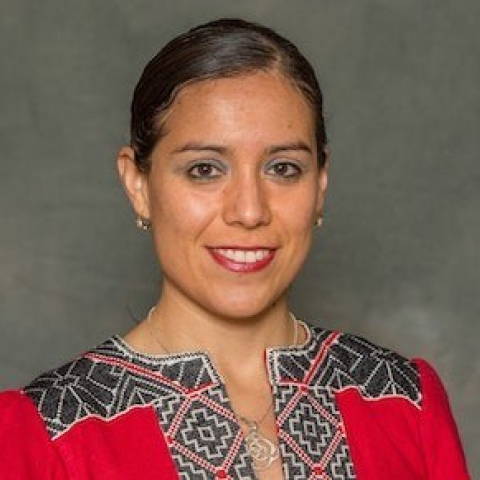 212 Earth Engineering Sciences
University Park, PA
Huck Affiliations
Publication Tags
Psychiatry
Brain
Deep Brain Stimulation
Mental Health
Psychosurgery
Therapeutics
Ethics
Canada
Group
Alzheimer Disease
Hispanic Americans
Neurosurgery
Paradigm
Focus Groups
Technology
Mental Disorders
Spain
History
Public Opinion
Health Policy
Health
Parkinson Disease
Transcranial Direct Current Stimulation
Neurosurgeons
Germany
Most Recent Papers
Context-Dependent Risk & Benefit Sensitivity Mediate Judgments About Cognitive Enhancement
Kiante Fernandez, Roy Hamilton, Laura Cabrera, John Dominic Medaglia, 2022, AJOB Neuroscience on p. 73-77
They Affect the Person, but for Better or Worse? Perceptions of Electroceutical Interventions for Depression Among Psychiatrists, Patients, and the Public
Robyn Bluhm, Emily Castillo, Eric D. Achtyes, Aaron M. McCright, Laura Y. Cabrera, 2021, Qualitative Health Research on p. 2542-2553
It's Not Just Counting that Counts
Robyn Bluhm, Laura Y. Cabrera, 2021, Neuroethics on p. 23-26
Knowledge and Attitudes of two Latino Groups about Alzheimer Disease
Laura Y. Cabrera, K. Parker, I. E. Vega, 2021, Journal of Cross-Cultural Gerontology on p. 265-284
Neurosurgeons perspective on the shift towards earlier use of deep brain stimulation for Parkinson disease
Paola Testini, Harini Sarva, Jason Schwalb, Samantha Barkan, Laura Y. Cabrera, 2021, Interdisciplinary Neurosurgery: Advanced Techniques and Case Management
Last Resort Interventions?
L. Y. Cabrera, G. R. Nowak, A. M. McCright, E. Achtyes, R. Bluhm, 2021, Psychiatric Quarterly on p. 419-430
Emergent neurotechnologies and challenges to responsibility frameworks.
Laura Cabrera, Jennifer Carter-Johnson, 2021, Akron Law Review
Beyond the Cuckoo's Nest: Patient and Public Attitudes about Psychiatric Electroceutical Interventions.
Laura Y. Cabrera, Maryssa M.C. Gilbert, Aaron M. McCright, Eric D. Achtyes, Robyn Bluhm, 2021, Psychiatric Quarterly
Attitudes toward use and timing of deep brain stimulation: a patient's with DBS perspective.
Laura Y. Cabrera, Steven D. Mitchell, Andrew Bender, Erika Tvedten, Christos Sidiropoulos, Harini Sarva, 2021, Clinical Neurology and Neurosurgery on p. 106553
Authentic Self and Last Resort: International Perceptions of Psychiatric Neurosurgery
L. Y. Cabrera, C. Courchesne, M. Bittlinger, S. Müller, R. Martinez, E. Racine, J. Illes, 2021, Culture, Medicine and Psychiatry on p. 141-161
View More
Most-Cited Papers
Ethics of the electrified mind
Laura Y. Cabrera, Emily L. Evans, Roy H. Hamilton, 2014, Brain Topography on p. 33-45
Alzheimer's Disease in the Latino Community
Irving E. Vega, Laura Y. Cabrera, Cassandra M. Wygant, Daniel Velez-Ortiz, Scott E. Counts, Jose Abisambra, 2017, Journal of Alzheimer's Disease on p. 979-992
Neuroethics at 15
Kellmeyer Philipp, Jennifer Chandler, Laura Cabrera, Adrian Carter, Karola Kreitmair, Anthony Weiss, Coauthor Judy Illes, 2019, AJOB Neuroscience on p. 104-110
Reasons for comfort and discomfort with pharmacological enhancement of cognitive, affective, and social domains
Laura Y. Cabrera, Nicholas S. Fitz, Peter B. Reiner, 2015, Neuroethics on p. 93-106
Empirical Support for the Moral Salience of the Therapy-Enhancement Distinction in the Debate Over Cognitive, Affective and Social Enhancement
Laura Y. Cabrera, Nicholas S. Fitz, Peter B. Reiner, 2015, Neuroethics on p. 243-256
The re-emergence of psychiatric neurosurgery
Laura Y. Cabrera, Merlin Bittlinger, Hayami Lou, Sabine Müller, Judy Illes, 2018, Acta Neurochirurgica on p. 625-635
Understanding public (mis)understanding of tDCS for enhancement
Laura Y. Cabrera, Peter B. Reiner, 2015, Frontiers in Integrative Neuroscience
Brain matters
Laura Y. Cabrera, Jordan Tesluk, Michelle Chakraborti, Ralph Matthews, Judy Illes, 2016, Environmental Health: A Global Access Science Source
Rethinking human enhancement
Laura Y. Cabrera, 2015,
Should DBS for Psychiatric Disorders be Considered a Form of Psychosurgery? Ethical and Legal Considerations
Devan Stahl, Laura Cabrera, Tyler Gibb, 2018, Science and Engineering Ethics on p. 1119-1142
View More