Laura Cabrera
Associate Professor of Engineering Science and Mechanics; Dorothy Foehr Huck and J. Lloyd Huck Early Career Chair in Neuroethics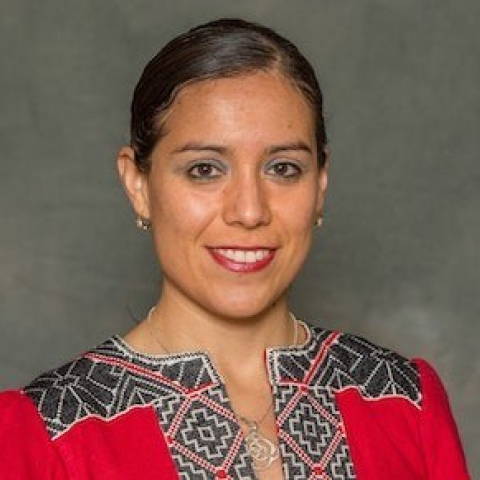 212 Earth Engineering Sciences
University Park, PA
Huck Affiliations
Publication Tags
Psychiatry
Brain
Mental Health
Ethics
Therapeutics
Neurosurgery
Deep Brain Stimulation
Canada
History
Germany
Focus Groups
Spain
Health Policy
Public Opinion
Research Personnel
Safety
Parkinson Disease
Transcranial Direct Current Stimulation
Neurosurgeons
Psychosurgery
Health Services Research
Ethical Issues
Stem Cells
Group
Enthusiasts
Most Recent Papers
Neurosurgeons perspective on the shift towards earlier use of deep brain stimulation for Parkinson disease
Paola Testini, Harini Sarva, Jason Schwalb, Samantha Barkan, Laura Y. Cabrera, 2021, Interdisciplinary Neurosurgery: Advanced Techniques and Case Management
Last Resort Interventions?
L. Y. Cabrera, G. R. Nowak, A. M. McCright, E. Achtyes, R. Bluhm, 2021, Psychiatric Quarterly on p. 419-430
Emergent neurotechnologies and challenges to responsibility frameworks.
Laura Cabrera, Jennifer Carter-Johnson, 2021, Akron Law Review
Attitudes toward use and timing of deep brain stimulation: a patient's with DBS perspective.
Laura Cabrera, S Mitchell, A Bender, E Tvedten, C Sidiropoulos, H Sarva, 2021, Clinical Neurology and Neurosurgery on p. 106553
Authentic Self and Last Resort
L. Y. Cabrera, C. Courchesne, M. Bittlinger, S. Müller, R. Martinez, E. Racine, J. Illes, 2021, Culture, Medicine and Psychiatry on p. 141-161
International Legal Approaches to Neurosurgery for Psychiatric Disorders.
J Chandler, Laura Cabrera, P Doshi, S Fecteau, J Fins, S Guinjoan, C Hamani, K Herrera-Ferrá, C Honey, J Illes, B Kopell, N Lipsman, P McDonald, H Mayberg, R Nadler, B Nuttin, A Oliveira-Maia, C Rangel, R Ribeiro, A Salles, H Wu, 2021, Frontiers in Human Neuroscience on p. 588458
Beyond the Cuckoo's Nest
Laura Y. Cabrera, Maryssa M.C. Gilbert, Aaron M. McCright, Eric D. Achtyes, Robyn Bluhm, 2021, Psychiatric Quarterly
The Need for Guidance around Recruitment and Consent Practices in Intracranial Electrophysiology Research.
Laura Cabrera, 2021, AJOB Neuroscience on p. 1-2
Challenges and Opportunities of Creating Conceptual Maps
Laura Y. Cabrera, Robyn Bluhm, 2021, AJOB Neuroscience on p. 187-189
Ethics of digital mental health during COVID-19
Nicole Martinez-Martin, Ishan Dasgupta, Adrian Carter, Jennifer A. Chandler, Philipp Kellmeyer, Karola Kreitmair, Anthony Weiss, Laura Y. Cabrera, 2020, JMIR Mental Health
View More
Most-Cited Papers
Ethics of the electrified mind
Laura Y. Cabrera, Emily L. Evans, Roy H. Hamilton, 2014, Brain Topography on p. 33-45
Alzheimer's Disease in the Latino Community
Irving E. Vega, Laura Y. Cabrera, Cassandra M. Wygant, Daniel Velez-Ortiz, Scott E. Counts, Jose Abisambra, 2017, Journal of Alzheimer's Disease on p. 979-992
Neuroethics at 15
Kellmeyer Philipp, Jennifer Chandler, Laura Cabrera, Adrian Carter, Karola Kreitmair, Anthony Weiss, Coauthor Judy Illes, 2019, AJOB Neuroscience on p. 104-110
Reasons for comfort and discomfort with pharmacological enhancement of cognitive, affective, and social domains
Laura Y. Cabrera, Nicholas S. Fitz, Peter B. Reiner, 2015, Neuroethics on p. 93-106
Understanding public (mis)understanding of tDCS for enhancement
Laura Y. Cabrera, Peter B. Reiner, 2015, Frontiers in Integrative Neuroscience
Brain matters
Laura Y. Cabrera, Jordan Tesluk, Michelle Chakraborti, Ralph Matthews, Judy Illes, 2016, Environmental Health: A Global Access Science Source
Empirical Support for the Moral Salience of the Therapy-Enhancement Distinction in the Debate Over Cognitive, Affective and Social Enhancement
Laura Y. Cabrera, Nicholas S. Fitz, Peter B. Reiner, 2015, Neuroethics on p. 243-256
Human–Animal Chimera
Laura Yenisa Cabrera Trujillo, Sabrina Engel-Glatter, 2015, Science and Engineering Ethics on p. 595-617
Visioneering and the Role of Active Engagement and Assessment
Laura Yenisa Cabrera Trujillo, 2014, NanoEthics on p. 201-206
The re-emergence of psychiatric neurosurgery
Laura Y. Cabrera, Merlin Bittlinger, Hayami Lou, Sabine Müller, Judy Illes, 2018, Acta Neurochirurgica on p. 625-635
View More