Katsuhiko Murakami
Professor of Biochemistry and Molecular Biology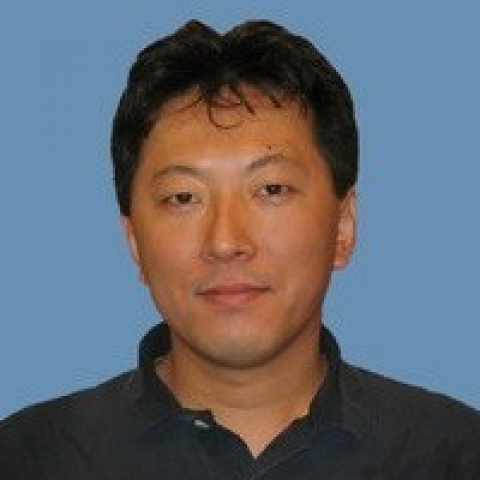 006 Althouse Lab
University Park, PA 16802
Research Summary
Structural and Mechanistic Enzymology of Prokaryotic RNA Polymerases
Huck Affiliations
Links
Publication Tags
Dna Directed Rna Polymerases
Dna
Bacterial Rna
Escherichia Coli
Holoenzymes
X Rays
Rna
Transcription
Mycobacterium Tuberculosis
Nucleic Acids
Rifampin
Mutation
Deoxyribonucleic Acid
Polytetrafluoroethylene
Archaeal Rna
Archaea
Bacteria
Anti Bacterial Agents
Tuberculosis
Rifamycin Sv
Crystal Structure
Catalytic Domain
Proteins
Sigma Factor
Flavodoxin
Most Recent Papers
The mechanism of the nucleo-sugar selection by multi-subunit RNA polymerases.
J Mäkinen, Y Shin, E Vieras, P Virta, M Metsä-Ketelä, Katsuhiko Murakami, G Belogurov, 2021, Nature communications on p. 796
Structural basis of ribosomal RNA transcription regulation.
Y Shin, M Qayyum, D Pupov, D Esyunina, A Kulbachinskiy, Katsuhiko Murakami, 2021, Nature communications on p. 528
Mycobacterial HelD is a nucleic acids-clearing factor for RNA polymerase
Tomáš Kouba, Tomáš Koval', Petra Sudzinová, Jiří Pospíšil, Barbora Brezovská, Jarmila Hnilicová, Hana Šanderová, Martina Janoušková, Michaela Šiková, Petr Halada, Michal Sýkora, Ivan Barvík, Jiří Nováček, Mária Trundová, Jarmila Dušková, Tereza Skálová, URee R. Chon, Katsuhiko S. Murakami, Jan Dohnálek, Libor Krásný, 2020, Nature Communications
Direct binding of TFEα opens DNA binding cleft of RNA polymerase
Sung Hoon Jun, Jaekyung Hyun, Jeong Seok Cha, Hoyoung Kim, Michael S. Bartlett, Hyun Soo Cho, Katsuhiko S. Murakami, 2020, Nature Communications
Evaluation of Bacterial RNA Polymerase Inhibitors in a Staphylococcus aureus-Based Wound Infection Model in SKH1 Mice
Jörg Haupenthal, Yannik Kautz, Walid A.M. Elgaher, Linda Pätzold, Teresa Röhrig, Matthias W. Laschke, Thomas Tschernig, Anna K.H. Hirsch, Vadim Molodtsov, Katsuhiko S. Murakami, Rolf W. Hartmann, Markus Bischoff, 2020, ACS Infectious Diseases on p. 2573-2581
Structural basis of reiterative transcription from the pyrG and pyrBI promoters by bacterial RNA polymerase
Yeonoh Shin, Mark Hedglin, Katsuhiko S. Murakami, 2020, Nucleic Acids Research on p. 2144-2155
Structure and function of an unusual flavodoxin from the domain Archaea
Divya Prakash, Prashanti R. Iyer, Suharti Suharti, Karim A. Walters, Michel Geovanni Santiago-Martinez, John H. Golbeck, Katsuhiko S. Murakami, James G. Ferry, 2019, Proceedings of the National Academy of Sciences of the United States of America on p. 25917-25922
Molecular basis of microhomology-mediated end-joining by purified full-length Polθ
Samuel J. Black, Ahmet Y. Ozdemir, Ekaterina Kashkina, Tatiana Kent, Timur Rusanov, Dejan Ristic, Yeonoh Shin, Antonio Suma, Trung Hoang, Gurushankar Chandramouly, Labiba A. Siddique, Nikita Borisonnik, Katherine Sullivan-Reed, Joseph S. Mallon, Tomasz Skorski, Vincenzo Carnevale, Katsuhiko S. Murakami, Claire Wyman, Richard T. Pomerantz, 2019, Nature Communications on p. 4423
Mode of Action of Kanglemycin A, an Ansamycin Natural Product that Is Active against Rifampicin-Resistant Mycobacterium tuberculosis
Hamed Mosaei, Vadim Molodtsov, Bernhard Kepplinger, John Harbottle, Christopher William Moon, Rose Elizabeth Jeeves, Lucia Ceccaroni, Yeonoh Shin, Stephanie Morton-Laing, Emma Claire Louise Marrs, Corinne Wills, William Clegg, Yulia Yuzenkova, John David Perry, Joanna Bacon, Jeff Errington, Nicholas Edward Ellis Allenby, Michael John Hall, Katsuhiko Murakami, Nikolay Zenkin, 2018, Molecular Cell on p. 263-274.e5
An Introduction to the Structure and Function of the Catalytic Core Enzyme of <i>Escherichia coli</i> RNA Polymerase.
C Sutherland, Katsuhiko Murakami, 2018, EcoSal Plus
View More
Most-Cited Papers
X-ray crystal structure of escherichia coli RNA polymerase σ<sup>70</sup> holoenzyme
Katsuhiko S. Murakami, 2013, Journal of Biological Chemistry on p. 9126-9134
Differential regulation by ppGpp versus pppGpp in Escherichia coli
Undine Mechold, Katarzyna Potrykus, Helen Murphy, Katsuhiko Murakami, Michael Cashel, 2013, Nucleic Acids Research on p. 6175-6189
Structural basis of transcription initiation by bacterial RNA polymerase holoenzyme
Ritwika S. Basu, Brittany A. Warner, Vadim Molodtsov, Danil Pupov, Daria Esyunina, Carlos Fernández-Tornero, Andrey Kulbachinskiy, Katsuhiko S. Murakami, 2014, Journal of Biological Chemistry on p. 24549-24559
Fitness costs of rifampicin resistance in Mycobacterium tuberculosis are amplified under conditions of nutrient starvation and compensated by mutation in the β′ subunit of RNA polymerase
Taeksun Song, Yumi Park, Isdore Chola Shamputa, Sunghwa Seo, Sun Young Lee, Han Seung Jeon, Hongjo Choi, Myungsun Lee, Richard J. Glynne, S. Whitney Barnes, John R. Walker, Serge Batalov, Karina Yusim, Shihai Feng, Chang Shung Tung, James Theiler, Laura E. Via, Helena I.M. Boshoff, Katsuhiko Murakami, Bette Korber, Clifton E. Barry, Sang Nae Cho, 2014, Molecular Microbiology on p. 1106-1119
Structures of the RNA polymerase-σ<sup>54</sup> reveal new and conserved regulatory strategies
Yun Yang, Vidya C. Darbari, Nan Zhang, Duo Lu, Robert Glyde, Yi Ping Wang, Jared T. Winkelman, Richard L. Gourse, Katsuhiko S. Murakami, Martin Buck, Xiaodong Zhang, 2015, Science on p. 882-885
Allosteric Effector ppGpp Potentiates the Inhibition of Transcript Initiation by DksA
Vadim Molodtsov, Elena V. Sineva, Lu Zhang, Xuhui Huang, Michael Cashel, Sarah Ellen Ades, Katsuhiko Murakami, 2018, Molecular Cell on p. 828-839.e5
Archaeal RNA polymerase and transcription regulation
Sung Hoon Jun, Matthew J. Reichlen, Momoko Tajiri, Katsuhiko Murakami, 2011, Critical Reviews in Biochemistry and Molecular Biology on p. 27-40
Structural basis for rifamycin resistance of bacterial RNA polymerase by the three most clinically important RpoB mutations found in Mycobacterium tuberculosis
Vadim Molodtsov, Nathan T. Scharf, Maxwell A. Stefan, George A. Garcia, Katsuhiko S. Murakami, 2017, Molecular Microbiology on p. 1034-1045
X-ray crystal structures of the Escherichia coli RNA polymerase in complex with benzoxazinorifamycins
Vadim Molodtsov, Irosha N. Nawarathne, Nathan T. Scharf, Paul D. Kirchhoff, H. D.Hollis Showalter, George A. Garcia, Katsuhiko Murakami, 2013, Journal of Medicinal Chemistry on p. 4758-4763
NusG is a sequence-specific RNA polymerase pause factor that binds to the non-template DNA within the paused transcription bubble
Alexander V. Yakhnin, Katsuhiko S. Murakami, Paul Babitzke, 2016, Journal of Biological Chemistry on p. 5299-5308
View More