Jose Stoute
Professor of Medicine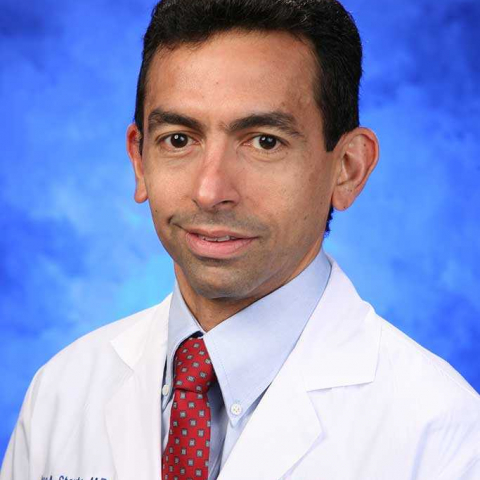 PO Box 850
Hershey, PA 17033
Huck Affiliations
Links
Publication Tags
These publication tags are generated from the output of this researcher. Click any tag below to view other Huck researchers working on the same topic.
Parasites
Plasmodium Falciparum
Malaria
Antibodies
N Acetylneuraminic Acid
Erythrocytes
Merozoites
Blood
Antimalarials
Phenotype
Complement Activation
Complement Receptors
Chloroquine
4 Quinolones
Suspensions
Protease Inhibitors
Vaccines
Ligands
Growth
Membranes
Infections
Infection
Cells
Cerebral Malaria
Complement C1
Most Recent Publications
Lorena M. Coronado, José A. Stoute, Christopher T. Nadovich, Jiping Cheng, Ricardo Correa, Kevin Chaw, Guadalupe González, Maytee Zambrano, Rolando A. Gittens, Dinesh Kumar Agrawal, William D. Jemison, Carlos A. Donado Morcillo, Carmenza Spadafora, 2023, Frontiers in cellular and infection microbiology
Ajay Soni, Gurwant Kaur, Sanam Razeghi, Ann Ouyang, José Stoute, George Simms, Karuna Spiegelman, Shane Kinard, Kathleen Julian, 2021, Academic Medicine on p. 1148
José A. Stoute, Mary E. Landmesser, Sergei Biryukov, 2020, PLoS One
Gordon A. Awandare, Prince B. Nyarko, Yaw Aniweh, Reuben Ayivor-Djanie, José A. Stoute, 2018, Scientific Reports
Sergei S. Biryukov, Jose Stoute, 2018, on p. 1-29
The complement system
Sergei Biryukov, Jose Stoute, 2018, on p. 1-29
Jose Stoute, 2018, on p. 51-64
RP Taylor, Jose Stoute, MA Lindorfer, 2018, on p. 31-49
Jose Stoute, 2018, on p. 125-137
Jose Stoute, 2018, on p. vii
View More
Most-Cited Papers
Complement activation in malaria: Friend or foe?
Sergei Biryukov, Jose Stoute, 2014, Trends in Molecular Medicine on p. 293-301
Henrietta E. Mensah-Brown, Nicholas Amoako, James Abugri, Lindsay B. Stewart, Godfred Agongo, Emmanuel K. Dickson, Michael F. Ofori, José A. Stoute, David J. Conway, Gordon A. Awandare, 2015, Journal of Infectious Diseases on p. 1288-1297
Facile synthesis of antimalarial 1,2-disubstituted 4-quinolones from 1,3-bisaryl-monothio-1,3-diketones
Ajjampura C. Vinayaka, Maralinganadoddi P. Sadashiva, Xianzhu Wu, Sergei S. Biryukov, José A. Stoute, Kanchugarakoppal S. Rangappa, D. Channe Gowda, 2014, Organic and Biomolecular Chemistry on p. 8555-8561
Sergei Biryukov, Evelina Angov, Mary E. Landmesser, Michele D. Spring, Christian F. Ockenhouse, José A. Stoute, 2016, EBioMedicine on p. 207-216
Gordon A. Awandare, Prince B. Nyarko, Yaw Aniweh, Reuben Ayivor-Djanie, José A. Stoute, 2018, Scientific Reports
Use of telemedicine to diagnose tinea in kenyan schoolchildren
Sarah E. Smith, John T. Ludwig, Vernon M. Chinchilli, Khanjan Mehta, José A. Stoute, 2013, Telemedicine Journal and e-Health on p. 166-168
Paddy Ssentongo, Anna E. Robuccio, Godfrey Thuku, Derek G. Sim, Ali Nabi, Fatemeh Bahari, Balaji Shanmugasundaram, Myles W. Billard, Andrew Geronimo, Kurt W. Short, Patrick J. Drew, Jennifer Baccon, Steven L. Weinstein, Frank G. Gilliam, José A. Stoute, Vernon M. Chinchilli, Andrew F. Read, Bruce J. Gluckman, Steven J. Schiff, 2017, Scientific Reports
The HFE genotype and a formulated diet controlling for iron status attenuate experimental cerebral malaria in mice
Dominique F. Leitner, Jose Stoute, Mary Landmesser, Elizabeth Neely, James Connor, 2015, International Journal for Parasitology on p. 797-808
Lorena M. Coronado, Stephania Montealegre, Zumara Chaverra, Luis Mojica, Carlos Espinosa, Alejandro Almanza, Ricardo Correa, José A. Stoute, Rolando A. Gittens, Carmenza Spadafora, 2016, PLoS One
Sergei Biryukov, José A. Stoute, 2016, EBioMedicine on p. 11-12
View More