John Hayes
Associate Professor of Food Science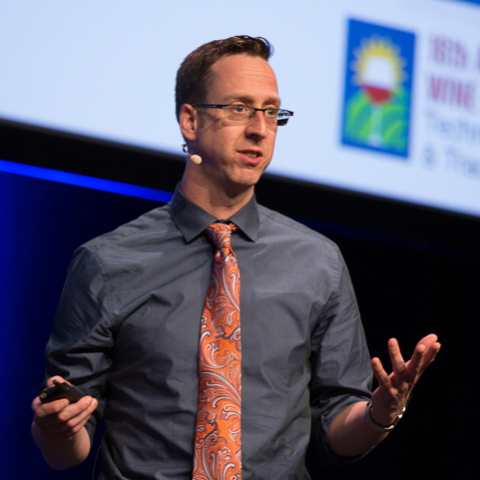 220 Food Science
University Park, PA
Research Summary
Psychophysics of taste and flavor perception; role of genetic variation on food preferences
Huck Affiliations
Links
Publication Tags
Food
Phenotype
Propylthiouracil
Genes
Smell
Vegetables
Eating
Pharmaceutical Preparations
Electronic Nicotine Delivery Systems
Quinine
Capsaicin
Mouth
Nicotine
Bitterness
Visual Analog Scale
Aversive Agents
Sucrose
Phenylalanine
Urea
Naringin
Caffeine
Tryptophan
Alcohols
Research
Cluster Analysis
Most Recent Papers
Dose-response relationships for vanilla flavor and sucrose in skim milk: Evidence of synergy
Gloria Wang, John Hayes, Gregory Ziegler, Robert Roberts, Helene Hopfer, Beverages on p. 73
Flavor and product messaging are the two most important drivers of electronic cigarette selection in a choice-based task
Allison N. Baker, Stephen J. Wilson, John E. Hayes, 2021, Scientific Reports
Development and validation of the Reasons Individuals Stop Eating Questionnaire (RISE-Q)
Paige M. Cunningham, Liane Stevens Roe, John E. Hayes, Marion M. Hetherington, Kathleen L. Keller, Barbara J. Rolls, 2021, Appetite
Differences in preferred fat level, sweetener type, and amount of added sugar in chocolate milk in a choice task relate to physical activity and orthorexia.
J Brodock, John Hayes, T Masterson, H Hopfer, 2021, Appetite on p. 105214
Harsh and Sweet Sensations Predict Acute Liking of Electronic Cigarettes, but Flavor Does Not Affect Acute Nicotine Intake
Allison N. Baker, Alyssa J. Bakke, Steven A. Branstetter, John E. Hayes, 2021, Nicotine and Tobacco Research on p. 687-693
Examining Front-of-Package Product Names and Ingredient Lists of Infant and Toddler Food Containing Vegetables
Mackenzie J. Ferrante, Kameron J. Moding, Laura L. Bellows, Alyssa J. Bakke, John E. Hayes, Susan L. Johnson, 2021, Journal of Nutrition Education and Behavior on p. 96-102
Common bitter stimuli show differences in their temporal profiles before and after swallowing
Molly J. Higgins, Jacob T. Gipple, John E. Hayes, 2021, Food Quality and Preference
Recent smell loss is the best predictor of COVID-19 among individuals with recent respiratory symptoms
Richard C. Gerkin, Kathrin Ohla, Maria G. Veldhuizen, Paule V. Joseph, Christine E. Kelly, Alyssa J. Bakke, Kimberley E. Steele, Michael C. Farruggia, Robert Pellegrino, Marta Y. Pepino, Cédric Bouysset, Graciela M. Soler, Veronica Pereda-Loth, Michele Dibattista, Keiland W. Cooper, Ilja Croijmans, Antonella Di Pizio, Mehmet Hakan Ozdener, Alexander W. Fjaeldstad, Cailu Lin, Mari A. Sandell, Preet B. Singh, V. Evelyn Brindha, Shannon B. Olsson, Luis R. Saraiva, Gaurav Ahuja, Mohammed K. Alwashahi, Surabhi Bhutani, Anna D'Errico, Marco A. Fornazieri, Jérôme Golebiowski, Liang Dar Hwang, Lina Öztürk, Eugeni Roura, Sara Spinelli, Katherine L. Whitcroft, Farhoud Faraji, Florian Ph S. Fischmeister, Thomas Heinbockel, Julien W. Hsieh, Caroline Huart, Iordanis Konstantinidis, Anna Menini, Gabriella Morini, Jonas K. Olofsson, Carl M. Philpott, Denis Pierron, Vonnie D.C. Shields, Vera V. Voznessenskaya, John E. Hayes, 2021, Chemical Senses
Recent smell loss is the best predictor of COVID-19 among individuals with recent respiratory symptoms.
R Gerkin, K Ohla, M Veldhuizen, P Joseph, C Kelly, A Bakke, K Steele, M Farruggia, R Pellegrino, M Pepino, C Bouysset, G Soler, V Pereda-Loth, M Dibattista, K Cooper, I Croijmans, A Di Pizio, M Ozdener, A Fjaeldstad, C Lin, M Sandell, P Singh, V Brindha, S Olsson, L Saraiva, G Ahuja, M Alwashahi, S Bhutani, A D'Errico, M Fornazieri, J Golebiowski, L Hwang, L Öztürk, E Roura, S Spinelli, K Whitcroft, F Faraji, F Fischmeister, T Heinbockel, J Hsieh, C Huart, I Konstantinidis, A Menini, G Morini, J Olofsson, C Philpott, D Pierron, Shields VDC, V Voznessenskaya, J Albayay, A Altundag, M Bensafi, M Bock, O Calcinoni, W Fredborg, C Laudamiel, J Lim, J Lundström, A Macchi, P Meyer, S Moein, E Santamaría, D Sengupta, P Dominguez, H Yanik, T Hummel, John Hayes, D Reed, M Niv, S Munger, V Parma, 2020, Chemical senses
Perspective: Measuring Sweetness in Foods, Beverages, and Diets: Toward Understanding the Role of Sweetness in Health
Paula Trumbo, Katherine Appleton, Kees de Graaf, John Hayes, David Baer, Gary Beauchamp, Johanna Dwyer, John Fernstrom, David Klurfeld, Richard Mattes, Paul Wise, 2020, Advances in Nutrition
View More
Most-Cited Papers
Allelic variation in TAS2R bitter receptor genes associates with variation in sensations from and ingestive behaviors toward common bitter beverages in adults
John E. Hayes, Margaret R. Wallace, Valerie S. Knopik, Deborah M. Herbstman, Linda M. Bartoshuk, Valerie B. Duffy, 2011, Chemical Senses on p. 311-319
Do polymorphisms in chemosensory genes matter for human ingestive behavior?
John E. Hayes, Emma L. Feeney, Alissa L. Allen, 2013, Food Quality and Preference on p. 202-216
The relationships between common measurements of taste function
Jordannah Webb, Dieuwerke P. Bolhuis, Sara Cicerale, John E. Hayes, Russell Keast, 2015, Chemosensory Perception on p. 11-18
Personality factors predict spicy food liking and intake
Nadia K. Byrnes, John E. Hayes, 2013, Food Quality and Preference on p. 213-221
Direct comparison of the generalized visual analog scale (gVAS) and general labeled magnitude scale (gLMS)
John E. Hayes, Alissa L. Allen, Samantha M. Bennett, 2013, Food Quality and Preference on p. 36-44
Two decades of supertasting
John E. Hayes, Russell S.J. Keast, 2011, Physiology and Behavior on p. 1072-1074
Crowdsourcing taste research
Nicole L. Garneau, Tiffany M. Nuessle, Meghan M. Sloan, Stephanie A. Santorico, Bridget C. Coughlin, John E. Hayes, 2014, Frontiers in Integrative Neuroscience
More than smell - COVID-19 is associated with severe impairment of smell, taste, and chemesthesis
Valentina Parma, Kathrin Ohla, Maria G. Veldhuizen, Masha Y. Niv, Christine E. Kelly, Alyssa J. Bakke, Keiland W. Cooper, Cédric Bouysset, Nicola Pirastu, Michele Dibattista, Rishemjit Kaur, Marco Tullio Liuzza, Marta Y. Pepino, Veronika Schöpf, Veronica Pereda-Loth, Shannon B. Olsson, Richard C. Gerkin, Paloma Rohlfs Domínguez, Javier Albayay, Michael C. Farruggia, Surabhi Bhutani, Alexander W. Fjaeldstad, Ritesh Kumar, Anna Menini, Moustafa Bensafi, Mari Sandell, Iordanis Konstantinidis, Antonella Di Pizio, Federica Genovese, Lina Öztürk, Thierry Thomas-Danguin, Johannes Frasnelli, Sanne Boesveldt, Özlem Saatci, Luis R. Saraiva, Cailu Lin, Jérôme Golebiowski, Liang Dar Hwang, Mehmet Hakan Ozdener, Maria Dolors Guàrdia, Christophe Laudamiel, Marina Ritchie, Jan Havlícek, Denis Pierron, Eugeni Roura, Marta Navarro, Alissa A. Nolden, Juyun Lim, Katherine L. Whitcroft, John E. Hayes, 2020, Chemical Senses on p. 609-622
Physical approaches to masking bitter taste
John N. Coupland, John E. Hayes, 2014, Pharmaceutical Research on p. 2921-2939
Masking vegetable bitterness to improve palatability depends on vegetable type and taste phenotype
Mastaneh Sharafi, John E. Hayes, Valerie B. Duffy, 2013, Chemosensory Perception on p. 8-19
View More