Jean-Paul Armache
Assistant Professor of of Biochemistry and Molecular Biology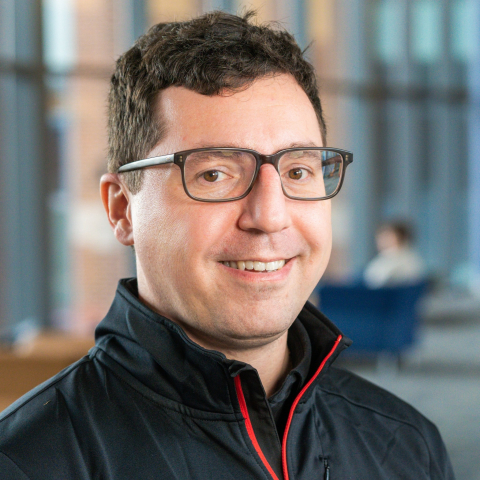 428 South Frear
University Park, PA
Research Summary
The mechanisms and functions of ATP-dependent chromatin remodeling complexes and their place in gene regulation.
Huck Affiliations
Links
Publication Tags
Proteins
Ribosomes
Cryoelectron Microscopy
Nanoparticles
Saposins
Membrane Proteins
Lipoproteins
Nucleosomes
Histones
Ion Channels
Ribosomal Proteins
Lysine
Ions
Ubiquitination
Fungal Structures
Membranes
Protein Subunits
Mitochondrial Calcium Uniporter
Peptides
Methylation
Ubiquitin
Leukemia
Archaea
Eukaryota
Binding Sites
Most Recent Papers
Regulation of the Dot1 histone H3K79 methyltransferase by histone H4K16 acetylation
Marco Valencia-Sánchez, Pablo De Ioannes, Miao Wang, David Truong, Rachel Lee, Jean-Paul Armache, Jef Boeke, Karim-Jean Armache, 2021, Science on p. 9
Cryo-EM of multiple cage architectures reveals a universal mode of clathrin self-assembly
Kyle L. Morris, Joseph R. Jones, Mary Halebian, Shenping Wu, Michael Baker, Jean Paul Armache, Amaurys Avila Ibarra, Richard B. Sessions, Alexander D. Cameron, Yifan Cheng, Corinne J. Smith, 2019, Nature Structural and Molecular Biology on p. 890-898
Single-particle cryo-EM: beyond the resolution.
Jean-Paul Armache, Y Cheng, 2019, National Science Review on p. 864-866
Structural Basis of Dot1L Stimulation by Histone H2B Lysine 120 Ubiquitination
Marco Igor Valencia-Sánchez, Pablo De Ioannes, Miao Wang, Nikita Vasilyev, Ruoyu Chen, Evgeny Nudler, Jean-Paul Armache, Karim Jean Armache, 2019, Molecular Cell on p. 1010-1019.e6
Cryo-EM structures of remodeler-nucleosome intermediates suggest allosteric control through the nucleosome
Jean-Paul Armache, Nathan Gamarra, Stephanie L. Johnson, John D. Leonard, Shenping Wu, Geeta J. Narlikar, Yifan Cheng, 2019, eLife
The first single particle analysis Map Challenge
J. Bernard Heymann, Roberto Marabini, Mohsen Kazemi, Carlos Oscar S. Sorzano, Maya Holmdahl, Joshua H. Mendez, Scott M. Stagg, Slavica Jonic, Eugene Palovcak, Jean Paul Armache, Jianhua Zhao, Yifan Cheng, Grigore Pintilie, Wah Chiu, Ardan Patwardhan, Jose Maria Carazo, 2018, Journal of Structural Biology on p. 291-300
Structural basis for activation of voltage sensor domains in an ion channel TPC1
Alexander F. Kintzer, Evan M. Green, Pawel K. Dominik, Michael Bridges, Jean Paul Armache, Dawid Deneka, Sangwoo S. Kim, Wayne Hubbell, Anthony A. Kossiakoff, Yifan Cheng, Robert M. Stroud, 2018, Proceedings of the National Academy of Sciences of the United States of America on p. E9095-E9104
Cryo-EM structure of a fungal mitochondrial calcium uniporter
Nam X. Nguyen, Jean-Paul Armache, Changkeun Lee, Yi Yang, Weizhong Zeng, Vamsi K. Mootha, Yifan Cheng, Xiao chen Bai, Youxing Jiang, 2018, Nature on p. 570-574
MotionCor2: anisotropic correction of beam-induced motion for improved cryo-electron microscopy.
S Zheng, E Palovcak, Jean-Paul Armache, K Verba, Y Cheng, D Agard, 2017, Nature methods on p. 331-332
A saposin-lipoprotein nanoparticle system for membrane proteins
Jens Frauenfeld, Robin Löving, Jean Paul Armache, Andreas F.P. Sonnen, Fatma Guettou, Per Moberg, Lin Zhu, Caroline Jegerschöld, Ali Flayhan, John A.G. Briggs, Henrik Garoff, Christian Löw, Yifan Cheng, Pär Nordlund, 2016, Nature Methods on p. 345-351
View More
Most-Cited Papers
Structure of the TRPA1 ion channel suggests regulatory mechanisms
Candice E. Paulsen, Jean Paul Armache, Yuan Gao, Yifan Cheng, David Julius, 2015, Nature on p. 511-517
Structures of the human and Drosophila 80S ribosome
Andreas M. Anger, Jean Paul Armache, Otto Berninghausen, Michael Habeck, Marion Subklewe, Daniel N. Wilson, Roland Beckmann, 2013, Nature on p. 80-85
Structural basis of highly conserved ribosome recycling in eukaryotes and archaea
Thomas Becker, Sibylle Franckenberg, Stephan Wickles, Christopher J. Shoemaker, Andreas M. Anger, Jean Paul Armache, Heidemarie Sieber, Charlotte Ungewickell, Otto Berninghausen, Ingo Daberkow, Annette Karcher, Michael Thomm, Karl Peter Hopfner, Rachel Green, Roland Beckmann, 2012, Nature on p. 501-506
Structures of the Sec61 complex engaged in nascent peptide translocation or membrane insertion
Marko Gogala, Thomas Becker, Birgitta Beatrix, Jean-Paul Armache, Clara Barrio-Garcia, Otto Berninghausen, Roland Beckmann, 2014, Nature on p. 107-110
Structure of the no-go mRNA decay complex Dom34-Hbs1 bound to a stalled 80S ribosome
Thomas Becker, Jean Paul Armache, Alexander Jarasch, Andreas M. Anger, Elizabeth Villa, Heidemarie Sieber, Basma Abdel Motaal, Thorsten Mielke, Otto Berninghausen, Roland Beckmann, 2011, Nature Structural and Molecular Biology on p. 715-720
A saposin-lipoprotein nanoparticle system for membrane proteins
Jens Frauenfeld, Robin Löving, Jean Paul Armache, Andreas F.P. Sonnen, Fatma Guettou, Per Moberg, Lin Zhu, Caroline Jegerschöld, Ali Flayhan, John A.G. Briggs, Henrik Garoff, Christian Löw, Yifan Cheng, Pär Nordlund, 2016, Nature Methods on p. 345-351
Cryo-EM structure of a fungal mitochondrial calcium uniporter
Nam X. Nguyen, Jean-Paul Armache, Changkeun Lee, Yi Yang, Weizhong Zeng, Vamsi K. Mootha, Yifan Cheng, Xiao chen Bai, Youxing Jiang, 2018, Nature on p. 570-574
Promiscuous behaviour of archaeal ribosomal proteins
Jean Paul Armache, Andreas M. Anger, Viter Márquez, Sibylle Franckenberg, Thomas Fröhlich, Elizabeth Villa, Otto Berninghausen, Michael Thomm, Georg J. Arnold, Roland Beckmann, Daniel N. Wilson, 2013, Nucleic Acids Research on p. 1284-1293
Structural Basis of Dot1L Stimulation by Histone H2B Lysine 120 Ubiquitination
Marco Igor Valencia-Sánchez, Pablo De Ioannes, Miao Wang, Nikita Vasilyev, Ruoyu Chen, Evgeny Nudler, Jean-Paul Armache, Karim Jean Armache, 2019, Molecular Cell on p. 1010-1019.e6
Proteomic characterization of archaeal ribosomes reveals the presence of novel archaeal-specific ribosomal proteins
Viter Márquez, Thomas Fröhlich, Jean-Paul Armache, Daniel Sohmen, Alexandra Dönhöfer, Aleksandra Mikolajka, Otto Berninghausen, Michael Thomm, Roland Beckmann, Georg J. Arnold, Daniel N. Wilson, 2011, Journal of Molecular Biology on p. 1215-1232
View More