James Marden
Associate Director of Operations, Huck Institutes of the Life Sciences; Professor of Biology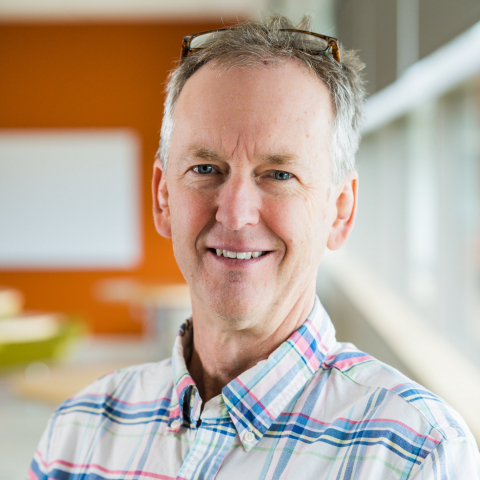 208 Mueller Lab
University Park, PA 16802
He/Him
Research Summary
How physiological variation within species affects their ecology and evolution. Primarily with insects, but recently also with plants, and a particular interest in allelic variation in the pathogen resistance genes of tropical trees.
Huck Graduate Students
Huck Affiliations
Links
Publication Tags
These publication tags are generated from the output of this researcher. Click any tag below to view other Huck researchers working on the same topic.
Genes
Insects
Flight
Oxygen
Insecta
Proteins
Population
Protein
Transcriptome
Gene
Hypoxia
Host Plants
Genomics
Gene Expression
Alleles
Pathogens
Effect
Viruses
Lectins
Phenotype
Polysaccharides
Enzymes
Life History
Genetic Variation
Hot Temperature
Most Recent Publications
James Marden, Mark Peterson, John Malloy, Vincent Buonaccorsi, CourseSource, Vol 2. on p. online journal with no page numbers
Alleles in metabolic and oxygen-sensing genes are associated with antagonistic pleiotropic effects on life history traits and population fitness in an ecological model insect*
James H. Marden, Erica A. Langford, Molly A. Robertson, Howard W. Fescemyer, 2021, Evolution; international journal of organic evolution on p. 116-129
Mitzy F. Porras, Carlos A. Navas, James H. Marden, Mark C. Mescher, Consuelo M. De Moraes, Sylvain Pincebourde, Andrés Sandoval-Mojica, Juan A. Raygoza-Garay, German A. Holguin, Edwin G. Rajotte, Tomás A. Carlo, 2020, Nature Communications
Simon Maccracken Stump, James H. Marden, Noelle G. Beckman, Scott A. Mangan, Liza S. Comita, 2020, American Naturalist on p. 472-486
Scott L. Portman, Gary W. Felton, Rupesh R. Kariyat, James H. Marden, 2020, Journal of Experimental Biology
Widely distributed variation in tolerance to Phytophthora palmivora in four genetic groups of cacao
Andrew Fister, Mariela Leandro-Muñoz, Dapeng Zhang, James H. Marden, Peter Tiffin, Claude dePamphilis, Siela Maximova, Mark J. Guiltinan, 2020, Tree Genetics and Genomes
Tuomas Hämälä, Mark J. Guiltinan, James H. Marden, Siela N. Maximova, Claude dePamphilis, Peter Tiffin, 2020, Molecular Biology and Evolution on p. 110-123
Atip Lawanprasert, Caitlin A. Guinan, Erica A. Langford, Carly E. Hawkins, Janna N. Sloand, Howard W. Fescemyer, Matthew R. Aronson, Jacob A. Halle, James H. Marden, Scott H. Medina, 2020, PLoS One
Suriyasri Subramanian, Anna C. Maurer, Carol M. Bator, Alexander M. Makhov, James F. Conway, Kevin B. Turner, James H. Marden, Luk H. Vandenberghe, Susan L. Hafenstein, 2019, Human Gene Therapy on p. 1449-1460
Antipredator behavior by a nesting hummingbird in response to a caterpillar with eyespots
James H. Marden, José Freiner Pérez Carrillo, 2019, Ecology
View More
Most-Cited Papers
Anaïs Gouin, Anthony Bretaudeau, Kiwoong Nam, Sylvie Gimenez, Jean Marc Aury, Bernard Duvic, Frédérique Hilliou, Nicolas Durand, Nicolas Montagné, Isabelle Darboux, Suyog Kuwar, Thomas Chertemps, David Siaussat, Anne Bretschneider, Yves Moné, Seung Joon Ahn, Sabine Hänniger, Anne Sophie Gosselin Grenet, David Neunemann, Florian Maumus, Isabelle Luyten, Karine Labadie, Wei Xu, Fotini Koutroumpa, Jean Michel Escoubas, Angel Llopis, Martine Maïbèche-Coisne, Fanny Salasc, Archana Tomar, Alisha R. Anderson, Sher Afzal Khan, Pascaline Dumas, Marion Orsucci, Julie Guy, Caroline Belser, Adriana Alberti, Benjamin Noel, Arnaud Couloux, Jonathan Mercier, Sabine Nidelet, Emeric Dubois, Nai Yong Liu, Isabelle Boulogne, Olivier Mirabeau, Gaelle Le Goff, Karl Gordon, John Oakeshott, Fernando L. Consoli, Anne Nathalie Volkoff, Howard W. Fescemyer, James H. Marden, Dawn S. Luthe, Salvador Herrero, David G. Heckel, Patrick Wincker, Gael J. Kergoat, Joelle Amselem, Hadi Quesneville, Astrid T. Groot, Emmanuelle Jacquin-Joly, Nicolas Nègre, Claire Lemaitre, Fabrice Legeai, Emmanuelle D'Alençon, Philippe Fournier, 2017, Scientific Reports
James H. Marden, 2013, Molecular Ecology on p. 5743-5764
Victor Medved, James H. Marden, Howard W. Fescemyer, Joshua P. Der, Jin Liu, Najmus Mahfooz, Aleksandar Popadić, 2015, Proceedings of the National Academy of Sciences of the United States of America on p. 15946-15951
J. H. Marden, S. A. Mangan, M. P. Peterson, E. Wafula, H. W. Fescemyer, J. P. Der, C. W. dePamphilis, L. S. Comita, 2017, Molecular Ecology on p. 2498-2513
Jin Liu, Thomas R. Lemonds, James H. Marden, Aleksandar Popadić, 2016, Genetics on p. 403-413
Maize toxin degrades peritrophic matrix proteins and stimulates compensatory transcriptome responses in fall armyworm midgut
Howard W. Fescemyer, Germán V. Sandoya, Torrence A. Gill, Seval Ozkan, James H. Marden, Dawn S. Luthe, 2013, Insect Biochemistry and Molecular Biology on p. 280-291
Genetic variation in hif signaling underlies quantitative variation in physiological and life-history traits within lowland butterfly populations
James H. Marden, Howard W. Fescemyer, Rudolf J. Schilder, William R. Doerfler, Juan C. Vera, Christopher W. Wheat, 2013, Evolution; international journal of organic evolution on p. 1105-1115
Mitzy F. Porras, Carlos A. Navas, James H. Marden, Mark C. Mescher, Consuelo M. De Moraes, Sylvain Pincebourde, Andrés Sandoval-Mojica, Juan A. Raygoza-Garay, German A. Holguin, Edwin G. Rajotte, Tomás A. Carlo, 2020, Nature Communications
Suriyasri Subramanian, Anna C. Maurer, Carol M. Bator, Alexander M. Makhov, James F. Conway, Kevin B. Turner, James H. Marden, Luk H. Vandenberghe, Susan L. Hafenstein, 2019, Human Gene Therapy on p. 1449-1460
Scott L. Portman, Rupesh R. Kariyat, Michelle A. Johnston, Andrew G. Stephenson, James H. Marden, 2015, Functional Ecology on p. 328-337
View More