Helene Hopfer
Associate Professor of Food Science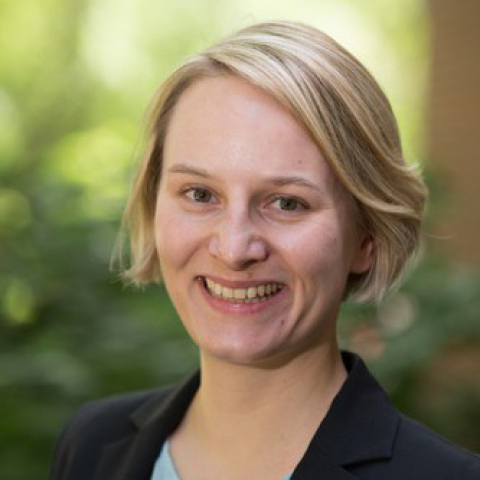 Huck Affiliations
Links
Publication Tags
These publication tags are generated from the output of this researcher. Click any tag below to view other Huck researchers working on the same topic.
Wine
Odorants
Odors
Wines
Fermentation
Starch
Chocolate
Food
Beverages
Temperature
Fruit
Industry
Sucrose
Roasting
Kinetics
Prunus Persica
Menthol
Cacao
Cold Temperature
X Ray Diffraction
Methodology
Chemical Element
Vanilla
Sampling
Flavor
Most Recent Publications
Gloria Wang, John Hayes, Gregory Ziegler, Robert Roberts, Helene Hopfer, Beverages on p. 73
Aaron M. Wiedemer, Alan P. McClure, Erich Leitner, Helene Hopfer, 2023, Molecules
Martin Wendelin, Andrea Bauer, Elisabeth Buchinger, Lukas Danner, Eva Derndorfer, Vu Thi Minh Hang, Helene Hopfer, Marlies Wallner, Srinual Jantathai, Nina Julius, Imke Matullat, Dorota Majchrzak, Barbara Siegmund, Han Seok Seo, Bernhard Spangl, Klaus Duerrschmid, 2023, Food Quality and Preference
Aroma volatiles as predictors of chilling injury development during peach (Prunus persica (L) Batsch) cold storage and subsequent shelf-life
Macarena Farcuh, Helene Hopfer, 2023, Postharvest Biology and Technology
Part 3: Analysis of Milk and Dairy Products: Gas Chromatography
Helene Hopfer, 2022, on p. 382-390
Klaus Duerrschmid, Helene Hopfer, 2022, on p. P1.048
Alan P. McClure, Helene Hopfer, Ingolf U. Grün, 2022, Current Research in Food Science on p. 167-174
D. Weikart, V. Indukuri, K. Racine, K. Coleman, Jasna Kovac, Darrell Cockburn, Helene Hopfer, A. Neilson, Joshua D. Lambert, 2022, Nutrition Reports International
Andrew S. Elder, John N. Coupland, H Hopfer, R Elias, Helene Hopfer, Ryan J. Elias, Elder Andrew, 2022, LWT on p. 113637
Helene Hopfer, K Kelley, J Hayes, C Schmidt, 2022,
View More
Most-Cited Papers
Judging wine quality: Do we need experts, consumers or trained panelists?
Helene Hopfer, Hildegarde Heymann, 2014, Food Quality and Preference on p. 221-233
The combined impact of vineyard origin and processing winery on the elemental profile of red wines
Helene Hopfer, Jenny Nelson, Thomas S. Collins, Hildegarde Heymann, Susan E. Ebeler, 2015, Food Chemistry on p. 486-496
A summary of projective mapping observations - The effect of replicates and shape, and individual performance measurements
Helene Hopfer, Hildegarde Heymann, 2013, Food Quality and Preference on p. 164-181
Barbara Blanco-Ulate, Helene Hopfer, Rosa Figueroa-Balderas, Zirou Ye, Rosa M. Rivero, Alfonso Albacete, Francisco Pérez-Alfocea, Renata Koyama, Michael M. Anderson, Rhonda J. Smith, Susan E. Ebeler, Dario Cantu, 2017, Journal of Experimental Botany on p. 1225-1238
Linfan Shi, Helene Hopfer, Gregory R. Ziegler, Lingyan Kong, 2019, Food Hydrocolloids on p. 105183
An exploration of the perception of minerality in white wines by projective mapping and descriptive analysis
Hildegarde Heymann, Helene Hopfer, Dwayne Bershaw, 2014, Journal of Sensory Studies on p. 1-13
Classical descriptive analysis
Hildegarde Heymann, Ellena S. King, Helene Hopfer, 2014, on p. 9-40
Shujuan Zhang, Mikael Agerlin Petersen, Jing Liu, Torben Bo Toldam-Andersen, Susan E. Ebeler, Helene Hopfer, 2015, Molecules on p. 21609-21625
Helene Hopfer, Jenny Nelson, Susan E. Ebeler, Hildegarde Heymann, 2015, Molecules on p. 8453-8483
Total arsenic analysis in Californian wines with hydride generation-microwave plasma-atomic emission spectroscopy (HG-MP-AES)
C. K. Tanabe, Helene Hopfer, G. Gilleland, A. Liba, S. E. Ebeler, J. Nelson, 2016, Journal of Analytical Atomic Spectrometry on p. 1223-1227
View More