Francesco Di Gioia
Assistant Professor of Vegetable Crop Science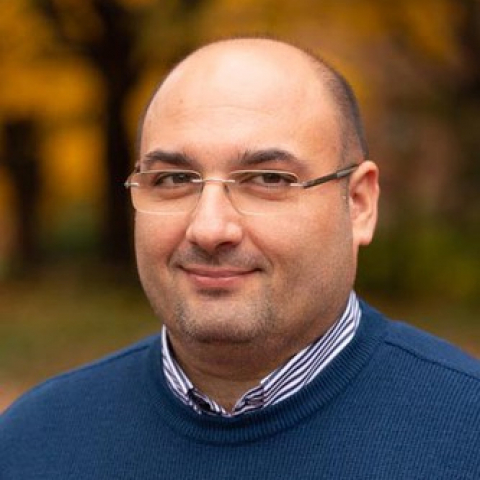 207 Tyson
University Park, PA
Research Summary
Plant nutrition, plant physiological and biochemical response to environmental and abiotic stress conditions, sustainable vegetable production, agrobiodiversity, agronomic biofortification, food and nutrition security.
Huck Graduate Students
Huck Affiliations
Links
Publication Tags
These publication tags are generated from the output of this researcher. Click any tag below to view other Huck researchers working on the same topic.
Vegetables
Soil
Microgreens
Health
Tomatoes
Nitrates
Edible Plants
Cooking
Disinfestation
Brassica Rapa
Nitrous Oxide
Diet
Marketing
Antioxidants
Biofortification
Temperature
Color
Lighting
Quality Of Life
Leaves
Growing Media
Brassicaceae
Fertilizers
Shoots
Growth
Most Recent Publications
Editorial: Wild Plant Genetic Resources: A Hope for Tomorrow
Mohd. Khan, Tofazzal Islam, Sait Gezgin, Francesco Di Gioia, 2023, Frontiers in Plant Science
Daniel Winstead, Michael Jacobson, Francesco Di Gioia, 2023, Frontiers in Sustainable Food Systems on p. 1117805
Edible flowers as an emerging horticultural product: a review on sensorial properties, mineral and aroma profile
Eleomar de O. Pires, Francesco Di Gioia, Youssef Rouphael, Pedro García-Caparrós, Nikolaos Tzortzakis, Isabel Ferreira, Lillian Barros, Spyridon Petropoulos, Cristina Caleja, 2023, Trends in Food Science & Technology
Pradip Poudel, Francesco Di Gioia, Joshua Lambert, Erin Connolly, 2023, Frontiers in Plant Science on p. 1177844
New Approaches to Soil Disinfestation in Specialty Crops
Erin Rosskopf, Francesco Di Gioia, 2023, on p. 36
Plant Tocopherols and Phytosterols and their Bioactive Properties
Pradip Poudel, Spiridon Petropoulos, Francesco Di Gioia, 2023, on p. 285-319
Soil Fertility Management Post Anaerobic Soil Disinfestation in a Tomato High Tunnel Production Systems
Francesco Di Gioia, Raymond Balaguer, Luca Passerini, 2023, on p. 13-14
To Graft or Not to Graft?
Francesco Di Gioia, Leah Fronk, Claudia Schmidt, Andrew Blunk, Raymond Balaguer, Erin Rosskopf, 2022,
Jesus Fernandez-Bayo, Yigal Achmon, María Del Mar Guerrero, Francesco Di Gioia, 2022, Frontiers in Sustainable Food Systems
Isaac R. Vincent, Bodh R. Paudel, Haichao Guo, Erin N. Rosskopf, Francesco Di Gioia, Jason C. Hong, David H. McNear, Nan Xu, Lucas Anrecio, James Colee, Xin Zhao, 2022, Frontiers in Sustainable Food Systems
View More
Most-Cited Papers
Micro-scale vegetable production and the rise of microgreens
Marios C. Kyriacou, Youssef Rouphael, Francesco Di Gioia, Angelos Kyratzis, Francesco Serio, Massimiliano Renna, Stefania De Pascale, Pietro Santamaria, 2016, Trends in Food Science and Technology on p. 103-115
Sprouts, Microgreens and "Baby Leaf" Vegetables
Francesco Di Gioia, Massimiliano Renna, Pietro Santamaria, 2017, on p. 403-432
Physicochemical, agronomical and microbiological evaluation of alternative growing media for the production of rapini (Brassica rapa L.) microgreens
Francesco Di Gioia, Palmira De Bellis, Carlo Mininni, Pietro Santamaria, Francesco Serio, 2017, Journal of the Science of Food and Agriculture on p. 1212-1219
Francesco Di Gioia, Spyridon A. Petropoulos, Monica Ozores-Hampton, Kelly Morgan, Erin N. Rosskopf, 2019, Agronomy
Vegetable organosulfur compounds and their health promoting effects
Spyridon Petropoulos, Francesco Di Gioia, Georgia Ntatsi, 2017, Current Pharmaceutical Design on p. 2850-2875
Francesco Di Gioia, Monica Ozores-Hampton, Xin Zhao, John Thomas, Patrick Wilson, Zhuona Li, Jason Hong, Joseph Albano, Marilyn Swisher, Erin Rosskopf, 2017, Agro-Ecosystems on p. 194-205
Francesco Di Gioia, Nikolaos Tzortzakis, Youssef Rouphael, Marios C. Kyriacou, Shirley L. Sampaio, Isabel C.F.R. Ferreira, Spyridon A. Petropoulos, 2020, Antioxidants
Effect of cooking methods on antioxidant activity and nitrate content of selected wild Mediterranean plants
Francesca Boari, Maria Cefola, Francesco Di Gioia, Bernardo Pace, Francesco Serio, Vito Cantore, 2013, International Journal of Food Sciences and Nutrition on p. 870-876
Culinary Assessment of Self-Produced Microgreens as Basic Ingredients in Sweet and Savory Dishes
Massimiliano Renna, Francesco Di Gioia, Beniamino Leoni, Carlo Mininni, Pietro Santamaria, 2017, Journal of Culinary Science and Technology on p. 126-142
Francesco Di Gioia, Angelo Signore, Francesco Serio, Pietro Santamaria, 2013, Hortscience: A Publication of the American Society for Hortcultural Science on p. 855-862
View More