Erika Machtinger
Associate Professor of Entomology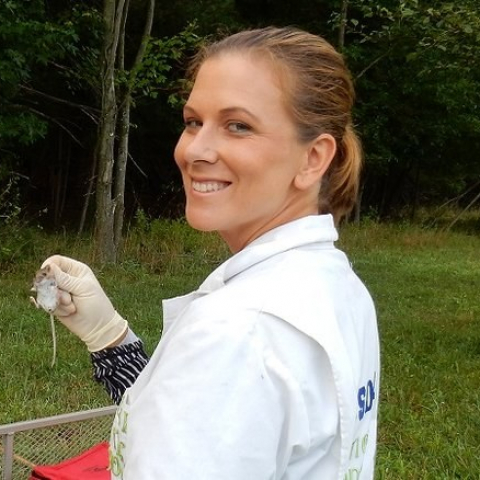 004A Chemical Ecology Lab
University Park, Pennsylvania 16802
She/Her
Research Summary
Veterinary entomology, including vector-borne diseases. Focus is on ecology and behavior associated with host-parasite interactions to improve or develop new control methods.

Huck Graduate Students
Huck Affiliations
Links
Publication Tags
These publication tags are generated from the output of this researcher. Click any tag below to view other Huck researchers working on the same topic.
Muscidae
Diptera
Musca Domestica
Horses
Hymenoptera
Stomoxys Calcitrans
Parasitoids
Ticks
Oviposition
Houseflies
Animals
Pteromalidae
Pests
Monitoring
Pathogens
Ixodes Scapularis
Spalangia Cameroni
Poultry
Biological Control
Parasitism
Manure
Methodology
Larval Development
Deer
Permethrin
Most Recent Publications
Parasitic control strategies: Bioactive crops and nutrition
Kashif Ishaq, Tanveer Ahmad, Mahvish Rajput, Mahvish Maqbool, Abhishek Gupta, Muhammad Imran, Erika T. Machtinger, 2023, on p. 136-150
Karen C. Poh, Zoey T. Cole, Danielle N. Smarsh, Hayley R. Springer, Kathleen Kelly, Laura B. Kenny, Erika T. Machtinger, 2023, American Journal of Veterinary Research
Selection for, and characterization of, fluralaner resistance in the house fly, Musca domestica
Rachel H. Norris, Oshneil S. Baker, Edwin R. Burgess, Aaron Tarone, Alec Gerry, Rebecca T. Trout Fryxell, Nancy C. Hinkle, Cassandra Olds, David Boxler, Kenneth L. Wise, Erika T. Machtinger, Jeffrey G. Scott, 2023, Pesticide Biochemistry and Physiology
Distribution of Biting Flies Associated with Swine Production Facilities in the Southeastern United States
Erika T. Machtinger, Edwin R. Burgess, Jessica E. Brown, 2023, Journal of Agricultural and Urban Entomology on p. 9-20
Chloe E. Roberts, Edwin R. Burgess, Taylor M. Miller, Anna Marie Wise, Cera J. Dickerson, Michael J. Skvarla, Andrew Y. Li, Erika T. Machtinger, 2022, Wildlife Society Bulletin
Filth Fly Parasitoid (Hymenoptera: Pteromalidae) Monitoring Techniques and Species Composition in Poultry Layer Facilities
Alexandra A. Pagac, Christopher J. Geden, Edwin R. Burgess, Montana R. Riggs, Erika T. Machtinger, 2022, Journal of Medical Entomology on p. 2006-2012
Hannah S. Tiffin, Edwin George Rajotte, Joyce Megumi Sakamoto, Erika T. Machtinger, 2022, Tropical Medicine and Infectious Disease
Kylie D. Green, Hannah S. Tiffin, Jessica E. Brown, Edwin R. Burgess, Erika T. Machtinger, 2022, Ecosphere
Human Tick Removal Kit
Erika Machtinger, 2022,
Tick and Mosquito Repellent Guide and Card
Erika Machtinger, 2022,
View More
Most-Cited Papers
C. J. Geden, D. Nayduch, J. G. Scott, E. R. Burgess, A. C. Gerry, P. E. Kaufman, J. Thomson, V. Pickens, E. T. Machtinger, 2021, Journal of Integrated Pest Management
Deer keds (Diptera: Hippoboscidae: Lipoptena and Neolipoptena) in the United States and Canada: New state and county records, pathogen records, and an illustrated key to species
Michael J. Skvarla, Erika T. Machtinger, 2019, Journal of Medical Entomology on p. 744-760
Effects of four commercial fungal formulations on mortality and sporulation in house flies (Musca domestica) and stable flies (Stomoxys calcitrans)
E. N.I. Weeks, E. T. Machtinger, S. A. Gezan, P. E. Kaufman, C. J. Geden, 2017, Medical and Veterinary Entomology on p. 15-22
Erika T. Machtinger, Christopher J. Geden, Phillip E. Kaufman, Amanda M. House, 2015, Journal of Integrated Pest Management
E. T. Machtinger, E. N.I. Weeks, C. J. Geden, 2016, Journal of Insect Science
Erika T. Machtinger, Christopher J. Geden, Norman C. Leppla, 2015, PLoS One
E. T. Machtinger, C. J. Geden, P. E. Teal, N. C. Leppla, 2015, Environmental Entomology on p. 330-337
Erika T. Machtinger, Scott C. Williams, 2020, Journal of Insect Science
Development and oviposition preference of house flies and stable flies (Diptera: Muscidae) in six substrates from Florida equine facilities
E. T. Machtinger, C. J. Geden, J. A. Hogsette, N. C. Leppla, 2014, Journal of Medical Entomology on p. 1144-1150
House and Stable Fly Seasonal Abundance, Larval Development Substrates, and Natural Parasitism on Small Equine Farms in Florida
E. T. Machtinger, N. C. Leppla, J. A. Hogsette, 2016, Neotropical Entomology on p. 433-440
View More