Daniel Cosgrove
Eberly Chair and Professor of Biology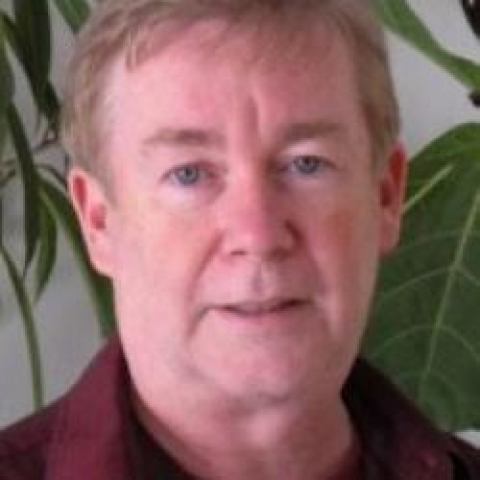 350A Frear North
University Park, PA
Research Summary
Mechanism of plant growth. Function and evolution of expansins. Biochemistry and rheology of plant cell walls. Growth responses to light, hormones, and water stress and other stimuli.
Huck Graduate Students
Huck Affiliations
Links
Publication Tags
Cellulose
Cell Wall
Arabidopsis
Plant Cells
Cells
Polysaccharides
Cell Walls
Pectins
Lignin
Microtubules
Cell Growth
Growth
Nuclear Magnetic Resonance
Microfibrils
Biomass
Cellulose Microfibrils
Mechanics
Spectroscopy
Xyloglucan
Gels
Xyloglucans
Biosynthesis
Atomic Force Microscopy
Cellulose Synthase
Mutation
Most Recent Papers
Mutations in the Pectin Methyltransferase QUASIMODO2 influence cellulose biosynthesis and wall integrity in arabidopsis
Juan Du, Alex Kirui, Shixin Huang, Lianglei Wang, William J. Barnes, Sarah N. Kiemle, Yunzhen Zheng, Yue Rui, Mei Ruan, Shiqian Qi, Seong H. Kim, Tuo Wang, Daniel J. Cosgrove, Charles T. Anderson, Chaowen Xiao, 2020, Plant Cell on p. 3576-3597
Distinguishing Mesoscale Polar Order (Unidirectional vs Bidirectional) of Cellulose Microfibrils in Plant Cell Walls Using Sum Frequency Generation Spectroscopy
Mohamadamin Makarem, Yoshiharu Nishiyama, Xiaoran Xin, Daniel M. Durachko, Ying Gu, Daniel J. Cosgrove, Seong H. Kim, 2020, Journal of Physical Chemistry B on p. 8071-8081
Plant Cell Growth: Do Pectins Drive Lobe Formation in Arabidopsis Pavement Cells?
Daniel J. Cosgrove, Charles T. Anderson, 2020, Current Biology on p. R660-R662
Cellulose synthase interactive1- and microtubule-dependent cell wall architecture is required for acid growth in Arabidopsis hypocotyls
Xiaoran Xin, Lei Lei, Yunzhen Zheng, Tian Zhang, Sai Venkatesh Pingali, Hugh O'neill, Daniel J. Cosgrove, Shundai Li, Ying Gu, Bruno Moulia, 2020, Journal of Experimental Botany on p. 2982-2994
Global cellulose biomass, horizontal gene transfers and domain fusions drive microbial expansin evolution
William R. Chase, Olga Zhaxybayeva, Jorge Rocha, Daniel J. Cosgrove, Lori R. Shapiro, 2020, New Phytologist on p. 921-938
Anisotropic Motions of Fibrils Dictated by Their Orientations in the Lamella
Sriramvignesh Mani, Daniel J. Cosgrove, Gregory A. Voth, 2020, Journal of Physical Chemistry B on p. 3527-3539
Expansin gene loss is a common occurrence during adaptation to an aquatic environment
Nathan Hepler, Alexa Bowman, Robert Carey, Daniel Cosgrove, 2020, PLANT JOURNAL on p. 666-680
Pectin methylesterase selectively softens the onion epidermal wall yet reduces acid-induced creep
Xuan Wang, L Wilson, Daniel Cosgrove, 2020, JOURNAL OF EXPERIMENTAL BOTANY on p. 2629-2640
Lignin-polysaccharide interactions in plant secondary cell walls revealed by solid-state NMR
Xue Kang, Alex Kirui, Malitha C. Dickwella Widanage, Frederic Mentink-Vigier, Daniel J. Cosgrove, Tuo Wang, 2019, Nature Communications
Disentangling loosening from softening
Tian Zhang, Haosu Tang, Dimitrios Vavylonis, Daniel J. Cosgrove, 2019, Plant Journal on p. 1101-1117
View More
Most-Cited Papers
A revised architecture of primary cell walls based on biomechanical changes induced by substrate-specific endoglucanases
Yong Bum Park, Daniel J. Cosgrove, 2012, Plant Physiology on p. 1933-1943
Changes in cell wall biomechanical properties in the xyloglucan-deficient xxt1/xxt2 mutant of Arabidopsis
Yong Bum Park, Daniel J. Cosgrove, 2012, Plant Physiology on p. 465-475
Sensitivity-enhanced solid-state NMR detection of expansin's target in plant cell walls
Tuo Wang, Yong Bum Park, Marc A. Caporini, Melanie Rosay, Linghao Zhong, Daniel J. Cosgrove, Mei Hong, 2013, Proceedings of the National Academy of Sciences of the United States of America on p. 16444-16449
Cellulose-pectin spatial contacts are Inherent to never-dried Arabidopsis primary cell walls
Tuo Wang, Yong Bum Park, Daniel J. Cosgrove, Mei Hong, 2015, Plant Physiology on p. 871-884
Spatial organization of cellulose microfibrils and matrix polysaccharides in primary plant cell walls as imaged by multichannel atomic force microscopy
Tian Zhang, Yunzhen Zheng, Daniel J. Cosgrove, 2016, Plant Journal on p. 179-192
Structural basis for entropy-driven cellulose binding by a type-A cellulose-binding module (CBM) and bacterial expansin
Nikolaos Georgelis, Neela H. Yennawar, Daniel J. Cosgrove, 2012, Proceedings of the National Academy of Sciences of the United States of America on p. 14830-14835
Lignin-polysaccharide interactions in plant secondary cell walls revealed by solid-state NMR
Xue Kang, Alex Kirui, Malitha C. Dickwella Widanage, Frederic Mentink-Vigier, Daniel J. Cosgrove, Tuo Wang, 2019, Nature Communications
Structure-function analysis of the bacterial expansin EXLX1
Nikolaos Georgelis, Akira Tabuchi, Nikolas Nikolaidis, Daniel Cosgrove, 2011, Journal of Biological Chemistry on p. 16814-16823
Xyloglucan deficiency disrupts microtubule stability and cellulose biosynthesis in arabidopsis, altering cell growth and morphogenesis<sup>1[OPEN]</sup>
Chaowen Xiao, Tian Zhang, Yunzhen Zheng, Daniel J. Cosgrove, Charles T. Anderson, 2016, Plant Physiology on p. 234-249
Visualization of the nanoscale pattern of recently-deposited cellulose microfibrils and matrix materials in never-dried primary walls of the onion epidermis
Tian Zhang, Sahar Mahgsoudy-Louyeh, Bernhard R. Tittmann, Daniel J. Cosgrove, 2014, Cellulose on p. 853-862
View More