Carolee Bull
Professor of Plant Pathology; Bacterial Systematics Head; Director of Microbiome Sciences Dual-Title Degree Program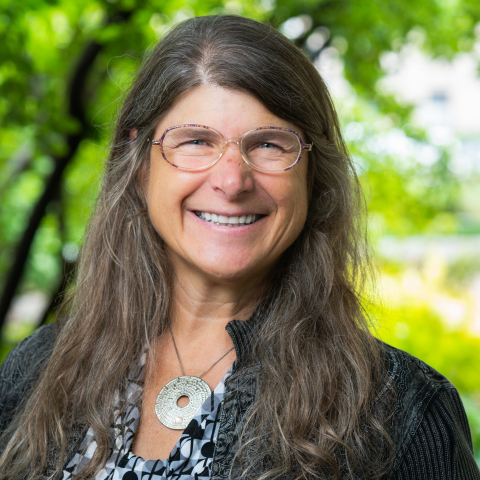 212 Buckhout Lab
University Park, PA
She/Her
Research Summary
Bacterial systematics, epidemiology, and population biology of bacterial plant pathogens and biological control agents to develop alternatives to synthetic chemicals for plant disease management
Huck Affiliations
Links
Publication Tags
These publication tags are generated from the output of this researcher. Click any tag below to view other Huck researchers working on the same topic.
Genome
Lettuce
Genes
Genomics
Xanthomonas
Leaf Spot
Pathogens
Pseudomonas
Taxonomy
Xanthomonas Hortorum
Bacteria
Soil
Xanthomonas Campestris
Phylogeny
Pathovars
Epidemiology
Lactuca Sativa
Plant Pathogenic Bacteria
Germplasm
Human Health
Virulence
Xanthomonas Campestris Pv. Vitians
Winter
Sequence Analysis
Committees
Most Recent Publications
Phylogeny of pectolytic bacteria associated with recent outbreaks of potato soft rot and blackleg in the United States
Rebecca Currland, Ryan McNally, B Webster, Amy Charkowski, Keith Perry, Jay Hao, Gary Secor, Carolee Bull, N. Rosenzweig, Steven Johnson, Robert Larkin, Carol Ishimaru,
Fungicidal control of anthracnose basal rot on an annual bluegrass putting green turf, 2022.
W Uddin, William Fescemyer, Md Tariqul Islam, Carolee Bull, 2023, Plant Management Disease Reports
Emma Rosenthal, Neha Potnis, Carolee T. Bull, 2022, Frontiers in Microbiology
First Report of Bacterial Blight on Arugula (Eruca vesicaria subsp. sativa) Caused by Pseudomonas cannabina pv. alisalensis in New York
S. Bibi, M. T. McGrath, C. T. Bull, 2022, Plant Disease on p. 2984
La Mancha Bacteriana en Hojas de Lechuga.
Carolee Bull, 2022,
Germán V. Sandoya, Emma Rosenthal, Ivan Simko, Lis N. Rodrigues-Porto, William H. Wadlington, Carolee T. Bull, Amanda Carroll, 2022, Journal of Plant Pathology on p. 1009
Emma Rosenthal, Neha Potnis, Carolee T. Bull, 2022, Frontiers in Microbiology
David Arahal, Hans-Jürgen Busse, Hans Jürgen Busse, Carolee Bull, Henrik Christensen, Maria Chuvochina, Svetlana Dedysh, Pierre-Edouard Fournier, Konstantinos Konstantinidis, Charles Parker, Ramon Rossello-Mora, Antonio Ventosa, Markus Göker, 2022, International Journal of Systematic Bacteriology
Samuel Martins, Stephen Taerum, Lindsay Triplett, Joanne Emerson, Inga Zasada, Beatriz de Toledo, Jasna Kovac, Kendall Martin, Carolee Theresa Bull, 2022, Phytobiomes Journal on p. 184-200
Lettuce (Lactuca sativa L.) germplasm resistant to bacterial leaf spot caused by race 1 of Xanthomonas hortorum pv. vitians (Brown 1918) Morinière et al. 2020
Germán V. Sandoya, Emma Rosenthal, Ivan Simko, Lis N. Rodrigues-Porto, William H. Wadlington, Carolee T. Bull, Amanda Carroll, 2022, Journal of Plant Pathology
View More
Most-Cited Papers
Cedar Hesse, Frederik Schulz, Carolee T. Bull, Brenda T. Shaffer, Qing Yan, Nicole Shapiro, Karl A. Hassan, Neha Varghese, Liam D.H. Elbourne, Ian T. Paulsen, Nikos Kyrpides, Tanja Woyke, Joyce E. Loper, 2018, Environmental Microbiology on p. 2142-2159
Practical Benefits of Knowing the Enemy: Modern Molecular Tools for Diagnosing the Etiology of Bacterial Diseases and Understanding the Taxonomy and Diversity of Plant-Pathogenic Bacteria
Carolee Theresa Bull, Steven T. Koike, 2015, Annual Review of Phytopathology on p. 157-180
Lucas Morinière, Alexandre Burlet, Emma R. Rosenthal, Xavier Nesme, Perrine Portier, Carolee T. Bull, Céline Lavire, Marion Fischer-Le Saux, Franck Bertolla, 2020, Systematic and Applied Microbiology
Panagiotis F. Sarris, Emmanouil A. Trantas, David A. Baltrus, Carolee T. Bull, William Patrick Wechter, Shuangchun Yan, Filippos Ververidis, Nalvo F. Almeida, Corbin D. Jones, Jeffery L. Dangl, Nickolas J. Panopoulos, Boris A. Vinatzer, Dimitrios E. Goumas, 2013, PLoS One
William B. Whitman, Carolee T. Bull, Hans Jürgen Busse, Pierre Edouard Fournier, Aharon Oren, Stefano Ventura, 2019, International Journal of Systematic Bacteriology on p. 584-593
Ebrahim Osdaghi, Samuel Martins, Laura Ramos-Sepulveda, Fabrício Rocha Vieira, Fabrício Rocha Vieira, John A. Pecchia, David Beyer, Terrence H. Bell, Yinong Yang, Kevin L. Hockett, Carolee T. Bull, 2019, Plant Disease on p. 2714-2732
E. A. Newberry, T. M. Jardini, I. Rubio, P. D. Roberts, B. Babu, S. T. Koike, H. Bouzar, E. M. Goss, J. B. Jones, C. T. Bull, M. L. Paret, 2016, Plant Disease on p. 1397-1404
Rebecca D. Curland, Liangliang Gao, Carolee T. Bull, Boris A. Vinatzer, Ruth Dill-Macky, Leon Van Eck, Carol A. Ishimaru, 2018, Phytopathology on p. 443-453
Ryan J. Hayes, Mark A. Trent, Maria Jose Truco, Rudie Antonise, Richard W. Michelmore, Carolee T. Bull, 2014, Horticulture Research
List of new names of plant pathogenic bacteria (2011-2012)
C. T. Bull, T. A. Coutinho, T. P. Denny, G. Firrao, M. Fischer-Le Saux, X. Li, G. S. Saddler, M. Scortichini, D. E. Stead, Y. Takikawa, 2014, Journal of Plant Pathology on p. 223-226
View More