Carolee Bull
Director of the Microbiome Center; Professor of Plant Pathology; Bacterial Systematics Head, Department of Plant Pathology and Environmental Microbiology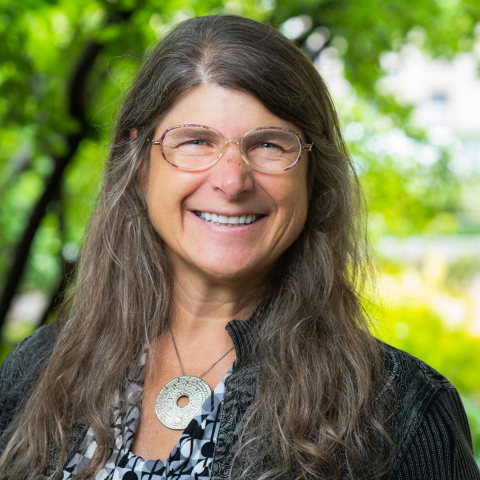 212 Buckhout Lab
University Park, PA
She/Her
Research Summary
Bacterial systematics, epidemiology, and population biology of bacterial plant pathogens and biological control agents to develop alternatives to synthetic chemicals for plant disease management
Huck Affiliations
Links
Publication Tags
Genome
Pseudomonas
Leaf Spot
Lettuce
Xanthomonas Campestris
Pathogens
Taxonomy
Genomics
Pathovars
Pseudomonas Syringae
Genes
Bacteria
Phylogeny
Xanthomonas
Plant Pathogenic Bacteria
Epidemiology
Quantitative Trait Loci
Mushrooms
Bacteriophages
Multilocus Sequence Typing
Sequence Analysis
Xanthomonas Campestris Pv. Vitians
Cultivars
Winter
Methodology
Most Recent Papers
Clarifying the taxonomy of the causal agent of bacterial leaf spot of lettuce through a polyphasic approach reveals that Xanthomonas cynarae Trébaol et al. 2000 emend. Timilsina et al. 2019 is a later heterotypic synonym of Xanthomonas hortorum Vauterin et al. 1995
Lucas Morinière, Alexandre Burlet, Emma R. Rosenthal, Xavier Nesme, Perrine Portier, Carolee T. Bull, Céline Lavire, Marion Fischer-Le Saux, Franck Bertolla, 2020, Systematic and Applied Microbiology
Transfer of Xanthomonas campestris pv. arecae and X. campestris pv. musacearum to X. vasicola (Vauterin) as X. vasicola pv. arecae comb. nov. And X. vasicola pv. musacearum comb. nov. And description of X. vasicola pv. vasculorum pv. nov.
David J. Studholme, Emmanuel Wicker, Sadik Muzemil Abrare, Andrew Aspin, Adam Bogdanove, Kirk Broders, Zoe Dubrow, Murray Grant, Jeffrey B. Jones, Georgina Karamura, Jillian Lang, Jan Leach, George Mahuku, Gloria Valentine Nakato, Teresa Coutinho, Julian Smith, Carolee T. Bull, 2020, Phytopathology on p. 1153-1160
Bacterial brown pit, a new disease of edible mushrooms caused by mycetocola sp.
Mozhde Hamidizade, S. Mohsen Taghavi, Samuel J. Martins, Rachel A. Herschlag, Kevin Hockett, Carolee T. Bull, Ebrahim Osdaghi, 2020, Plant Disease on p. 1445-1454
Identification of Pseudomonas Isolates Associated With Bacterial Canker of Stone Fruit Trees in the Western Cape, South Africa
Khumbuzile Bophela, Yolanda Petersen, Carolee Bull, Teresa. Coutinho, 2020, Plant Disease on p. 882-892
Comparing approaches for capturing bacterial assemblages associated with symptomatic (Bacterial Blotch) and asymptomatic mushroom (Agaricus bisporus) caps
Samuel J. Martins, Ryan V. Trexler, Fabricio R. Vieira, John A. Pecchia, Prem P. Kandel, Kevin L. Hockett, Terrence H. Bell, Carolee T. Bull, 2020, Phytobiomes Journal on p. 90-99
The emergence of microbiome centres
Jennifer B.H. Martiny, Katrine L. Whiteson, Brendan J.M. Bohannan, Lawrence A. David, Nicole A. Hynson, Margaret McFall-Ngai, John F. Rawls, Thomas M. Schmidt, Zaid Abdo, Martin J. Blaser, Seth Bordenstein, Christian Bréchot, Carolee T. Bull, Pieter Dorrestein, Jonathan A. Eisen, Ferran Garcia-Pichel, Jack Gilbert, Kirsten S. Hofmockel, Mary L. Holtz, Rob Knight, David B. Mark Welch, Daniel McDonald, Barbara Methé, Nigel J. Mouncey, Noel T. Mueller, Catherine A. Pfister, Lita Proctor, Joel L. Sachs, 2020, Nature Microbiology on p. 2-3
Comparing approaches for capturing bacterial assemblages associated with symptomatic (bacterial blotch) and asymptomatic mushroom (Agaricus bisporus) caps
Samuel Martins, Ryan Trexler, Fabricio Vieira, John Pecchia, Prem Kandel, Kevin Hockett, Terrence Bell, Carolee Bull, 2020, Phytobiomes Journal on p. 90-99
Genetic analysis of resistance to bacterial leaf spot in the heirloom lettuce cultivar Reine des Glaces
Germán V. Sandoya, Brigitte Maisonneuve, Maria Jose Truco, Carolee T. Bull, Ivan Simko, Mark Trent, Ryan J. Hayes, Richard W. Michelmore, 2019, Molecular Breeding
Request for revision of the statutes of the international committee on systematics of prokaryotes
William B. Whitman, Carolee Theresa Bull, Hans Jürgen Busse, Pierre Edouard Fournier, Aharon Oren, Stefano Ventura, 2019, International Journal of Systematic Bacteriology on p. 584-593
100 years since Tolaas
Ebrahim Osdaghi, Samuel J. Martins, Laura Ramos-Sepulveda, Fabrício Rocha Vieira, John A. Pecchia, David Meigs Beyer, Terrence H. Bell, Yinong Yang, Kevin L. Hockett, Carolee T. Bull, 2019, Plant Disease on p. 2714-2732
View More
Most-Cited Papers
Multilocus sequence typing of Pseudomonas syringae sensu lato confirms previously described genomospecies and permits rapid identification of P. syringae pv. coriandricola and P. syringae pv. apii causing bacterial leaf spot on parsley
Carolee T. Bull, Christopher R. Clarke, Rongman Cai, Boris A. Vinatzer, Teresa M. Jardini, Steven T. Koike, 2011, Phytopathology on p. 847-858
Genome-based evolutionary history of Pseudomonas spp
Cedar Hesse, Frederik Schulz, Carolee Theresa Bull, Brenda T. Shaffer, Qing Yan, Nicole Shapiro, Karl A. Hassan, Neha Varghese, Liam D.H. Elbourne, Ian T. Paulsen, Nikos Kyrpides, Tanja Woyke, Joyce E. Loper, 2018, Environmental Microbiology on p. 2142-2159
Practical Benefits of Knowing the Enemy
Carolee Theresa Bull, Steven T. Koike, 2015, Annual Review of Phytopathology on p. 157-180
Development of an engineered bioluminescent reporter phage for detection of bacterial blight of crucifers
David A. Schofield, Carolee T. Bull, Isael Rubio, W. Patrick Wechter, Caroline Westwater, Ian J. Molineux, 2012, Applied and Environmental Microbiology on p. 3592-3598
Comparative Genomics of Multiple Strains of Pseudomonas cannabina pv. alisalensis, a Potential Model Pathogen of Both Monocots and Dicots
Panagiotis F. Sarris, Emmanouil A. Trantas, David A. Baltrus, Carolee T. Bull, William Patrick Wechter, Shuangchun Yan, Filippos Ververidis, Nalvo F. Almeida, Corbin D. Jones, Jeffery L. Dangl, Nickolas J. Panopoulos, Boris A. Vinatzer, Dimitrios E. Goumas, 2013, PLoS One
Angular leaf spot of cucurbits is associated with genetically diverse pseudomonas syringae strains
E. A. Newberry, T. M. Jardini, I. Rubio, P. D. Roberts, B. Babu, S. T. Koike, H. Bouzar, E. M. Goss, J. B. Jones, Carolee Theresa Bull, M. L. Paret, 2016, Plant Disease on p. 1397-1404
Characterization and performance of 16 new inbred lines of lettuce
Ivan Simko, Ryan J. Hayes, Carolee T. Bull, Beiquan Mou, Yaguang Luo, Mark A. Trent, Amy J. Atallah, Edward J. Ryder, Rebecca G. Sideman, 2014, Hortscience: A Publication of the American Society for Hortcultural Science on p. 679-687
List of new names of plant pathogenic bacteria (2011-2012)
C. T. Bull, T. A. Coutinho, T. P. Denny, G. Firrao, M. Fischer-Le Saux, X. Li, G. S. Saddler, M. Scortichini, D. E. Stead, Y. Takikawa, 2014, Journal of Plant Pathology on p. 223-226
Baby leaf lettuce germplasm enhancement
Ryan J. Hayes, Mark A. Trent, Beiquan Mou, Ivan Simko, Samantha J. Gebben, Carolee Theresa Bull, 2014, Hortscience: A Publication of the American Society for Hortcultural Science on p. 18-24
100 years since Tolaas
Ebrahim Osdaghi, Samuel J. Martins, Laura Ramos-Sepulveda, Fabrício Rocha Vieira, John A. Pecchia, David Meigs Beyer, Terrence H. Bell, Yinong Yang, Kevin L. Hockett, Carolee T. Bull, 2019, Plant Disease on p. 2714-2732
View More