Carolee Bull
Director of the Microbiome Center; Professor of Plant Pathology; Bacterial Systematics Head, Department of Plant Pathology and Environmental Microbiology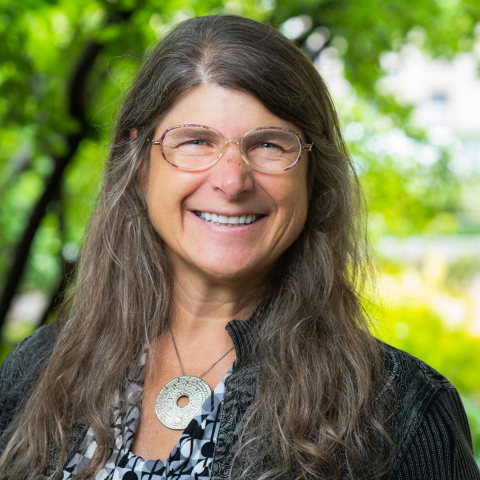 212 Buckhout Lab
University Park, PA
Research Summary
Bacterial systematics, epidemiology, and population biology of bacterial plant pathogens and biological control agents to develop alternatives to synthetic chemicals for plant disease management
Huck Affiliations
Links
Publication Tags
Genome
Pseudomonas
Genes
Pseudomonas Syringae
Bacteriophages
Leaf Spot
Genomics
Pathogens
Taxonomy
Pathovars
Lettuce
Bacteria
Multilocus Sequence Typing
Phylogeny
Epidemiology
Quantitative Trait Loci
History
Gene
Xanthomonas Campestris
Xanthomonas
Virulence
Dna
Sequence Analysis
Cultivars
Bulls
Most Recent Papers
Identification of <i>Pseudomonas</i> Isolates Associated With Bacterial Canker of Stone Fruit Trees in the Western Cape, South Africa.
K Bophela, Y Petersen, Carolee Bull, T Coutinho, 2020, Plant disease on p. PDIS05191102RE
Transfer of <i>Xanthomonas campestris</i> pv. <i>arecae</i> and <i>X. campestris</i> pv. <i>musacearum</i> to <i>X. vasicola</i> (Vauterin) as <i>X. vasicola</i> pv. <i>arecae</i> comb. nov. and <i>X. vasicola</i> pv. <i>musacearum</i> comb. nov. and Description of <i>X. vasicola</i> pv. <i>vasculorum</i> pv. nov.
D Studholme, E Wicker, S Abrare, A Aspin, A Bogdanove, K Broders, Z Dubrow, M Grant, J Jones, G Karamura, J Lang, J Leach, G Mahuku, G Nakato, T Coutinho, J Smith, Carolee Bull, 2020, Phytopathology on p. PHYTO03190098LE
The emergence of microbiome centres.
Martiny JBH, K Whiteson, Bohannan BJM, L David, N Hynson, M McFall-Ngai, J Rawls, T Schmidt, Z Abdo, M Blaser, S Bordenstein, C Bréchot, Carolee Bull, P Dorrestein, J Eisen, F Garcia-Pichel, J Gilbert, K Hofmockel, M Holtz, R Knight, D Mark Welch, D McDonald, B Methé, N Mouncey, N Mueller, C Pfister, L Proctor, J Sachs, 2020, Nature microbiology on p. 2-3
Genetic analysis of resistance to bacterial leaf spot in the heirloom lettuce cultivar Reine des Glaces
Germán V. Sandoya, Brigitte Maisonneuve, Maria Jose Truco, Carolee T. Bull, Ivan Simko, Mark Trent, Ryan J. Hayes, Richard W. Michelmore, 2019, Molecular Breeding
100 Years Since Tolaas: Bacterial Blotch of Mushrooms in the 21st Century
Ebrahim Osdaghi, Samuel Martins, Laura Ramos-Sepulveda, Fabricio Vieira, John Pecchia, David Beyer, Terrence Bell, Yinong Yang, Kevin Hockett, Carolee Bull, 2019, PLANT DISEASE on p. 2714-2732
Request for revision of the statutes of the international committee on systematics of prokaryotes
William B. Whitman, Carolee Theresa Bull, Hans Jürgen Busse, Pierre Edouard Fournier, Aharon Oren, Stefano Ventura, 2019, International journal of systematic and evolutionary microbiology on p. 584-593
Bacterial Brown Pit, a New Disease of Edible Mushrooms Caused by Mycetocola sp.
Mozhde Hamidizade, S. Taghavi, Samuel Martins, Rachel Herschlag, Kevin Hockett, Carolee Bull, Ebrahim Osdaghi, 2019, Plant Disease on p. PDIS-10-19-2176
Inference of convergent gene acquisition among Pseudomonas syringae strains isolated from watermelon, cantaloupe, and squash
Eric A. Newberry, Mohamed Ebrahim, Sujan Timilsina, Nevena Zlatković, Aleksa Obradović, Carolee T. Bull, Erica M. Goss, Jose C. Huguet-Tapia, Mathews L. Paret, Jeffrey B. Jones, Neha Potnis, 2019, Frontiers in Microbiology
Genome-based evolutionary history of Pseudomonas spp
Cedar Hesse, Frederik Schulz, Carolee Theresa Bull, Brenda T. Shaffer, Qing Yan, Nicole Shapiro, Karl A. Hassan, Neha Varghese, Liam D.H. Elbourne, Ian T. Paulsen, Nikos Kyrpides, Tanja Woyke, Joyce E. Loper, 2018, Environmental microbiology on p. 2142-2159
Genetic diversity and virulence of wheat and barley strains of xanthomonas translucens from the upper midwestern United States
Rebecca D. Curland, Liangliang Gao, Carolee Theresa Bull, Boris A. Vinatzer, Ruth Dill-Macky, Leon Van Eck, Carol A. Ishimaru, 2018, PHYTOPATHOLOGY on p. 443-453
View More
Most-Cited Papers
PAMDB, a multilocus sequence typing and analysis database and website for plant-associated microbes
Nalvo F. Almeida, Yan Shuangchun, Cai Rongman, Christopher R. Clarke, Cindy E. Morris, Norman W. Schaads, Erin L. Schuenzel, George H. Lacy, S. Xiaoan, Jeffrey B. Jones, Jose A. Castillo, Carolee T. Bull, Scotland Leman, David S. Guttman, Joao C. Setubal, Boris A. Vinatzer, 2010, PHYTOPATHOLOGY on p. 208-215
Multilocus sequence typing of Pseudomonas syringae sensu lato confirms previously described genomospecies and permits rapid identification of P. syringae pv. coriandricola and P. syringae pv. apii causing bacterial leaf spot on parsley
Carolee T. Bull, Christopher R. Clarke, Rongman Cai, Boris A. Vinatzer, Teresa M. Jardini, Steven T. Koike, 2011, PHYTOPATHOLOGY on p. 847-858
Pseudomonas cannabina pv. cannabina pv. nov., and Pseudomonas cannabina pv. alisalensis (Cintas Koike and Bull, 2000) comb. nov., are members of the emended species Pseudomonas cannabina (ex Šutič & Dowson 1959) Gardan, Shafik, Belouin, Brosch, Grimont & Grimont 1999
Carolee Theresa Bull, Charles Manceau, John Lydon, Hyesuk Kong, Boris A. Vinatzer, Marion Fischer-Le Saux, 2010, Systematic and Applied Microbiology on p. 105-115
Practical Benefits of Knowing the Enemy
Carolee Theresa Bull, Steven T. Koike, 2015, Annual Review of Phytopathology on p. 157-180
Comparative Genomics of Multiple Strains of Pseudomonas cannabina pv. alisalensis, a Potential Model Pathogen of Both Monocots and Dicots
Panagiotis F. Sarris, Emmanouil A. Trantas, David A. Baltrus, Carolee T. Bull, William Patrick Wechter, Shuangchun Yan, Filippos Ververidis, Nalvo F. Almeida, Corbin D. Jones, Jeffery L. Dangl, Nickolas J. Panopoulos, Boris A. Vinatzer, Dimitrios E. Goumas, 2013, PLoS One
Development of an engineered bioluminescent reporter phage for detection of bacterial blight of crucifers
David A. Schofield, Carolee T. Bull, Isael Rubio, W. Patrick Wechter, Caroline Westwater, Ian J. Molineux, 2012, Applied and environmental microbiology on p. 3592-3598
Angular leaf spot of cucurbits is associated with genetically diverse pseudomonas syringae strains
E. A. Newberry, T. M. Jardini, I. Rubio, P. D. Roberts, B. Babu, S. T. Koike, H. Bouzar, E. M. Goss, J. B. Jones, Carolee Theresa Bull, M. L. Paret, 2016, Plant disease on p. 1397-1404
Baby leaf lettuce germplasm enhancement
Ryan J. Hayes, Mark A. Trent, Beiquan Mou, Ivan Simko, Samantha J. Gebben, Carolee Theresa Bull, 2014, HortScience on p. 18-24
Genome-based evolutionary history of Pseudomonas spp
Cedar Hesse, Frederik Schulz, Carolee Theresa Bull, Brenda T. Shaffer, Qing Yan, Nicole Shapiro, Karl A. Hassan, Neha Varghese, Liam D.H. Elbourne, Ian T. Paulsen, Nikos Kyrpides, Tanja Woyke, Joyce E. Loper, 2018, Environmental microbiology on p. 2142-2159
"Light-tagged" bacteriophage as a diagnostic tool for the detection of phytopathogens
David A. Schofield, Carolee T. Bull, Isael Rubio, W. Patrick Wechter, Caroline Westwater, Ian J. Molineux, 2013, Bioengineered
View More