Daniel Cosgrove
Eberly Chair and Professor of Biology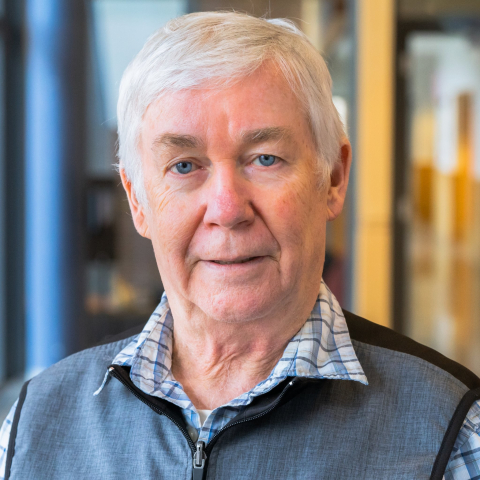 350A Frear North
University Park, PA
He/Him
Research Summary
Mechanism of plant growth. Function and evolution of expansins. Biochemistry and rheology of plant cell walls. Growth responses to light, hormones, and water stress and other stimuli.
Huck Graduate Students
Huck Affiliations
Links
Publication Tags
These publication tags are generated from the output of this researcher. Click any tag below to view other Huck researchers working on the same topic.
Cell Wall
Cellulose
Plant Cells
Cell Walls
Polysaccharides
Mechanics
Pectins
Atomic Force Microscopy
Onions
Lignin
Cells
Microfibrils
Xyloglucan
Pectin
Growth
Morphogenesis
Arabidopsis
Nuclear Magnetic Resonance
Enzymes
Xyloglucans
Transmission Electron Microscopy
Sugars
Cellulose Microfibrils
Polymers
Extensibility
Most Recent Publications
Joshua T. Del Mundo, Sintu Rongpipi, Hui Yang, Dan Ye, Sarah Kiemle, Stephanie L. Moffitt, Charles L. Troxel, Michael F. Toney, Chenhui Zhu, James D. Kubicki, Daniel J. Cosgrove, Esther W. Gomez, Enrique D. Gomez, 2023, Scientific Reports
The mechanics of plant morphogenesis
Enrico Coen, Daniel J. Cosgrove, 2023, Science
Mareike Monschein, Eleni Ioannou, Taru Koitto, Leamon A.K.M. Al Amin, Jutta J. Varis, Edward R. Wagner, Kirsi S. Mikkonen, Daniel J. Cosgrove, Emma R. Master, 2023, Applied and Environmental Microbiology
View More
Most-Cited Papers
Daniel J. Cosgrove, 2016, Journal of Experimental Botany on p. 463-476
Daniel J. Cosgrove, 2014, Current Opinion in Plant Biology on p. 122-131
Yong Bum Park, Daniel J. Cosgrove, 2015, Plant and Cell Physiology on p. 180-194
View More