Jul 27, 2021
Business Bootcamp marks restart of in-person graduate training
After 17 months of pandemic-necessitated online instruction, something resembling normalcy returned to the Huck as grad students were exposed to new career opportunities by the July 18-22 Business of Science bootcamp.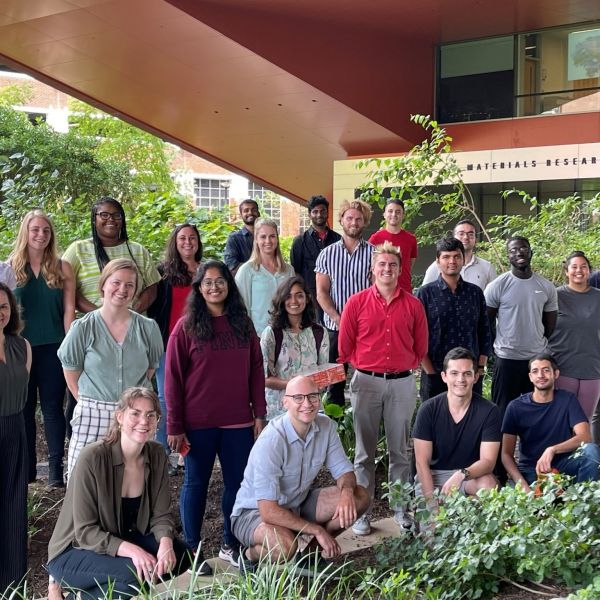 Organized by Donna Korzick, the Huck Institutes' director of training grant initiatives and chair of the physiology program, and in conjunction with the Physiological Adaptations to Stress NIH Training Grant, the Business of Science is an intensive five-day course designed to build skills and offer graduate students a glimpse of career opportunities beyond academia. The program was co-directed by Jeanette Miller, Associate Director of the Farrell Center for Corporate Innovation and Entrepreneurship in the Smeal College of Business.
The 25 participating students—representing 16 graduate programs—got a crash course in entrepreneurship: lectures and small group work delved into business development, legal structures, intellectual property rights, regulation, financial statements, and more. A special emphasis was placed on the National Institutes of Health's Small Business Innovation Research and the National Science Foundation's I-Corps programs. At the end of the week, teams developed business pitch ideas judged by faculty from the Smeal College of Business.
The students also met a panel of Penn State faculty entrepreneurs, highlighted by Dr. James Delattre, Penn State's associate vice president for research and director of the Office of Entrepreneurship & Commercialization. He provided a comprehensive overview of entrepreneurship resources and support at PSU for grad students.
The return to in-person learning was a considered process, but in the end, Korzick decided that online instruction wasn't a viable option for the course and precautions were taken to prevent possible spread of COVID-19.
"We felt that Zoom could not replace the creative process and learning when students can participate in group and in-person lecture activities," she said. "It is so easy to become distracted when online, and our students were engaged by animated and outstanding speakers, and there was just a great deal of energy in the room each day. Students really appreciated the in-person experience, although there was some apprehension at the outset."
"From the beginning, we told the students we would follow all PSU COVID policies, and that if students were vaccinated, they did not need to be masked. Everyone was on the honor system – there was a great deal of trust to make this happen. We made it clear that that there would be no judgement for those who chose to wear masks, and that as a group we would maintain social distances. We had a number of breakout activities which would separate the larger groups periodically throughout the day, and lunches each day were outside in the MSC courtyard. It was quite impressive how the students followed the policies each day, and the fellowship that grew throughout the week."