Oct 19, 2018
Innovative meeting brings scientists and artists together
The University of Utah's Dr. Janet Iwasa headlined the "Art of Cellular Biology" event.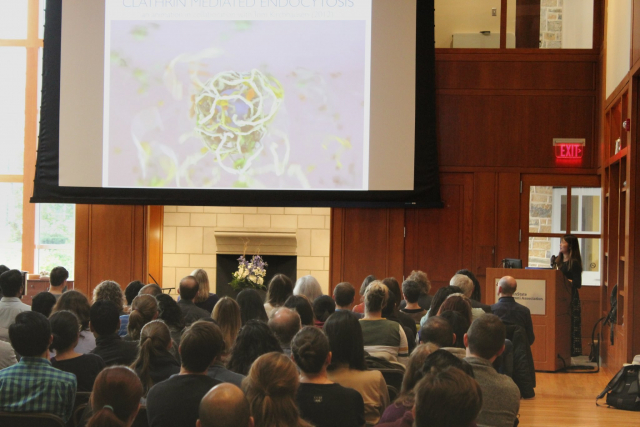 UNIVERSITY PARK, Pa. – The Center for Cellular Dynamics hosted a mini-meeting on Monday, October 15. An audience of over 200 registered to learn about "The Art of Cell Biology," with featured keynote speaker Dr. Janet Iwasa from the University of Utah. Dr. Iwasa, an assistant professor of biochemistry, trained as a cell biologist, but started learning movie-quality animation as a graduate student. As a post-doc, she took a short course on animation at the Gnomon School for Visual Effects in Hollywood, and then partnered with scientists at Harvard Medical School to apply high-end animation to molecular processes.
Dr. Iwasa discussed her unusual career path and how she makes beautiful movies of intracellular events. Other, local speakers gave short talks ranging from data visualization to turning data into music. The meeting also featured an art show of scientific images taken by students, staff and faculty in the Center for Cellular Dynamics and the Molecular, Cellular and Integrative Biosciences Graduate Program. Dr. Emily Bell organized the meeting, which was sponsored by Zeiss and Azer Scientific. Dr. Claire Thomas organized the art show.
"This event was a great opportunity to hear about the novel ways people present data in both visual and audial mediums," said Patrick Dudas, PhD, a data visualization software engineer at Penn State who presented at the meeting. "Being able to speak about data visualizations to such a diverse audience of faculty, staff, and students provided a new, unique perspective on my work, and I look forward to following up on all the conversations sparked by these discussions."
"Dr. Emily Bell, who coordinated the event, deserves a great deal of credit for putting it together and inviting such a fantastic keynote, Dr. Janet Iwasa, to speak."