Shantu Amin
Professor of Pharmacology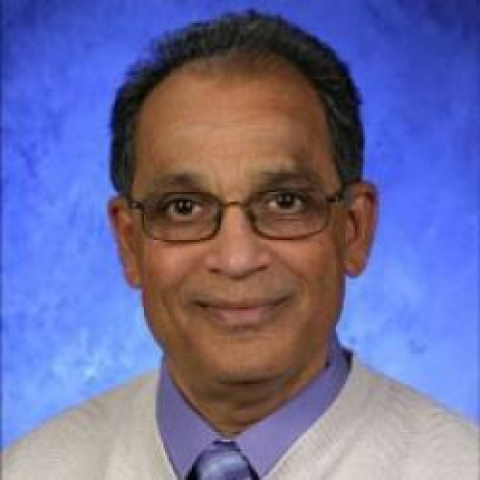 Huck Affiliations
Publication Tags
Aryl Hydrocarbon Receptors
Ligands
Apoptosis
Therapeutics
Antineoplastic Agents
Human Ahr Protein
Neoplasms
Anti Inflammatory Agents
Quinoxalines
Glycine
Pharmaceutical Preparations
Proteins
Genes
Protein Isoforms
Intestines
Microbiota
Chemical Activation
Carcinogens
Transducers
Aldehyde Dehydrogenase
2,8 Dihydroxyquinoline
Obesity
Caspase 8
Viruses
Membranes
Most Recent Papers
Intestinal microbiota-derived tryptophan metabolites are predictive of Ah receptor activity.
F Dong, F Hao, Iain Murray, Philip Smith, I Koo, A Tindall, Penny Kris-Etherton, Krishnegowda Gowdahalli, Shantu Amin, Andrew Patterson, Gary Perdew, 2020, Gut microbes on p. 1-24
Black Raspberry Inhibits Oral Tumors in Mice Treated with the Tobacco Smoke Constituent Dibenzo(def,p)chrysene Via Genetic and Epigenetic Alterations
Kun-Ming Chen, Yuan-Wan Sun, Yuka Kawasawa, Anna Salzberg, Junjia Zhu, Krishnegowda Gowdahalli, Cesar Aliaga, Shantu Amin, Hannah Atkins, Karam El Bayoumy, 2020, Cancer Prevention Research on p. 357-366
Design, synthesis characterization and biological evaluation of novel multi-isoform ALDH inhibitors as potential anticancer agents
Saketh S. Dinavahi, Raghavendra Gowda, Christopher G. Bazewicz, Madhu Babu Battu, Jyh Ming Lin, Robert J. Chitren, Manoj K. Pandey, Shantu Amin, Gavin P. Robertson, Krishne Gowda, 2020, European Journal of Medicinal Chemistry
Effects of the Tobacco Carcinogens N′-Nitrosonornicotine and Dibenzo[ a, l]pyrene Individually and in Combination on DNA Damage in Human Oral Leukoplakia and on Mutagenicity and Mutation Profiles in lacI Mouse Tongue
Joseph B. Guttenplan, Kun-Ming Chen, Yuan-Wan Sun, Nora A.E. Shalaby, Wieslawa Kosinska, Dhimant Desai, Krishne Gowda, Shantu Amin, Karam El-Bayoumy, 2019, Chemical research in toxicology on p. 1893-1899
Selective Ah receptor ligands mediate enhanced SREBP1 proteolysis to restrict lipogenesis in sebocytes.
G Muku, N Blazanin, F Dong, Philip Smith, Diane Thiboutot, Krishnegowda Gowdahalli, Shantu Amin, Iain Murray, Gary Perdew, 2019, Toxicological sciences : an official journal of the Society of Toxicology on p. 146-158
Development of Isoselenocyanate Compounds' Syntheses and Biological Applications
Emily E. Frieben, Shantu Amin, Arun Sharma, 2019, Journal of Medicinal Chemistry on p. 5261-5275
Inhibition of diverse opportunistic viruses by structurally optimized retrograde trafficking inhibitors
Dhimant Desai, Matthew Lauver, Alexandria Ostman, Linda Cruz, Kevin Ferguson, Ge Jin, Brianne Roper, Daniel Brosius, Aron Lukacher, Shantu Amin, Nicholas Buchkovich, 2019, Bioorganic and Medicinal Chemistry on p. 1795-1803
Microbiota metabolism promotes synthesis of the human Ah receptor agonist 2,8-dihydroxyquinoline.
Troy D. Hubbard, Qing Liu, Iain A. Murray, Fangcong Dong, Charles Miller, Philip B. Smith, Krishne Gowda, Jyh Ming Lin, Shantu Amin, Andrew D. Patterson, Gary H. Perdew, 2019, Journal of Proteome Research on p. 1715-1724
Identification of a novel quinoxaline-isoselenourea targeting the STAT3 pathway as a potential melanoma therapeutic
Verónica Alcolea, Deepkamal N. Karelia, Manoj K. Pandey, Daniel Plano, Parvesh Singh, Juan Antonio Palop, Shantu Amin, Carmen Sanmartín, Arun K. Sharma, 2019, International journal of molecular sciences
Leishmanicidal activity of isoselenocyanate derivatives
Celia Fernández-Rubio, Esther Larrea, José Peña Guerrero, Eduardo Sesma Herrero, Iñigo Gamboa, Carlos Berrio, Daniel Plano, Shantu Amin, Arun K. Sharma, Paul A. Nguewa, 2019, Antimicrobial agents and chemotherapy
View More
Most-Cited Papers
Intestinal farnesoid X receptor signaling promotes nonalcoholic fatty liver disease
Changtao Jiang, Cen Xie, Fei Li, Limin Zhang, Robert G. Nichols, Kristopher W. Krausz, Jingwei Cai, Yunpeng Qi, Zhong Ze Fang, Shogo Takahashi, Naoki Tanaka, Dhimant Desai, Shantu G. Amin, Istvan Albert, Andrew D. Patterson, Frank J. Gonzalez, 2015, Journal of Clinical Investigation on p. 386-402
Autophagosomal membrane serves as platform for intracellular death-inducing signaling complex (iDISC)-mediated caspase-8 activation and apoptosis
Megan M. Young, Yoshinori Takahashi, Osman Khan, Sungman Park, Tsukasa Hori, Jong Yun, Arun K. Sharma, Shantu Amin, Chang Deng Hu, Jianke Zhang, Mark Kester, Hong Gang Wang, 2012, Journal of Biological Chemistry on p. 12455-12468
Intestine-selective farnesoid X receptor inhibition improves obesity-related metabolic dysfunction
Changtao Jiang, Cen Xie, Ying Lv, Jing Li, Kristopher W. Krausz, Jingmin Shi, Chad N. Brocker, Dhimant Desai, Shantu G. Amin, William H. Bisson, Yulan Liu, Oksana Gavrilova, Andrew D. Patterson, Frank J. Gonzalez, 2015, Nature communications
The uremic toxin 3-indoxyl sulfate is a potent endogenous agonist for the human aryl hydrocarbon receptor
Jennifer C. Schroeder, Brett C. DiNatale, Iain A. Murray, Colin A. Flaveny, Qiang Liu, Elizabeth M. Laurenzana, Jyh Ming Lin, Stephen C. Strom, Curtis J. Omiecinski, Shantu Amin, Gary H. Perdew, 2010, Biochemistry on p. 393-400
Discovery of marinopyrrole A (maritoclax) as a selective Mcl-1 antagonist that overcomes ABT-737 resistance by binding to and targeting Mcl-1 for proteasomal degradation
Kenichiro Doi, Rongshi Li, Shen Shu Sung, Hongwei Wu, Yan Liu, Wanda Manieri, Gowdahalli Krishnegowda, Andy Awwad, Alden Dewey, Xin Liu, Shantu Amin, Chunwei Cheng, Yong Qin, Ernst Schonbrunn, Gary Daughdrill, Thomas P. Loughran, Said Sebti, Hong Gang Wang, 2012, Journal of Biological Chemistry on p. 10224-10235
Adaptation of the human aryl hydrocarbon receptor to sense microbiota-derived indoles
Troy D. Hubbard, Iain A. Murray, William H. Bisson, Tejas S. Lahoti, Krishne Gowda, Shantu G. Amin, Andrew D. Patterson, Gary H. Perdew, 2015, Scientific reports
Evidence for ligand-mediated selective modulation of aryl hydrocarbon receptor activity
Iain A. Murray, Jose L. Morales, Colin A. Flaveny, Brett C. DiNatale, Chris Chiaro, Krishnegowda Gowdahalli, Shantu Amin, Gary H. Perdew, 2010, Molecular pharmacology on p. 247-254
Development of a selective modulator of aryl hydrocarbon (Ah) receptor activity that exhibits anti-inflammatory properties
Iain A. Murray, Gowdahalli Krishnegowda, Brett C. Dinatale, Colin Flaveny, Chris Chiaro, Jyh Ming Lin, Arun K. Sharma, Shantu Amin, Gary H. Perdew, 2010, Chemical research in toxicology on p. 955-966
Design, Synthesis, and Biological Evaluation of Novel Selenium (Se-NSAID) Molecules as Anticancer Agents
Daniel Plano, Deepkamal N. Karelia, Manoj K. Pandey, Julian E. Spallholz, Shantu Amin, Arun K. Sharma, 2016, Journal of Medicinal Chemistry on p. 1946-1959
Importance of sphingosine kinase (SphK) as a target in developing cancer therapeutics and recent developments in the synthesis of novel SphK inhibitors
Daniel Plano, Shantu Amin, Arun Sharma, 2014, Journal of Medicinal Chemistry on p. 5509-5524
View More