Sally Assmann
Waller Professor of Biology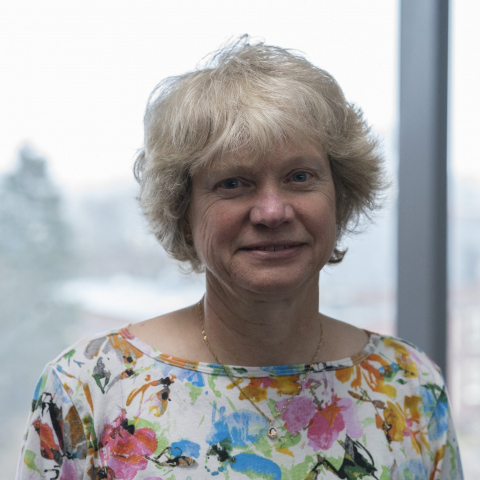 366A Frear North Bldg.
University Park, PA
Research Summary
Molecular biology of plant G-proteins and kinases. Phytohormone regulation of signal transduction and RNA processing. Second messenger regulation of ion channels in plant cells.
Huck Graduate Students
Huck Affiliations
Links
Publication Tags
Arabidopsis
Rna
Abscisic Acid
Gtp Binding Proteins
Proteins
Guard Cells
Heterotrimeric Gtp Binding Proteins
Genes
Genome
Nucleotides
Cellulose
Metabolomics
Agriculture
Guanosine Triphosphate
G Protein Coupled Receptors
Cellulose Synthase
Transcriptome
Potassium Channels
Cells
U12 Small Nuclear Rna
Anions
Hormones
Arabidopsis Thaliana
Phenotype
Oryza
Most Recent Papers
A G protein-coupled receptor-like module regulates cellulose synthase secretion from the endomembrane system in Arabidopsis
Heather E. McFarlane, Daniela Mutwil-Anderwald, Jana Verbančič, Kelsey L. Picard, Timothy E. Gookin, Anja Froehlich, David Chakravorty, Luisa M. Trindade, Jose M. Alonso, Sarah M. Assmann, Staffan Persson, 2021, Developmental Cell on p. 1484-1497.e7
External Cd2+ and protons activate the hyperpolarization-gated K+ channel KAT1 at the voltage sensor
Yunqing Zhou, Sarah M. Assmann, Timothy Jegla, 2021, Journal of General Physiology
Advances and perspectives in the metabolomics of stomatal movement and the disease triangle
Qingyuan Xiang, Aneirin A. Lott, Sarah M. Assmann, Sixue Chen, 2021, Plant Science
A Guard Cell Abscisic Acid (ABA) Network Model That Captures the Stomatal Resting State
Parul Maheshwari, Sarah M. Assmann, Reka Albert, 2020, Frontiers in Physiology
Molecular changes in Mesembryanthemum crystallinum guard cells underlying the C<sub>3</sub> to CAM transition
Wenwen Kong, Mi Jeong Yoo, Dan Zhu, Jerald D. Noble, Theresa M. Kelley, Jing Li, Matias Kirst, Sarah M. Assmann, Sixue Chen, 2020, Plant Molecular Biology on p. 653-667
Erratum
Liu Min Fan, Wei Zhang, Jin Gui Chen, J. Philip Taylor, Alan M. Jones, Sarah M. Assmann, 2019, Proceedings of the National Academy of Sciences of the United States of America on p. 27160-27161
Probing RNA structure in vivo
David Mitchell, Sarah M. Assmann, Philip C. Bevilacqua, 2019, Current Opinion in Structural Biology on p. 151-158
Nucleotide exchange–dependent and nucleotide exchange–independent functions of plant heterotrimeric GTP-binding proteins
Natsumi Maruta, Yuri Trusov, David Chakravorty, Daisuke Urano, Sarah M. Assmann, Jose R. Botella, 2019, Science's STKE : signal transduction knowledge environment
The role of dwarfing traits in historical and modern agriculture with a focus on rice
Ángel Ferrero-Serrano, Christian Cantos, Sarah M. Assmann, 2019, Cold Spring Harbor perspectives in biology
The Arabidopsis heterotrimeric G-protein β subunit, AGB1, is required for guard cell calcium sensing and calcium-induced calcium release.
B Jeon, B Acharya, Sarah Assmann, 2019, The Plant journal : for cell and molecular biology on p. 231-244
View More
Most-Cited Papers
In vivo genome-wide profiling of RNA secondary structure reveals novel regulatory features
Yiliang Ding, Yin Tang, Chun Kit Kwok, Yu Zhang, Philip C. Bevilacqua, Sarah Mary Assmann, 2014, Nature on p. 696-700
An atypical heterotrimeric G-protein γ‐subunit is involved in guard cell K<sup>+</sup>-channel regulation and morphological development in Arabidopsis thaliana
David Chakravorty, Yuri Trusov, Wei Zhang, Biswa R. Acharya, Michael B. Sheahan, David W. McCurdy, Sarah M. Assmann, José Ramõn Botella, 2011, Plant Journal on p. 840-851
Border control - A membrane-linked interactome of Arabidopsis
Alexander M. Jones, Yuanhu Xuan, Meng Xu, Rui Sheng Wang, Cheng Hsun Ho, Sylvie Lalonde, Chang Hun You, Maria I. Sardi, Saman A. Parsa, Erika Smith-Valle, Tianying Su, Keith A. Frazer, Guillaume Pilot, Réjane Pratelli, Guido Grossmann, Biswa R. Acharya, Heng Cheng Hu, Cawas Engineer, Florent Villiers, Chuanli Ju, Kouji Takeda, Zhao Su, Qunfeng Dong, Sarah M. Assmann, Jin Chen, June M. Kwak, Julian I. Schroeder, Reka Albert, Seung Y. Rhee, Wolf B. Frommer, 2014, Science on p. 711-716
Common and unique elements of the ABA-regulated transcriptome of Arabidopsis guard cells
Rui Sheng Wang, Sona Pandey, Song Li, Timothy E. Gookin, Zhixin Zhao, Réka Albert, Sarah M. Assmann, 2011, BMC Genomics
Open Stomata 1 (OST1) is limiting in abscisic acid responses of Arabidopsis guard cells
Biswa R. Acharya, Byeong Wook Jeon, Wei Zhang, Sarah M. Assmann, 2013, New Phytologist on p. 1049-1063
Genome-Wide Analysis of RNA Secondary Structure
Philip C. Bevilacqua, Laura E. Ritchey, Zhao Su, Sarah M. Assmann, 2016, Annual Review of Genetics on p. 235-266
Flower development under drought stress: Morphological and transcriptomic analyses reveal acute responses and long-term acclimation in Arabidopsis
Zhao Su, Xuan Ma, Huihong Guo, Noor Liyana Sukiran, Bin Guo, Sarah M. Assmann, Hong Ma, 2013, Plant Cell on p. 3785-3807
50 years of Arabidopsis research
Nicholas J. Provart, Jose Alonso, Sarah M. Assmann, Dominique Bergmann, Siobhan M. Brady, Jelena Brkljacic, John Browse, Clint Chapple, Vincent Colot, Sean Cutler, Jeff Dangl, David Ehrhardt, Joanna D. Friesner, Wolf B. Frommer, Erich Grotewold, Elliot Meyerowitz, Jennifer Nemhauser, Magnus Nordborg, Craig Pikaard, John Shanklin, Chris Somerville, Mark Stitt, Keiko U. Torii, Jamie Waese, Doris Wagner, Peter Mccourt, 2016, New Phytologist on p. 921-944
The RNA structurome
Chun Kit Kwok, Yin Tang, Sarah M. Assmann, Philip C. Bevilacqua, 2015, Trends in Biochemical Sciences on p. 221-232
Determination of in vivo RNA structure in low-abundance transcripts
Chun Kit Kwok, Yiliang Ding, Yin Tang, Sarah M. Assmann, Philip C. Bevilacqua, 2013, Nature Communications
View More