Ross Hardison
Associate Director of the Genome Sciences Institute; T. Ming Chu Professor of Biochemistry and Molecular Biology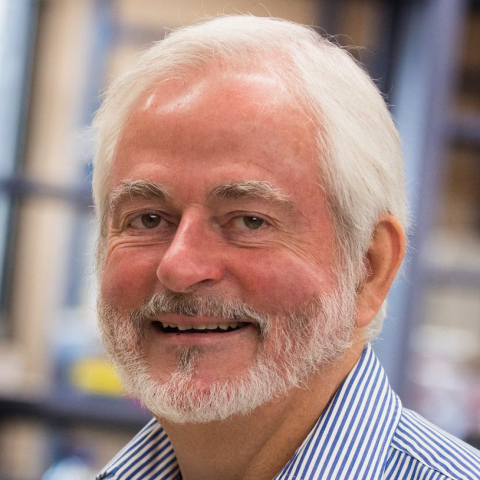 304 Wartik Lab
University Park, PA
Research Summary
Regulation of gene expression during development.
Huck Affiliations
Links
Publication Tags
Chromatin
Genome
Dna
Genes
Encyclopedias
Mutation
Human Genome
Globins
Fetal Hemoglobin
Transcription Factors
Mitosis
Ccctc Binding Factor
Hematopoiesis
Sickle Cell Anemia
Chromatin Immunoprecipitation Sequencing
Binding Sites
Genomics
Thalassemia
Beta Globins
Hemoglobin Subunits
Gamma Globins
Hemoglobinopathies
Hemoglobins
Hemoglobin
Rna
Most Recent Papers
Promoter competition in globin gene control
Ross C. Hardison, 2022, Blood on p. 2089-2091
Domain-adaptive neural networks improve cross-species prediction of transcription factor binding
Kelly Cochran, Divyanshi Srivastava, Avanti Shrikumar, Akshay Balsubramani, Ross C. Hardison, Anshul Kundaje, Shaun Mahony, 2022, Genome Research on p. 512-523
Genomic Landscape of TCR Alpha-Beta and TCR Gamma-Delta T-Large Granular Lymphocyte Leukemia.
H Cheon, J Xing, K Moosic, J Ung, V Chan, D Chung, M Toro, O Elghawy, J Wang, C Hamele, Ross Hardison, T Olson, S Tan, D Feith, A Ratan, T Loughran, 2022, Blood
CTCF and transcription influence chromatin structure re-configuration after mitosis
Haoyue Zhang, Jessica Lam, Di Zhang, Yemin Lan, Marit W. Vermunt, Cheryl A. Keller, Belinda Giardine, Ross C. Hardison, Gerd A. Blobel, 2021, Nature Communications
HDAC1 is required for GATA-1 transcription activity, global chromatin occupancy and hematopoiesis
Bowen Yan, Jennifer Yang, Min Young Kim, Huacheng Luo, Nicholas Cesari, Tao Yang, John Strouboulis, Jiwang Zhang, Ross Hardison, Suming Huang, Yi Qiu, 2021, Nucleic Acids Research on p. 9783-9798
Frequent somatic TET2 mutations in chronic NK-LGL leukemia with distinct patterns of cytopenias
Thomas L. Olson, Hee Jin Cheon, Jeffrey C. Xing, Kristine C. Olson, Umadevi Paila, Cait E. Hamele, Yaseswini Neelamraju, Bryna C. Shemo, Matt Schmachtenberg, Shriram K. Sundararaman, Mariella F. Toro, Cheryl A. Keller, Emily A. Farber, Suna Onengut-Gumuscu, Francine E. Garrett-Bakelman, Ross C. Hardison, David J. Feith, Aakrosh Ratan, Thomas P. Loughran, 2021, Blood on p. 662-673
Single-nucleotide-level mapping of DNA regulatory elements that control fetal hemoglobin expression
Li Cheng, Yichao Li, Qian Qi, Peng Xu, Ruopeng Feng, Lance Palmer, Jingjing Chen, Ruiqiong Wu, Tiffany Yee, Jingjing Zhang, Yu Yao, Akshay Sharma, Ross C. Hardison, Mitchell J. Weiss, Yong Cheng, 2021, Nature Genetics on p. 869-880
Effects of sheared chromatin length on ChIP-seq quality and sensitivity
Cheryl A. Keller, Alexander Q. Wixom, Elisabeth F. Heuston, Belinda Giardine, Chris C.S. Hsiung, Maria R. Long, Amber Miller, Stacie M. Anderson, April Cockburn, Gerd A. Blobel, David M. Bodine, Ross C. Hardison, 2021, G3: Genes, Genomes, Genetics
Dynamic CTCF binding directly mediates interactions among cis-regulatory elements essential for hematopoiesis
Qian Qi, Li Cheng, Xing Tang, Yanghua He, Yichao Li, Tiffany Yee, Dewan Shrestha, Ruopeng Feng, Peng Xu, Xin Zhou, Shondra Pruett-Miller, Ross C. Hardison, Mitchell J. Weiss, Yong Cheng, 2021, Blood on p. 1327-1339
S3V2-IDEAS: a package for normalizing, denoising and integrating epigenomic datasets across different cell types.
G Xiang, B Giardine, S Mahony, Y Zhang, Ross Hardison, 2021, Bioinformatics (Oxford, England) on p. 3011-3013
View More
Most-Cited Papers
An integrated encyclopedia of DNA elements in the human genome
Ian Dunham, Anshul Kundaje, Shelley F. Aldred, Patrick J. Collins, Carrie A. Davis, Francis Doyle, Charles B. Epstein, Seth Frietze, Jennifer Harrow, Rajinder Kaul, Jainab Khatun, Bryan R. Lajoie, Stephen G. Landt, Bum Kyu Lee, Florencia Pauli, Kate R. Rosenbloom, Peter Sabo, Alexias Safi, Amartya Sanyal, Noam Shoresh, Jeremy M. Simon, Lingyun Song, Nathan D. Trinklein, Robert C. Altshuler, Ewan Birney, James B. Brown, Chao Cheng, Sarah Djebali, Xianjun Dong, Jason Ernst, Terrence S. Furey, Mark Gerstein, Belinda Giardine, Melissa Greven, Ross C. Hardison, Robert S. Harris, Javier Herrero, Michael M. Hoffman, Sowmya Iyer, Manolis Kellis, Pouya Kheradpour, Timo Lassmann, Qunhua Li, Xinying Lin, Georgi K. Marinov, Angelika Merkel, Ali Mortazavi, Stephen C.J. Parker, Timothy E. Reddy, Joel Rozowsky, 2012, Nature on p. 57-74
A comparative encyclopedia of DNA elements in the mouse genome.
Feng Yue, Yong Cheng, Alessandra Breschi, Jeff Vierstra, Weisheng Wu, Tyrone Ryba, Richard Sandstrom, Zhihai Ma, Carrie Davis, Benjamin D. Pope, Yin Shen, Dmitri D. Pervouchine, Sarah Djebali, Robert E. Thurman, Rajinder Kaul, Eric Rynes, Anthony Kirilusha, Georgi K. Marinov, Brian A. Williams, Diane Trout, Henry Amrhein, Katherine Fisher-Aylor, Igor Antoshechkin, Gilberto DeSalvo, Lei Hoon See, Meagan Fastuca, Jorg Drenkow, Chris Zaleski, Alex Dobin, Pablo Prieto, Julien Lagarde, Giovanni Bussotti, Andrea Tanzer, Olgert Denas, Kanwei Li, M. A. Bender, Miaohua Zhang, Rachel Byron, Mark T. Groudine, David McCleary, Long Pham, Zhen Ye, Samantha Kuan, Lee Edsall, Yi Chieh Wu, Matthew D. Rasmussen, Mukul S. Bansal, Manolis Kellis, Cheryl A. Keller, Christapher S. Morrissey, Tejaswini Mishra, Deepti Jain, Nergiz Dogan, Robert S. Harris, Philip Cayting, Trupti Kawli, Alan P. Boyle, Ghia Euskirchen, Anshul Kundaje, Shin Lin, Yiing Lin, Camden Jansen, Venkat S. Malladi, Melissa S. Cline, Drew T. Erickson, Vanessa M. Kirkup, Katrina Learned, Cricket A. Sloan, Kate R. Rosenbloom, Beatriz Lacerda De Sousa, Kathryn Beal, Miguel Pignatelli, Paul Flicek, Jin Lian, Tamer Kahveci, Dongwon Lee, W. James Kent, Miguel Ramalho Santos, Javier Herrero, Cedric Notredame, Audra Johnson, Shinny Vong, Kristen Lee, Daniel Bates, Fidencio Neri, Morgan Diegel, Theresa Canfield, Peter J. Sabo, Matthew S. Wilken, Thomas A. Reh, Erika Giste, Anthony Shafer, Tanya Kutyavin, Eric Haugen, Douglas Dunn, Alex P. Reynolds, Shane Neph, Richard Humbert, R. Scott Hansen, Marella De Bruijn, Licia Selleri, Alexander Rudensky, Steven Josefowicz, Robert Samstein, Evan E. Eichler, Stuart H. Orkin, Dana Levasseur, Thalia Papayannopoulou, Kai Hsin Chang, Arthur Skoultchi, Srikanta Gosh, Christine Disteche, Piper Treuting, Yanli Wang, Mitchell J. Weiss, Gerd A. Blobel, Xiaoyi Cao, Sheng Zhong, Ting Wang, Peter J. Good, Rebecca F. Lowdon, Leslie B. Adams, Xiao Qiao Zhou, Michael J. Pazin, Elise A. Feingold, Barbara Wold, James Taylor, Ali Mortazavi, Sherman M. Weissman, John A. Stamatoyannopoulos, Michael P. Snyder, Roderic Guigo, Thomas R. Gingeras, David M. Gilbert, Ross C. Hardison, Michael A. Beer, Bing Ren, 2014, Nature on p. 355-64
Topologically associating domains are stable units of replication-timing regulation
Benjamin D. Pope, Tyrone Ryba, Vishnu Dileep, Feng Yue, Weisheng Wu, Olgert Denas, Daniel L. Vera, Yanli Wang, R. Scott Hansen, Theresa K. Canfield, Robert E. Thurman, Yong Cheng, Günhan Gülsoy, Jonathan H. Dennis, Michael P. Snyder, John A. Stamatoyannopoulos, James Taylor, Ross C. Hardison, Tamer Kahveci, Bing Ren, David M. Gilbert, 2014, Nature on p. 402-405
Defining functional DNA elements in the human genome
Manolis Kellis, Barbara Wold, Michael P. Snyder, Bradley E. Bernstein, Anshul Kundaje, Georgi K. Marinov, Lucas D. Ward, Ewan Birney, Gregory E. Crawford, Job Dekker, Ian Dunham, Laura L. Elnitski, Peggy J. Farnham, Elise A. Feingold, Mark Gerstein, Morgan C. Giddings, David M. Gilbert, Thomas R. Gingeras, Eric D. Green, Roderic Guigo, Tim Hubbard, Jim Kent, Jason D. Lieb, Richard M. Myers, Michael J. Pazin, Bing Ren, John A. Stamatoyannopoulos, Zhiping Weng, Kevin P. White, Ross C. Hardison, 2014, Proceedings of the National Academy of Sciences of the United States of America on p. 6131-6138
An encyclopedia of mouse DNA elements (Mouse ENCODE)
John A. Stamatoyannopoulos, Michael Snyder, Ross Hardison, Bing Ren, Thomas Gingeras, David M. Gilbert, Mark Groudine, Michael Bender, Rajinder Kaul, Theresa Canfield, Erica Giste, Audra Johnson, Mia Zhang, Gayathri Balasundaram, Rachel Byron, Vaughan Roach, Peter J. Sabo, Richard Sandstrom, A. Sandra Stehling, Robert E. Thurman, Sherman M. Weissman, Philip Cayting, Manoj Hariharan, Jin Lian, Yong Cheng, Stephen G. Landt, Zhihai Ma, Barbara J. Wold, Job Dekker, Gregory E. Crawford, Cheryl A. Keller, Weisheng Wu, Christopher Morrissey, Swathi A. Kumar, Tejaswini Mishra, Deepti Jain, Marta Byrska-Bishop, Daniel Blankenberg, Bryan R. Lajoiel, Gaurav Jain, Amartya Sanyal, Kaun Bei Chen, Olgert Denas, James Taylor, Gerd A. Blobel, Mitchell J. Weiss, Max Pimkin, Wulan Deng, Georgi K. Marinov, Brian A. Williams, Katherine I. Fisher-Aylor, Gilberto Desalvo, Anthony Kiralusha, Diane Trout, Henry Amrhein, Ali Mortazavi, Lee Edsall, David McCleary, Samantha Kuan, Yin Shen, Feng Yue, Zhen Ye, Carrie A. Davis, Chris Zaleski, Sonali Jha, Chenghai Xue, Alex Dobin, Wei Lin, Meagan Fastuca, Huaien Wang, Roderic Guigo, Sarah Djebali, Julien Lagarde, Tyrone Ryba, Takayo Sasaki, Venkat S. Malladi, Melissa S. Cline, Vanessa M. Kirkup, Katrina Learned, Kate R. Rosenbloom, W. James Kent, Elise A. Feingold, Peter J. Good, Michael Pazin, Rebecca F. Lowdon, Leslie B. Adams, 2012, Genome Biology
Integrative annotation of chromatin elements from ENCODE data
Michael M. Hoffman, Jason Ernst, Steven P. Wilder, Anshul Kundaje, Robert S. Harris, Max Libbrecht, Belinda Giardine, Paul M. Ellenbogen, Jeffrey A. Bilmes, Ewan Birney, Ross C. Hardison, Ian Dunham, Manolis Kellis, William Stafford Noble, 2013, Nucleic Acids Research on p. 827-841
Expanded encyclopaedias of DNA elements in the human and mouse genomes
Federico Abascal, Reyes Acosta, Nicholas J. Addleman, Jessika Adrian, Veena Afzal, Bronwen Aken, Jennifer A. Akiyama, Omar Al Jammal, Henry Amrhein, Stacie M. Anderson, Gregory R. Andrews, Igor Antoshechkin, Kristin G. Ardlie, Joel Armstrong, Matthew Astley, Budhaditya Banerjee, Amira A. Barkal, If H.A. Barnes, Iros Barozzi, Daniel Barrell, Gemma Barson, Daniel Bates, Ulugbek K. Baymuradov, Cassandra Bazile, Michael A. Beer, Samantha Beik, M. A. Bender, Ruth Bennett, Louis Philip Benoit Bouvrette, Bradley E. Bernstein, Andrew Berry, Anand Bhaskar, Alexandra Bignell, Steven M. Blue, David M. Bodine, Carles Boix, Nathan Boley, Tyler Borrman, Beatrice Borsari, Alan P. Boyle, Laurel A. Brandsmeier, Alessandra Breschi, Emery H. Bresnick, Jason A. Brooks, Michael Buckley, Ross C. Hardison, Cheryl A. Keller, Hongbo Yang, Feng Yue, Lijun Zhang, 2020, Nature on p. 699-710
Updates of the HbVar database of human hemoglobin variants and thalassemia mutations
Belinda Giardine, Joseph Borg, Emmanouil Viennas, Cristiana Pavlidis, Kamran Moradkhani, Philippe Joly, Marina Bartsakoulia, Cathy Riemer, Webb Miller, Giannis Tzimas, Henri Wajcman, Ross C. Hardison, George P. Patrinos, 2014, Nucleic Acids Research on p. D1063-D1069
A genome-editing strategy to treat β-hemoglobinopathies that recapitulates a mutation associated with a benign genetic condition
Elizabeth A. Traxler, Yu Yao, Yong Dong Wang, Kaitly J. Woodard, Ryo Kurita, Yukio Nakamura, Jim R. Hughes, Ross C. Hardison, Gerd A. Blobel, Chunliang Li, Mitchell J. Weiss, 2016, Nature Medicine on p. 987-990
The 3D Genome Browser
Yanli Wang, Fan Song, Bo Zhang, Lijun Zhang, Jie Xu, Da Kuang, Daofeng Li, Mayank N.K. Choudhary, Yun Li, Ming Hu, Ross Hardison, Ting Wang, Feng Yue, 2018, Genome Biology
View More