Richard Legro
Interim Chair, Professor and Vice Chair for Research, Department of Obstetrics and Gynecology; Professor, Department of Public Health Sciences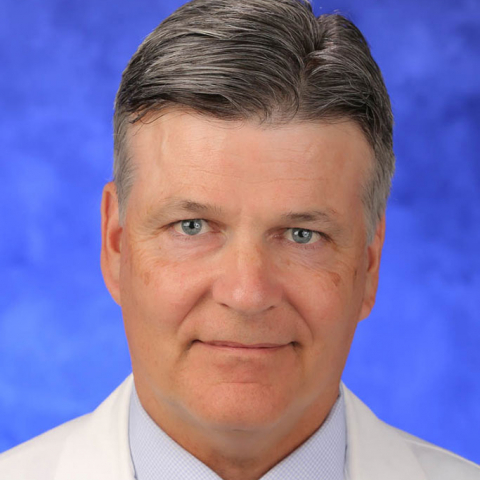 Publication Tags
These publication tags are generated from the output of this researcher. Click any tag below to view other Huck researchers working on the same topic.
Polycystic Ovary Syndrome
Therapeutics
Androgens
Infertility
Practice Guidelines
Endocrinology
Guidelines
Hyperandrogenism
Testosterone
Androgen
Mutation
Embryo Transfer
Endocrinologists
Metformin
Ovulation Induction
Randomized Controlled Trials
Pregnancy
Ovary
Metabolic
Pregnancy Rate
Exercise
Obesity
Epidemiology
Fertilization In Vitro
Insulin
Most Recent Publications
Wendy S. Vitek, Fangbai Sun, Eden Cardozo, Kathleen M. Hoeger, Karl R. Hansen, Nanette Santoro, Heping Zhang, Richard S. Legro, 2023, F and S Reports on p. 308-312
Quantitation of 5α-androstanedione in normal women and women with PCOS
Frank Z. Stanczyk, Rachel Mandelbaum, Marsha Baker, Lihong Ma, Intira Sriprasert, Christina E. Dancz, Richard S. Legro, 2023, Journal of Steroid Biochemistry and Molecular Biology
Use and misuse of statistics in reproductive medicine
Richard S. Legro, 2023, Fertility and Sterility on p. 895-896
Xiaoke Wu, Chi Chiu Wang, Yijuan Cao, Jian Li, Zhiqiang Li, Hongli Ma, Jingshu Gao, Hui Chang, Duojia Zhang, Jing Cong, Yu Wang, Qi Wu, Xiaoxiao Han, Pui Wah Jacqueline Chung, Yiran Li, Xu Zheng, Lingxi Chen, Lin Zeng, Astrid Borchert, Hartmut Kuhn, Zi Jiang Chen, Ernest Hung Yu Ng, Elisabet Stener-Victorin, Heping Zhang, Richard S. Legro, Ben Willem J. Mol, Yongyong Shi, 2023, Engineering on p. 103-111
Richard S. Legro, 2023, Fertility and Sterility on p. 560-561
Richard S. Legro, Christy M. Stetter, Allen R. Kunselman, William M. Geisler, William C. Dodson, Stephanie J. Estes, 2023, F and S Reports on p. 121-126
Abigail M. Pauley, Krista S. Leonard, Nicole Cumbo, Isabella F. Teti, Jaimey M. Pauli, Mohamed Satti, Mark Stephens, Tammy Corr, Robert W. Roeser, Richard S. Legro, A. Dhanya Mackeen, Lisa Bailey-Davis, Danielle Symons Downs, 2023, Patient Education and Counseling
Larisa Suturina, Daria Lizneva, Alina Atalyan, Ludmila Lazareva, Aleksey Belskikh, Tatyana Bairova, Leonid Sholokhov, Maria Rashidova, Irina Danusevich, Iana Nadeliaeva, Lilia Belenkaya, Zorikto Darzhaev, Eldar Sharifulin, Natalia Belkova, Ilia Igumnov, Tatyana Trofimova, Anastasiya Khomyakova, Kseniia Ievleva, Natalia Babaeva, Irina Egorova, Madinabonu Salimova, Bulent O. Yildiz, Richard S. Legro, Frank Z. Stanczyk, Ricardo Azziz, 2023, Diagnostics
Is the "E" being removed from Reproductive Endocrinology to be replaced by a "G" for Genetics?
Alan H. DeCherney, Marja Brolinson, Grace Whiteley, Richard S. Legro, Nanette Santoro, 2022, Fertility and Sterility on p. 1036-1043
Emily Evans-Hoeker, Zheng Wang, Henk Groen, Astrid E.P. Cantineau, Ann Thurin-Kjellberg, Christina Bergh, Joop S.E. Laven, Alexandra Dietz De Loos, Geranne Jiskoot, Jean Patrice Baillargeon, Stefano Palomba, Kyra Sim, Lisa J. Moran, Juan J. Espinós, Trine Moholdt, Amy E. Rothberg, Donna Shoupe, Annemieke Hoek, Richard S. Legro, Ben W. Mol, Rui Wang, 2022, BMJ Open
View More
Most-Cited Papers
Richard S. Legro, Silva A. Arslanian, David A. Ehrmann, Kathleen M. Hoeger, M. Hassan Murad, Renato Pasquali, Corrine K. Welt, 2013, Journal of Clinical Endocrinology and Metabolism on p. 4565-4592
Ricardo Azziz, Enrico Carmina, Zijiang Chen, Andrea Dunaif, Joop S.E. Laven, Richard S. Legro, Daria Lizneva, Barbara Natterson-Horowtiz, Helena J. Teede, Bulent O. Yildiz, 2016, Nature Reviews Disease Primers
Helena J. Teede, Marie L. Misso, Michael F. Costello, Anuja Dokras, Joop Laven, Lisa Moran, Terhi Piltonen, Robert J. Norman, Marianne Andersen, Ricardo Azziz, Adam Balen, Estifanos Baye, Jacqueline Boyle, Leah Brennan, Frank Broekmans, Preeti Dabadghao, Luigi Devoto, Didier Dewailly, Linda Downes, Bart Fauser, Stephen Franks, Rhonda M. Garad, Melanie Gibson-Helm, Cheryce Harrison, Roger Hart, Rachel Hawkes, Angelica Hirschberg, Kathleen Hoeger, Femke Hohmann, Samantha Hutchison, Anju Joham, Louise Johnson, Cailin Jordan, Jayashri Kulkarni, Richard S. Legro, Rong Li, Marla Lujan, Jaideep Malhotra, Darren Mansfield, Kate Marsh, Veryan McAllister, Edgar Mocanu, Ben W. Mol, Ernest Ng, Sharon Oberfield, Sasha Ottey, Alexia Peña, Jie Qiao, Leanne Redman, Raymond Rodgers, 2018, Human Reproduction on p. 1602-1618
Helena J. Teede, Marie L. Misso, Michael F. Costello, Anuja Dokras, Joop Laven, Lisa Moran, Terhi Piltonen, Robert J. Norman, Marianne Andersen, Ricardo Azziz, Adam Balen, Estifanos Baye, Jacqueline Boyle, Leah Brennan, Frank Broekmans, Preeti Dabadghao, Luigi Devoto, Didier Dewailly, Linda Downes, Bart Fauser, Stephen Franks, Rhonda M. Garad, Melanie Gibson-Helm, Cheryce Harrison, Roger Hart, Rachel Hawkes, Angelica Hirschberg, Kathleen Hoeger, Femke Hohmann, Samantha Hutchison, Anju Joham, Louise Johnson, Cailin Jordan, Jayashri Kulkarni, Richard S. Legro, Rong Li, Marla Lujan, Jaideep Malhotra, Darren Mansfield, Kate Marsh, Veryan McAllister, Edgar Mocanu, Ben W. Mol, Ernest Ng, Sharon Oberfield, Sasha Ottey, Alexia Peña, Jie Qiao, Leanne Redman, Raymond Rodgers, 2018, Fertility and Sterility on p. 364-379
Daniel A. Dumesic, Sharon E. Oberfield, Elisabet Stener-Victorin, John C. Marshall, Joop S. Laven, Richard S. Legro, 2015, Endocrine Reviews on p. 487-525
The management of anovulatory infertility in women with polycystic ovary syndrome: An analysis of the evidence to support the development of global WHO guidance
Adam H. Balen, Lara C. Morley, Marie Misso, Stephen Franks, Richard S. Legro, Chandrika N. Wijeyaratne, Elisabet Stener-Victorin, Bart C.J.M. Fauser, Robert J. Norman, Helena Teede, 2016, Human Reproduction Update on p. 687-708
Neil F. Goodman, Rhoda H. Cobin, Walter Futterweit, Jennifer S. Glueck, Richard S. Legro, Enrico Carmina, 2015, Endocrine Practice on p. 1291-1300
Yuhua Shi, Yun Sun, Cuifang Hao, Heping Zhang, Daimin Wei, Yunshan Zhang, Yimin Zhu, Xiaohui Deng, Xiujuan Qi, Hong Li, Xiang Ma, Haiqin Ren, Yaqin Wang, Dan Zhang, Bo Wang, Fenghua Liu, Qiongfang Wu, Ze Wang, Haiyan Bai, Yuan Li, Yi Zhou, Mei Sun, Hong Liu, Jing Li, Lin Zhang, Xiaoli Chen, Songying Zhang, Xiaoxi Sun, Richard S. Legro, Zi Jiang Chen, 2018, New England Journal of Medicine on p. 126-136
Frozen versus fresh single blastocyst transfer in ovulatory women: a multicentre, randomised controlled trial
Daimin Wei, Jia Yin Liu, Yun Sun, Yuhua Shi, Bo Zhang, Jian Qiao Liu, Jichun Tan, Xiaoyan Liang, Yunxia Cao, Ze Wang, Yingying Qin, Han Zhao, Yi Zhou, Haiqin Ren, Guimin Hao, Xiufeng Ling, Junzhao Zhao, Yunshan Zhang, Xiujuan Qi, Lin Zhang, Xiaohui Deng, Xiaoli Chen, Yimin Zhu, Xiaohong Wang, Li Feng Tian, Qun Lv, Xiang Ma, Heping Zhang, Richard S. Legro, Zi Jiang Chen, 2019, The Lancet on p. 1310-1318
American association of clinical endocrinologists, American college of endocrinology, and androgen excess and pcos society disease state clinical review: Guide to the best practices in the evaluation and treatment of polycystic ovary syndrome - Part 2
Neil F. Goodman, Rhoda H. Cobin, Walter Futterweit, Jennifer S. Glueck, Richard Legro, Enrico Carmina, 2015, Endocrine Practice on p. 1415-1426
View More