Nina Jablonski
Evan Pugh University Professor of Anthropology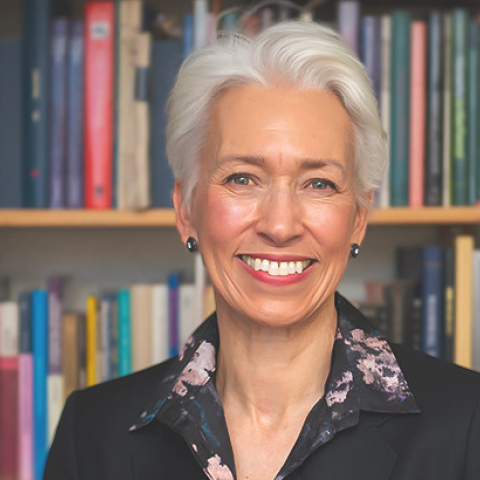 0410 Carpenter
University Park, PA 16802
Research Summary
Evolutionary history of Old World primates, including humans. Evolution of human skin and skin pigmentation, and the relationship between skin pigmentation and vitamin D production.
Links
Publication Tags
Vitamin D
Skin
Genes
Skin Pigmentation
Ultraviolet Radiation
Pigmentation
Cholecalciferol
Radiation
Population
Phenotype
India
Folic Acid
Osteoporosis
Hominidae
Myanmar
Metabolism
Social Factors
Vitamin
Vitamin D Deficiency
Multiple Sclerosis
Health
Evidence
China
Diet
Genome
Most Recent Papers
Caught between "light skin is beautiful and tanned skin is attractive"
Hsin Yu Chen, Nina G. Jablonski, Garry Chick, Careen Yarnal, 2019, Asian American Journal of Psychology on p. 326-340
Early lifecycle UV-exposure calibrates adult vitamin D metabolism
Mark Lucock, Rohith Thota, Manohar Garg, Charlotte Martin, Patrice Jones, John Furst, Zoe Yates, Nina G. Jablonski, George Chaplin, Martin Veysey, Emma Beckett, 2019, American Journal of Human Biology
Paleogenome Reveals Genetic Contribution of Extinct Giant Panda to Extant Populations
Gui Lian Sheng, Nikolas Basler, Xue Ping Ji, Johanna L.A. Paijmans, Federica Alberti, Michaela Preick, Stefanie Hartmann, Michael V. Westbury, Jun Xia Yuan, Nina G. Jablonski, Georgios Xenikoudakis, Xin Dong Hou, Bo Xiao, Jian Hui Liu, Michael Hofreiter, Xu Long Lai, Axel Barlow, 2019, Current Biology on p. 1695-1700.e6
Clay mineral assemblages in the Zhaotong Basin of southwestern China
Pei Li, Chunxia Zhang, Zhengtang Guo, Chenglong Deng, Xueping Ji, Nina G. Jablonski, Haibin Wu, Rixiang Zhu, 2019, Palaeogeography, Palaeoclimatology, Palaeoecology on p. 90-100
Tangzigou open-air site
Yuduan Zhou, Xueping Ji, Yinghua Li, Hubert Forestier, Nina G. Jablonski, Shan Ding, Jiamei Zhao, Peng Chen, Liwei Wang, Tingting Liang, Chengpo He, 2019, Quaternary International
Shades of complexity
Ellen E. Quillen, Heather L. Norton, Esteban J. Parra, Frida Lona-Durazo, Khai C. Ang, Florin Mircea Illiescu, Laurel N. Pearson, Mark D. Shriver, Tina Lasisi, Omer Gokcumen, Izzy Starr, Yen Lung Lin, Alicia R. Martin, Nina G. Jablonski, 2019, American Journal of Physical Anthropology on p. 4-26
Acute ultraviolet radiation exposure attenuates nitric oxide-mediated vasodilation in the cutaneous microvasculature of healthy humans
S. Tony Wolf, Anna E. Stanhewicz, Nina G. Jablonski, W. Larry Kenney, 2018, Journal of applied physiology on p. 1232-1237
Vitamin D and folate
Mark Lucock, Rohith Thota, Manohar Garg, Charlotte Martin, Patrice Jones, John Furst, Zoe Yates, Nina G. Jablonski, George Chaplin, Martin Veysey, Jessie M. Sutherland, Emma Beckett, 2018, American Journal of Human Biology
The influences of genes, the environment, and social factors on the evolution of skin color diversity in India
Florin Mircea Iliescu, George Chaplin, Niraj Rai, Guy S. Jacobs, Chandana Basu Mallick, Anshuman Mishra, Kumarasamy Thangaraj, Nina G. Jablonski, 2018, American Journal of Human Biology
Human-like hip joint loading in Australopithecus africanus and Paranthropus robustus
Timothy Michael Ryan, Kristian J. Carlson, Adam D. Gordon, Nina G. Jablonski, Colin N. Shaw, Jay T. Stock, 2018, Journal of Human Evolution on p. 12-24
View More
Most-Cited Papers
Human skin pigmentation as an adaptation to UV radiation
Nina G. Jablonski, George Chaplin, 2010, Proceedings of the National Academy of Sciences of the United States of America on p. 8962-8968
Gibbon genome and the fast karyotype evolution of small apes
Lucia Carbone, R. Alan Harris, Sante Gnerre, Krishna R. Veeramah, Belen Lorente-Galdos, John Huddleston, Thomas J. Meyer, Javier Herrero, Christian Roos, Bronwen Aken, Fabio Anaclerio, Nicoletta Archidiacono, Carl Baker, Daniel Barrell, Mark A. Batzer, Kathryn Beal, Antoine Blancher, Craig L. Bohrson, Markus Brameier, Michael S. Campbell, Oronzo Capozzi, Claudio Casola, Giorgia Chiatante, Andrew Cree, Annette Damert, Pieter J. De Jong, Laura Dumas, Marcos Fernandez-Callejo, Paul Flicek, Nina V. Fuchs, Ivo Gut, Marta Gut, Matthew W. Hahn, Jessica Hernandez-Rodriguez, Ladeana W. Hillier, Robert Hubley, Bianca Ianc, Zsuzsanna Izsvák, Nina G. Jablonski, Laurel M. Johnstone, Anis Karimpour-Fard, Miriam K. Konkel, Dennis Kostka, Nathan H. Lazar, Sandra L. Lee, Lora R. Lewis, Yue Liu, Devin P. Locke, Swapan Mallick, Fernando L. Mendez, Matthieu Muffato, Lynne V. Nazareth, Kimberly A. Nevonen, Majesta O'Bleness, Cornelia Ochis, Duncan T. Odom, Katherine S. Pollard, Javier Quilez, David Reich, Mariano Rocchi, Gerald G. Schumann, Stephen Searle, James M. Sikela, Gabriella Skollar, Arian Smit, Kemal Sonmez, Boudewijn Ten Hallers, Elizabeth Terhune, Gregg W.C. Thomas, Brygg Ullmer, Mario Ventura, Jerilyn A. Walker, Jeffrey D. Wall, Lutz Walter, Michelle C. Ward, Sarah J. Wheelan, Christopher W. Whelan, Simon White, Larry J. Wilhelm, August E. Woerner, Mark Yandell, Baoli Zhu, Michael F. Hammer, Tomas Marques-Bonet, Evan E. Eichler, Lucinda Fulton, Catrina Fronick, Donna M. Muzny, Wesley C. Warren, Kim C. Worley, Jeffrey Rogers, Richard K. Wilson, Richard A. Gibbs, 2014, Nature on p. 195-201
Circulating microRNAs involved in multiple sclerosis
Sue Rutherford Siege, Jason MacKenzie, George Chaplin, Nina G. Jablonski, Lyn Griffiths, 2012, Molecular Biology Reports on p. 6219-6225
Vitamin D
A. W.C. Yuen, N. G. Jablonski, 2010, Medical Hypotheses on p. 39-44
Human skin pigmentation, migration and disease susceptibility
Nina G. Jablonski, George Chaplin, 2012, Philosophical Transactions of the Royal Society B: Biological Sciences on p. 785-792
Youth Violence
Brad J. Bushman, Katherine Newman, Sandra L. Calvert, Geraldine Downey, Mark Dredze, Michael Gottfredson, Nina G. Jablonski, Ann S. Masten, Calvin Morrill, Daniel B. Neill, Daniel Romer, Daniel W. Webster, 2016, American Psychologist on p. 17-39
Epidermal pigmentation in the human lineage is an adaptation to ultraviolet radiation
Nina G. Jablonski, George Chaplin, 2013, Journal of Human Evolution on p. 671-675
Evolutionary history of the odd-nosed monkeys and the phylogenetic position of the newly described myanmar snub-nosed monkey rhinopithecus strykeri
Rasmus Liedigk, Mouyu Yang, Nina G. Jablonski, Frank Momberg, Thomas Geissmann, Ngwe Lwin, Tony Htin Hla, Zhijin Liu, Bruce Wong, Li Ming, Long Yongcheng, Ya Ping Zhang, Tilo Nadler, Dietmar Zinner, Christian Roos, 2012, PloS one
Diet of Theropithecus from 4 to 1 Ma in Kenya
Thure E. Cerling, Kendra L. Chritz, Nina G. Jablonski, Meave G. Leakey, Fredrick Kyalo Manthi, 2013, Proceedings of the National Academy of Sciences of the United States of America on p. 10507-10512
High-dose vitamin D<sub>3</sub> reduces deficiency caused by low UVB exposure and limits HIV-1 replication in urban Southern Africans
Anna K. Coussens, Celeste E. Naude, Rene Goliath, George Chaplin, Robert J. Wilkinson, Nina G. Jablonski, 2015, Proceedings of the National Academy of Sciences of the United States of America on p. 8052-8057
View More