Naomi Altman
Professor of Statistics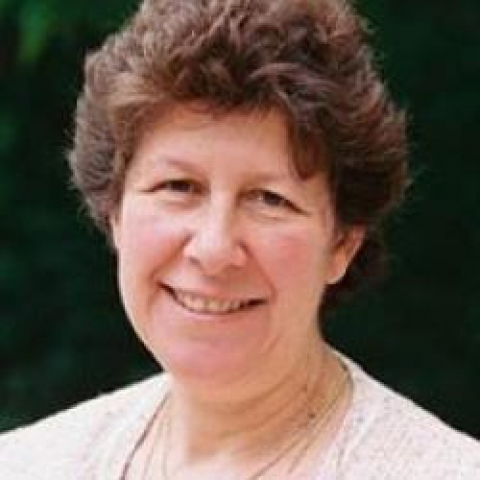 312 Thomas Building
University Park, PA 16802
Research Summary
Bioinformatics: the design and analysis of microarray studies, functional genomics and gene clustering. Functional data analysis and nonparametric smoothing.
Huck Affiliations
Links
Publication Tags
Genes
Transcriptome
Gene Expression
Genome
Macrophages
Arabidopsis
Gene Duplication
Malus
Adenocarcinoma
Blood
Plant Genome
Parasitism
Cell Fusion
Impatiens
Predictors
Cells
Dimension Reduction
Industry
Neoplasms
Proteins
Vitellogenins
Ovary
Gene
Parasites
Economics
Most Recent Papers
Novel metrics to measure coverage in whole exome sequencing datasets reveal local and global non-uniformity
Qingyu Wang, Cooduvalli S. Shashikant, Matthew Jensen, Naomi S. Altman, Santhosh Girirajan, 2017, Scientific reports
"Stealth dissemination" of macrophage-tumor cell fusions cultured from blood of patients with pancreatic ductal adenocarcinoma
Gary Clawson, Gail Matters, Ping Xin, Christopher McGovern, Eric Wafula, Claude Walker Depamphilis, Morgan Meckley, Joyce Wong, Luke Stewart, Christopher D'Jamoos, Naomi S. Altman, Yuka Imamura, Zhen Du, Loren Honaas, Thomas Abraham, 2017, PloS one
Do Bumble Bee, Bombus impatiens, Queens Signal their Reproductive and Mating Status to their Workers?
Etya Amsalem, Mario Padilla, Paul M. Schreiber, Naomi S. Altman, Abraham Hefetz, Christina M. Grozinger, 2017, Journal of Chemical Ecology on p. 563-572
Horizontal gene transfer is more frequent with increased heterotrophy and contributes to parasite adaptation
Zhenzhen Yang, Yeting Zhang, Eric K. Wafula, Loren A. Honaas, Paula E. Ralph, Sam Jones, Christopher R. Clarke, Siming Liu, Chun Su, Huiting Zhang, Naomi S. Altman, Stephan C. Schuster, Michael P. Timko, John I. Yoder, James H. Westwood, Claude Walker Depamphilis, 2016, Proceedings of the National Academy of Sciences of the United States of America on p. E7010-E7019
Chemical communication is not sufficient to explain reproductive inhibition in the bumblebee bombus impatiens
Mario Padilla, Etya Amsalem, Naomi Altman, Abraham Hefetz, Christina M. Grozinger, 2016, Royal Society Open Science
Points of Significance
Jake Lever, Martin Krzywinski, Naomi S. Altman, 2016, Nature methods on p. 803-804
Points of Significance
Jake Lever, Martin Krzywinski, Naomi S. Altman, 2016, Nature Methods on p. 541-542
Selecting superior de novo transcriptome assemblies
Loren A. Honaas, Eric K. Wafula, Norman J. Wickett, Joshua P. Der, Yeting Zhang, Patrick P. Edger, Naomi S. Altman, J. Chris Pires, James H. Leebens-Mack, Claude Walker Depamphilis, 2016, PLoS One
Economic production in hospitality and tourism industry
Amit Sharma, Victor Eduardo Da Motta, Jeong Gil Choi, Naomi S. Altman, 2016, International Journal of Contemporary Hospitality Management on p. 1026-1050
Intraspecific diversity among partners drives functional variation in coral symbioses
John Everett Parkinson, Anastazia T. Banaszak, Naomi S. Altman, Todd C. Lajeunesse, Iliana Brigitta Baums, 2015, Scientific reports
View More
High-Impact Papers
The Amborella genome and the evolution of flowering plants
Claude Walker Depamphilis, Jeffrey D. Palmer, Steve Rounsley, David Sankoff, Stephan C. Schuster, Jetty S.S. Ammiraju, W. Bradley Barbazuk, Srikar Chamala, Andre S. Chanderbali, Ronald Determann, Hong Ma, Paula Ralph, Jason Talag, Lynn Tomsho, Brandon Walts, Stefan Wanke, Rod A. Wing, Tien Hao Chang, Tianying Lan, Douglas E. Soltis, Siwaret Arikit, Michael Axtell, Saravanaraj Ayyampalayam, James M. Burnette, Emanuele De Paoli, Nina P. Farrell, Alex Harkess, Yuannian Jiao, James Leebens-Mack, Kun Liu, Wenbin Mei, Blake C. Meyers, Saima Shahid, Eric Wafula, Susan R. Wessler, Jixian Zhai, Xiaoyu Zhang, Victor A. Albert, Lorenzo Carretero-Paulet, Eric Lyons, Haibao Tang, Chunfang Zheng, Naomi S. Altman, Feng Chen, Jian Qun Chen, Vincent Chiang, Joshua P. Der, Bruno Fogliani, Chunce Guo, Jesper Harholt, Claudette Job, Dominique Job, Sangtae Kim, Hongzhi Kong, Guanglin Li, N. Li, Jie Liu, Jongsun Park, Xinshuai Qi, Loïc Rajjou, Valérie Burtet-Sarramegna, Ron Sederoff, Ying Hsuan Sun, Peter Ulvskov, Matthieu Villegente, Jia Yu Xue, Ting Feng Yeh, Xianxian Yu, Juan J. Acosta, Riva A. Bruenn, Alexandre De Kochko, Luis R. Herrera-Estrella, Enrique Ibarra-Laclette, Matias Kirst, Solon P. Pissis, Valérie Poncet, Pamela S. Soltis, 2013, Science
Visualizing samples with box plots
Martin Krzywinski, Naomi S. Altman, 2014, Nature Methods on p. 119-120
Comparison of next generation sequencing technologies for transcriptome characterization
P. Kerr Wall, Jim Leebens-Mack, André S. Chanderbali, Abdelali Barakat, Erik Wolcott, Haiying Liang, Lena Landherr Sheaffer, Lynn P. Tomsho, Yi Hu, John Edward Carlson, Hong Ma, Stephan C. Schuster, Douglas E. Soltis, Pamela S. Soltis, Naomi S. Altman, Claude Walker Depamphilis, 2009, BMC genomics
Transcriptome of embryonic and neonatal mouse cortex by high-throughput RNA sequencing
Xinwei Han, Xia Wu, Wen Yu Chung, Tao Li, Anton Nekrutenko, Naomi S. Altman, Gong Chen, Hong Ma, 2009, Proceedings of the National Academy of Sciences of the United States of America on p. 12741-12746
Points of significance
Martin Krzywinski, Naomi S. Altman, 2013, Nature Methods on p. 1139-1140
Rootstock-regulated gene expression patterns in apple tree scions
Philip J. Jensen, Izabela Makalowska, Naomi S. Altman, Gennaro Fazio, Craig Praul, Siela Maximova, Robert Michael Crassweller, James W. Travis, Timothy W. McNellis, 2009, Tree Genetics and Genomes on p. 57-72
On dimension folding of matrix- or array-valued statistical objects
Bing Li, Min Kyung Kim, Naomi S. Altman, 2010, Annals of Statistics on p. 1094-1121
Rootstock-regulated gene expression patterns associated with fire blight resistance in apple
Philip J. Jensen, Noemi Halbrendt, Gennaro Fazio, Izabela Makalowska, Naomi S. Altman, Craig Praul, Siela Maximova, Henry K. Ngugi, Robert Michael Crassweller, James W. Travis, Timothy W. McNellis, 2012, BMC Genomics
Comparative transcriptome analyses reveal core parasitism genes and suggest gene duplication and repurposing as sources of structural novelty
Zhenzhen Yang, Eric K. Wafula, Loren A. Honaas, Huiting Zhang, Malay Das, Monica Fernandez-Aparicio, Kan Huang, Pradeepa C.G. Bandaranayake, Biao Wu, Joshua P. Der, Christopher R. Clarke, Paula E. Ralph, Lena Landherr Sheaffer, Naomi S. Altman, Michael P. Timko, John I. Yoder, James H. Westwood, Claude Walker Depamphilis, 2015, Molecular biology and evolution on p. 767-790
Selecting superior de novo transcriptome assemblies
Loren A. Honaas, Eric K. Wafula, Norman J. Wickett, Joshua P. Der, Yeting Zhang, Patrick P. Edger, Naomi S. Altman, J. Chris Pires, James H. Leebens-Mack, Claude Walker Depamphilis, 2016, PLoS One
View More