Melanie McReynolds
Huck Early Career Chair in Biochemistry and Molecular Biology; Assistant Professor of Biochemistry and Molecular Biology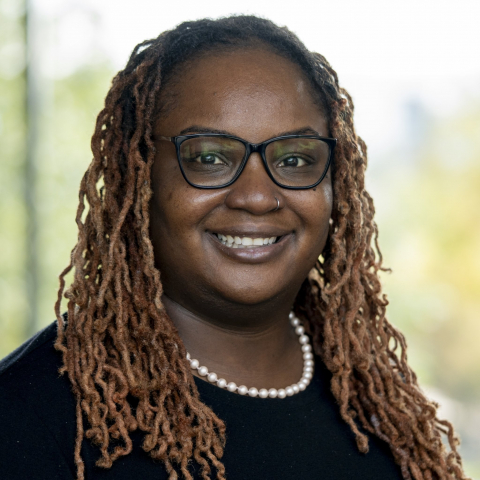 119 Huck Life Sciences
University Park, PA
She/Her
Research Summary
The biochemistry behind aging and its intersection with stress, with the long-term goal of identifying strategies that promote healthier aging.

Huck Graduate Students
Huck Affiliations
Links
Publication Tags
These publication tags are generated from the output of this researcher. Click any tag below to view other Huck researchers working on the same topic.
Nad
Glass
Metabolic
Pharmacological Metabolism
Glucose
Brain
Mass Spectrometry
Isotopes
Metabolite
Respiration
Isotope
Pipeline
Cognitive Dysfunction
Nadp
Transducers
Cell Size
Metabolomics
Nicotinamide Mononucleotide
Citric Acid Cycle
Lipid
Mathematics
Enzymes
Ketogenic Diet
Neoplasm Metastasis
Serine
Most Recent Publications
Latent transforming growth factor beta binding protein 4: A regulator of mitochondrial function in acute kidney injury
Kit Neikirk, Adaku Ume, Praveena Prasad, Andrea Marshall, Jananie Rockwood, Tara-Yesomi Wenegieme, Kelia McMichael, Melanie McReynolds, Clintoria Williams, Antentor Hinton, Jr., Aging Cell on p. e14019
3D reconstruction of murine mitochondria reveals changes in structure during aging linked to the MICOS complex
Zer Vue, Edgar Garza-Lopez, Kit Neikirk, Prasanna Katti, Larry Vang, Heather Beasley, Jianqiang Shao, Andrea Marshall, Amber Crabtree, Alexandria Murphy, Brenita Jenkins, Praveena Prasad, Chantell Evans, Brittany Taylor, Margaret Mungai, Mason Killion, Dominique Stephens, Trace Christensen, Jacob Lam, Benjamin Rodriguez, Mark Phillips, Nastaran Daneshgar, Ho-Jin Koh, Alice Koh, Jamaine Davis, Nina Devine, Saleem Muhammod, Estevão Scudese, Kenneth Arnold, Valeria Vanessa Chavarin, Ryan Daniel Robinson, Moumita Chakraborty, Jennifer Gaddy, Mariya Sweetwyne, Genesis Wilson, Elma Zaganjor, James Kezos, Cristiana Dondi, Anilkumar Reddy, Brian Glancy, Annet Kirabo, Anita Quintana, Dao-Fu Dai, Karen Ocorr, Sandra Murray, Steven Damo, Vernat Exil, Blake Riggs, Bret Mobley, Jose Gomez, Melanie McReynolds, Antentor Hinton, Jr., Aging Cell on p. e14009
Adam R. Fenton, Haley N. Janowitz, Latisha P. Franklin, Riley G. Young, Corinna A. Moro, Michael V. DeGennaro, Melanie R. McReynolds, Wenqing Wang, Wendy Hanna-Rose, 2023, Biochemical Medicine and Metabolic Biology
Alfred Mays, Angela Byars-Winston, Antentor Hinton, Andrea G. Marshall, Annet Kirabo, Avery August, Bianca J. Marlin, Blake Riggs, Blanton Tolbert, Celestine Wanjalla, Chad Womack, Chantell S. Evans, Christopher Barnes, Chrystal Starbird, Clintoria Williams, Corey Reynolds, Cornelius Taabazuing, Craig E. Cameron, Debra D. Murray, Derek Applewhite, Derrick J. Morton, Dexter Lee, Dionna W. Williams, Donald Lynch, Donita Brady, Erin Lynch, Florentine U.N. Rutaganira, Gustavo M. Silva, Haysetta Shuler, Ishmail Abdus Saboor, Jamaine Davis, Kafui Dzirasa, Latanya Hammonds-Odie, Loretta Reyes, Mariya T. Sweetwyne, Melanie R. McReynolds, Michael D.L. Johnson, Nathan A. Smith, Nikea Pittman, Olujimi A. Ajijola, Quinton Smith, Renã A.S. Robinson, Samantha C. Lewis, Sandra A. Murray, Sherilynn Black, Sonya E. Neal, Stanley Andrisse, Steven Townsend, Steven M. Damo, Theanne N. Griffith, W. Marcus Lambert, William M. Clemons, 2023, Cell on p. 2510-2517
Didem Ilter, Stanislav Drapela, Tanya Schild, Nathan P. Ward, Emma Adhikari, Vivien Low, John Asara, Thordur Oskarsson, Eric K. Lau, Gina M. DeNicola, Melanie R. McReynolds, Ana P. Gomes, 2023, Redox Biology
Three-dimensional mitochondria reconstructions of murine cardiac muscle changes in size across aging
Zer Vue, Kit Neikirk, Larry Vang, Edgar Garza-Lopez, Trace Christensen, Jianqiang Shao, Jacob Lam, Heather Beasley, Andrea Marshall, Amber Crabtree, Josephs Anudokem, Benjamin Rodriguez, Benjamin Kirk, Serif Bacevac, Taylor Barongan, Bryanna Shao, Dominique Stephens, Kinuthia Kabugi, Ho-Jin Koh, Alice Koh, Chantell Evans, Brittany Taylor, Anilkumar Reddy, Tyne Miller-Fleming, Ky'Era Actkins, Elma Zaganjor, Nastaran Daneshgar, Sandra Murray, Bret Mobley, Steven Damo, Jennifer Gaddy, Blake Riggs, Celestine Wanjalla, Annet Kirabo, Melanie McReynolds, Jose Gomez, Mark Phillips, Vernat Exil, Dao-Fu Dai, Antentor Hinton, 2023, American Journal of Physiology-Heart and Circulatory Physiology on p. H965-H982
A Minimal Kynurenine Pathway Was Preserved for Rhodoquinone but Not for De Novo NAD<sup>+</sup> Biosynthesis in Parasitic Worms: The Essential Role of NAD<sup>+</sup> Rescue Pathways
Rosina Comas-Ghierra, Abdulkareem Alshaheeb, Melanie R. McReynolds, Jennifer N. Shepherd, Gustavo Salinas, 2023, Antioxidants and Redox Signaling
Toying with reductive stress
Alexandria Murphy, Melanie McReynolds, 2023, Nature Chemical Biology
Acidic Methanol Treatment Facilitates Matrix-Assisted Laser Desorption Ionization-Mass Spectrometry Imaging of Energy Metabolism
Wenyun Lu, Noel Park, Tara TeSlaa, Connor Jankowski, Laith Samarah, Melanie McReynolds, Xi Xing, Jessica Schembri, Morgan Woolf, Joshua Rabinowitz, Shawn Davidson, 2023, Analytical Chemistry on p. 14879-14888
Kelly A. Hogan, Julianna D. Zeidler, Heather K. Beasley, Abrar I. Alsaadi, Abdulkareem A. Alshaheeb, Yi Chin Chang, Hua Tian, Antentor O. Hinton, Melanie R. McReynolds, 2023, Frontiers in Molecular Biosciences
View More
Most-Cited Papers
Paras S. Minhas, Amira Latif-Hernandez, Melanie R. McReynolds, Aarooran S. Durairaj, Qian Wang, Amanda Rubin, Amit U. Joshi, Joy Q. He, Esha Gauba, Ling Liu, Congcong Wang, Miles Linde, Yuki Sugiura, Peter K. Moon, Ravi Majeti, Makoto Suematsu, Daria Mochly-Rosen, Irving L. Weissman, Frank M. Longo, Joshua D. Rabinowitz, Katrin I. Andreasson, 2021, Nature on p. 122-128
Claudia C.S. Chini, Thais R. Peclat, Gina M. Warner, Sonu Kashyap, Jair Machado Espindola-Netto, Guilherme C. de Oliveira, Lilian S. Gomez, Kelly A. Hogan, Mariana G. Tarragó, Amrutesh S. Puranik, Guillermo Agorrody, Katie L. Thompson, Kevin Dang, Starlynn Clarke, Bennett G. Childs, Karina S. Kanamori, Micaela A. Witte, Paola Vidal, Anna L. Kirkland, Marco De Cecco, Karthikeyani Chellappa, Melanie R. McReynolds, Connor Jankowski, Tamara Tchkonia, James L. Kirkland, John M. Sedivy, Jan M. van Deursen, Darren J. Baker, Wim van Schooten, Joshua D. Rabinowitz, Joseph A. Baur, Eduardo N. Chini, 2020, Nature Metabolism on p. 1284-1304
Timothy S. Luongo, Jared M. Eller, Mu Jie Lu, Marc Niere, Fabio Raith, Caroline Perry, Marc R. Bornstein, Paul Oliphint, Lin Wang, Melanie R. McReynolds, Marie E. Migaud, Joshua D. Rabinowitz, F. Brad Johnson, Kai Johnsson, Mathias Ziegler, Xiaolu A. Cambronne, Joseph A. Baur, 2020, Nature on p. 174-179
Lifeng Yang, Juan Carlos Garcia Canaveras, Zihong Chen, Lin Wang, Lingfan Liang, Cholsoon Jang, Johannes A. Mayr, Zhaoyue Zhang, Jonathan M. Ghergurovich, Le Zhan, Shilpy Joshi, Zhixian Hu, Melanie R. McReynolds, Xiaoyang Su, Eileen White, Raphael J. Morscher, Joshua D. Rabinowitz, 2020, Cell Metabolism on p. 809-821.e6
Adem Ozcelik, Nitesh Nama, Po-Hsun Huang, Murat Kaynak, Melanie McReynolds, Wendy Hanna-Rose, Tony Huang, 2016, Small on p. 5120-5125
Li Chen, Wenyun Lu, Lin Wang, Xi Xing, Ziyang Chen, Xin Teng, Xianfeng Zeng, Antonio D. Muscarella, Yihui Shen, Alexis Cowan, Melanie R. McReynolds, Brandon J. Kennedy, Ashley M. Lato, Shawn R. Campagna, Mona Singh, Joshua D. Rabinowitz, 2021, Nature Methods on p. 1377-1385
Melanie R. McReynolds, Karthikeyani Chellappa, Joseph A. Baur, 2020, Experimental Gerontology
Jette Lengefeld, Chia Wei Cheng, Pema Maretich, Marguerite Blair, Hannah Hagen, Melanie R. McReynolds, Emily Sullivan, Kyra Majors, Christina Roberts, Joon Ho Kang, Joachim D. Steiner, Teemu P. Miettinen, Scott R. Manalis, Adam Antebi, Sean J. Morrison, Jacqueline A. Lees, Laurie A. Boyer, Ömer H. Yilmaz, Angelika Amon, 2021, Science advances
Antentor O. Hinton, Christina M. Termini, Elsie C. Spencer, Florentine U.N. Rutaganira, Daphney Chery, Re Ana Roby, Zer Vue, Angela D. Pack, Lillian J. Brady, Edgar Garza-Lopez, Andrea G. Marshall, Samantha C. Lewis, Haysetta D. Shuler, Brittany L. Taylor, Melanie R. McReynolds, Caroline B. Palavicino-Maggio, 2020, Cell on p. 568-575
Spatially resolved isotope tracing reveals tissue metabolic activity
Lin Wang, Xi Xing, Xianfeng Zeng, S. Ra Elle Jackson, Tara TeSlaa, Osama Al-Dalahmah, Laith Z. Samarah, Katharine Goodwin, Lifeng Yang, Melanie R. McReynolds, Xiaoxuan Li, Jeremy J. Wolff, Joshua D. Rabinowitz, Shawn M. Davidson, 2022, Nature Methods on p. 223-230
View More