Margarita Lopez-Uribe
Assistant Professor of Entomology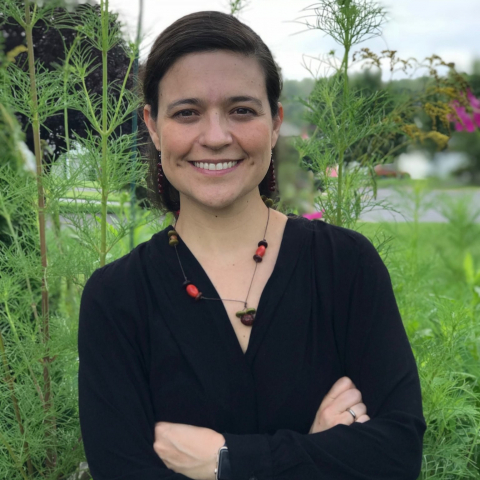 501 ASI
University Park, PA
She/Her
Research Summary
How environmental change and human management shape bee health and long-term persistence of their populations in agricultural areas.
Huck Affiliations
Links
Publication Tags
Bees
Apoidea
Bee
Phylogeny
Climate Change
Climate
Population
Pollinating Insects
Domestication
Honey
Population Genetics
Feral
Immunocompetence
Crops
Pollen
Genes
Urbanization
Body Size
Habitat
Genetic Structures
Pathogens
Immunity
Orchidaceae
Flight
Biogeography
Most Recent Papers
A new ingestion bioassay protocol for assessing pesticide toxicity to the adult Japanese orchard bee (Osmia cornifrons)
Ngoc T. Phan, Neelendra K. Joshi, Edwin G. Rajotte, Margarita M. López-Uribe, Fang Zhu, David J. Biddinger, 2020, Scientific Reports
Introduced bees (Osmia cornifrons) collect pollen from both coevolved and novel host-plant species within their family-level phylogenetic preferences
Anthony D. Vaudo, David J. Biddinger, Wiebke Sickel, Alexander Keller, Margarita Maria Lopez-Uribe, 2020, Royal Society Open Science
Towards a U.S. national program for monitoring native bees
S. Woodard, Sarah Federman, Rosalind James, Bryan Danforth, Terry Griswold, David Inouye, Quinn McFrederick, Lora Morandin, Deborah Paul, Elizabeth Sellers, James Strange, Mace Vaughan, Neal Williams, Michael Branstetter, Casey Burns, James Cane, Alison Cariveau, Daniel Cariveau, Anna Childers, Christopher Childers, D Cox-Foster, Elaine Evans, Kelsey Graham, Kevin Hackett, Kimberly Huntzinger, Rebecca Irwin, Shalene Jha, Sarah Lawson, Christina Liang, Margarita López-Uribe, Andony Melathopoulos, Heather Moylett, Clint Otto, Lauren Ponisio, Leif Richardson, Robyn Rose, Rajwinder Singh, Wayne Wehling, 2020, Biological Conservation on p. 108821
Defining Pollinator Health: Understanding bee ecological, genetic and physiological factors at the individual, colony and population levels
Margarita López-Uribe, V. Ricigliano, M. Simone-Finstrom, 2020, Annual Review of Animal Bioscience
An updated checklist of the bees (Hymenoptera: Apoidea: Anthophila) of Pennsylvania, United States of America
S. Kilpatrick, J. Gibbs, M. Mikulas, S. Spichiger, N. Ostiguy, Margarita López-Uribe, 2020, Journal of Hymenoptera Research
Small but critical
Sarah Cusser, Carolina Grando, Maria Imaculada Zucchi, Margarita M. López-Uribe, Nathaniel S. Pope, Kimberly Ballare, Danielle Luna-Lucena, Eduardo A.B. Almeida, John L. Neff, Kenneth Young, Shalene Jha, 2019, Landscape Ecology on p. 1825-1836
Do Bee Wings Adapt for Flight in Urban Environments?
Deanna E. Beasley, Jacquelyn L. Fitzgerald, Alison Fowler, Kirsten Keleher, Margarita Maria Lopez-Uribe, Robert R. Dunn, 2019, Southeastern Naturalist on p. 183-191
A trait-based approach to predict population genetic structure in bees
Margarita Maria Lopez-Uribe, Shalene Jha, Antonella Soro, 2019, Molecular Ecology on p. 1919-1929
Beekeeping management practices are associated with operation size and beekeepers' philosophy towards in-hive chemicals
Robyn M. Underwood, Brenna E. Traver, Margarita Maria Lopez-Uribe, 2019, Insects
A glance of the blood stage transcriptome of a Southeast Asian Plasmodium ovale isolate
Awtum M. Brashear, Wanlapa Roobsoong, Faiza A. Siddiqui, Wang Nguitragool, Jetsumon Sattabongkot, Margarita M. López-Uribe, Jun Miao, Liwang Cui, 2019, PLoS Neglected Tropical Diseases
View More
Most-Cited Papers
Climate, physiological tolerance and sex-biased dispersal shape genetic structure of Neotropical orchid bees
Margarita Maria Lopez-Uribe, Kelly R. Zamudio, Carolina F. Cardoso, Bryan N. Danforth, 2014, Molecular Ecology on p. 1874-1890
Physiological thermal limits predict differential responses of bees to urban heat-island effects
April L. Hamblin, Elsa Youngsteadt, Margarita M. López-Uribe, Steven D. Frank, 2017, Biology Letters on p. 20170125
Urbanization increases pathogen pressure on feral and managed honey bees
Elsa Youngsteadt, R. Holden Appler, Margarita Maria Lopez-Uribe, David R. Tarpy, Steven D. Frank, 2015, PLoS One
Nest suitability, fine-scale population structure and male-mediated dispersal of a solitary ground nesting bee in an urban landscape
Margarita Maria Lopez-Uribe, Stephen J. Morreale, Christine K. Santiago, Bryan N. Danforth, 2015, PLoS One
Crop domestication facilitated rapid geographical expansion of a specialist pollinator, the squash bee Peponapis pruinosa
Margarita M. López-Uribe, James H. Cane, Robert L. Minckley, Bryan N. Danforth, 2016, Proceedings of the Royal Society B: Biological Sciences on p. 20160443
Reduced cellular immune response in social insect lineages
Margarita Maria Lopez-Uribe, Warren B. Sconiers, Steven D. Frank, Robert R. Dunn, David R. Tarpy, 2016, Biology Letters on p. 20150984
Phylogeny, new generic-level classification, and historical biogeography of the Eucera complex (Hymenoptera
A. Dorchin, Margarita Maria Lopez-Uribe, C. J. Praz, T. Griswold, B. N. Danforth, 2018, Molecular Phylogenetics and Evolution on p. 81-92
Higher immunocompetence is associated with higher genetic diversity in feral honey bee colonies (Apis mellifera)
Margarita M. López-Uribe, R. Holden Appler, Elsa Youngsteadt, Robert R. Dunn, Steven D. Frank, David R. Tarpy, 2017, Conservation Genetics on p. 659-666
Inducible versus constitutive social immunity: Examining effects of colony infection on glucose oxidase and defensin-1 production in honeybees
Margarita M. López-Uribe, Andrea Fitzgerald, Michael Simone-Finstrom, 2017, Royal Society Open Science
Seasonal cycles, phylogenetic assembly, and functional diversity of orchid bee communities
Santiago R. Ramírez, Carlos Hernández, Andres Link, Margarita M. López-Uribe, 2015, Ecology and Evolution on p. 1896-1907
View More