Lu Bai
Associate Professor of Biochemistry and Molecular Biology; Associate Professor of Physics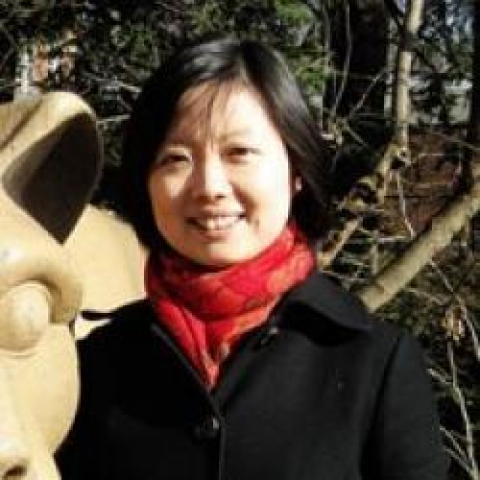 206B Huck Life Sciences
University Park, PA
Research Summary
Single cell / single molecule study of chromatin and gene regulation.
Huck Graduate Students
Huck Affiliations
Publication Tags
Nucleosomes
Genes
Transcription Factors
Genome
Gene Expression
Thermodynamics
Yeast
Yeasts
Proteins
Fluorescence
Saccharomycetales
Saccharomyces Cerevisiae
Fluorescence Microscopy
Dna
Cells
Modulation
Agglomeration
Chromophores
Modeling
Compensation And Redress
Positioning
Cell Cycle
Memory
Histones
Mutation
Most Recent Papers
Thermodynamic modeling of genome-wide nucleosome depleted regions in yeast
Hungyo Kharerin, Lu Bai, 2021, PLoS Computational Biology
Ash1 and Tup1 dependent repression of the Saccharomyces cerevisiae HO promoter requires activator-dependent nucleosome eviction.
E Parnell, T Parnell, C Yan, Lu Bai, D Stillman, 2020, PLoS Genetics on p. e1009133
A role for mediator core in limiting coactivator recruitment in saccharomyces cerevisiae
Robert M. Yarrington, Yaxin Yu, Chao Yan, Lu Bai, David J. Stillman, 2020, Genetics on p. 407-420
Existence, transition, and propagation of intermediate silencing states in ribosomal DNA
Fan Zou, Manyu Du, Hengye Chen, Lu Baia, 2019, Molecular and Cellular Biology
Enhancement of LacI binding in vivo
Manyu Du, Seth Kodner, Lu Bai, 2019, Nucleic Acids Research on p. 9609-9618
Using time-lapse fluorescence microscopy to study gene regulation
Fan Zou, Lu Bai, 2019, ImmunoMethods on p. 138-145
Dissociation rate compensation mechanism for budding yeast pioneer transcription factors
Benjamin T. Donovan, Hengye Chen, Caroline Jipa, Lu Bai, Michael G. Poirier, 2019, eLife
Using time-lapse fluorescence microscopy to study gene regulation.
F Zou, Lu Bai, 2018, Methods (San Diego, Calif.)
Systematic Study of Nucleosome-Displacing Factors in Budding Yeast
Chao Yan, Hengye Chen, Lu Bai, 2018, Molecular Cell on p. 294-305.e4
Modulation of fluorescent protein chromophores to detect protein aggregation with turn-on fluorescence
Yu Liu, Charles H. Wolstenholme, Gregory C. Carter, Hongbin Liu, Hang Hu, Leeann S. Grainger, Kun Miao, Matthew Fares, Conner A. Hoelzel, Hemant P. Yennawar, Gang Ning, Manyu Du, Lu Bai, Xiaosong Li, Xin Zhang, 2018, Journal of the American Chemical Society on p. 7381-7384
View More
Most-Cited Papers
Transcription under torsion
Jie Ma, Lu Bai, Michelle D. Wang, 2013, Science on p. 1580-1583
Multiple Sequence-Specific Factors Generate the Nucleosome-Depleted Region on CLN2 Promoter
Lu Bai, Andrej Ondracka, Frederick R. Cross, 2011, Molecular Cell on p. 465-476
Kinetic competition between elongation rate and binding of NELF controls promoter-proximal pausing
Jian Li, Yingyun Liu, Ho Sung Rhee, Saikat Kumar B. Ghosh, Lu Bai, B. Franklin Pugh, David S. Gilmour, 2013, Molecular Cell on p. 711-722
Modulation of fluorescent protein chromophores to detect protein aggregation with turn-on fluorescence
Yu Liu, Charles H. Wolstenholme, Gregory C. Carter, Hongbin Liu, Hang Hu, Leeann S. Grainger, Kun Miao, Matthew Fares, Conner A. Hoelzel, Hemant P. Yennawar, Gang Ning, Manyu Du, Lu Bai, Xiaosong Li, Xin Zhang, 2018, Journal of the American Chemical Society on p. 7381-7384
Systematic Study of Nucleosome-Displacing Factors in Budding Yeast
Chao Yan, Hengye Chen, Lu Bai, 2018, Molecular Cell on p. 294-305.e4
Nucleosomes and the accessibility problem
Xin Wang, Lu Bai, Gene O. Bryant, Mark Ptashne, 2011, Trends in Genetics on p. 487-492
Stochastic expression and epigenetic memory at the yeast HO promoter
Qian Zhang, Youngdae Yoon, Yaxin Yu, Emily J. Parnell, Juan Antonio Raygoza Garay, Michael M. Mwangi, Frederick R. Cross, David J. Stillman, Lu Bai, 2013, Proceedings of the National Academy of Sciences of the United States of America on p. 14012-14017
Dissociation rate compensation mechanism for budding yeast pioneer transcription factors
Benjamin T. Donovan, Hengye Chen, Caroline Jipa, Lu Bai, Michael G. Poirier, 2019, eLife
Decoupling of divergent gene regulation by sequence-specific DNA binding factors
Chao Yan, Daoyong Zhang, Juan Antonio Raygoza Garay, Michael M. Mwangi, Lu Bai, 2015, Nucleic Acids Research on p. 7292-7305
Regulation of cell-to-cell variability in divergent gene expression
Chao Yan, Shuyang Wu, Christopher Pocetti, Lu Bai, 2016, Nature Communications
View More